Estimated read time: 6-7 minutes
This archived news story is available only for your personal, non-commercial use. Information in the story may be outdated or superseded by additional information. Reading or replaying the story in its archived form does not constitute a republication of the story.
Editor's note: This article is a part of a series reviewing Utah history for KSL.com's Historic section.
SALT LAKE CITY — On Jan. 13, 1870, a group of 5,000 women or so packed the old Salt Lake Tabernacle for what was called the "Great Indignation Meeting." By this point, the Utah Territory continued to clash with the federal government over issues such as polygamy.
It was in this meeting — one attended by close to one-fifth of the state at the time — that they opposed antipolygamy legislation brought up in the U.S. House of Representatives, The Church Historian's Press noted. As Neylan McBaine, CEO of Utah women's history nonprofit Better Days 2020 points out, the women at this meeting wanted it known they were independent agents.
"They wanted to be able to speak for themselves, that they were not being oppressed under polygamy. They wanted to be respected for being independent women," McBaine said.
The following month, Utah became the second U.S. territory to allow women the right to vote. And two days after it became law, Seraph Young became the first woman in U.S. history to cast a ballot in an election.
Now, 150 years later, you can find an illustration of Young casting a ballot on the fourth floor of the Utah Capitol. She's flanked by dozens of similar illustrations depicting trailblazers who have shaped the state for the better. The illustrations are a part of a new art exhibition at the Capitol to celebrate 150 years of women's suffrage in Utah and 100 years since a constitutional amendment gave women the right to vote nationwide.
The exhibit is comprised of about 50 paintings of women and men who either fought for women's suffrage or carried the torch of making a difference in Utah since that first ballot was cast.
"The purpose of these (photos) is to bring some of the women from Utah history to life … and highlight some of the untold stories of Utah women from the past," McBaine said.
Each illustration, designed by Utah artist Brooke Smart, is coupled with a brief synopsis of that person and the role they played in history.
"A big goal for us, with these illustrations, was to make them relatable and to tell the story of each and every one of these women and men we illustrated," Smart explained. The designs were created with the help of research or after interviewing people who knew that person.
"As I created each illustration, I just fell in love with these women and men," Smart said. "Each one felt very much like my friend by the end of the process — it's really a shame each and every one of them is dead because I would love to actually meet them. It would have been so nice to connect with them."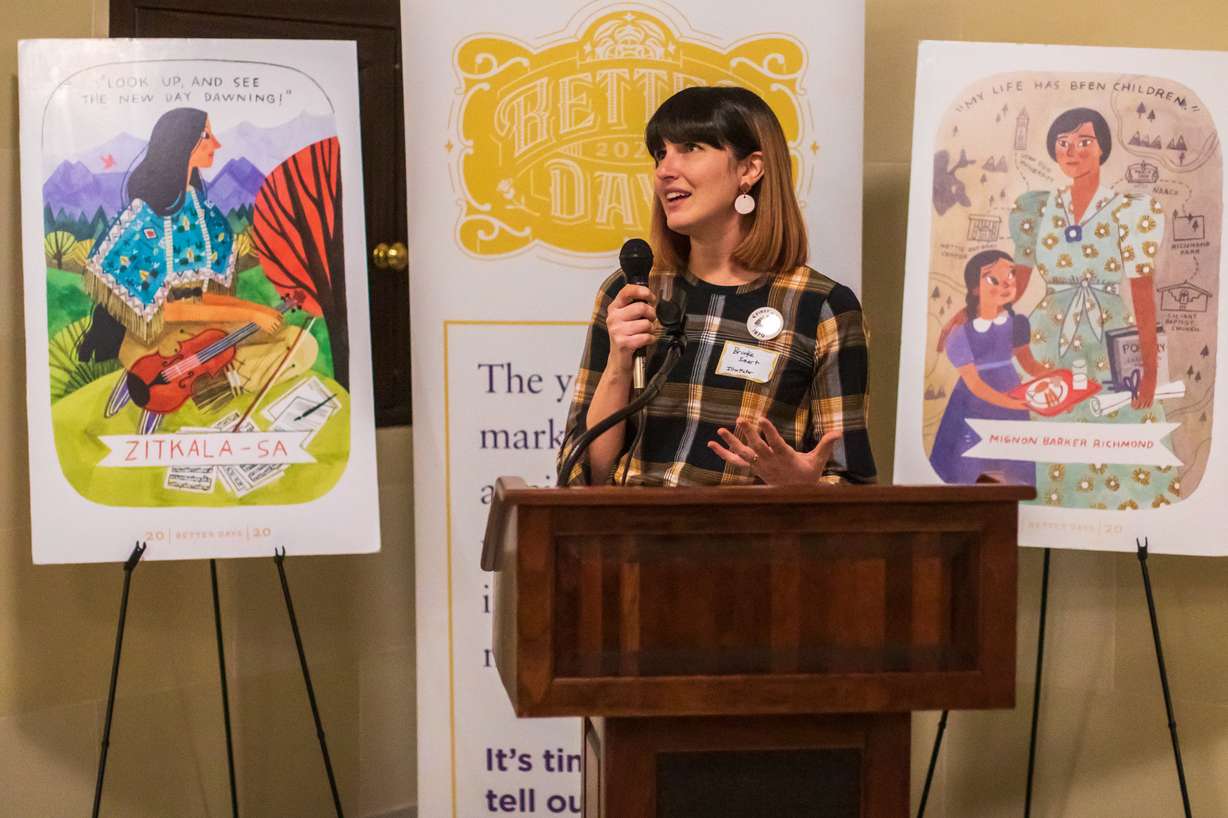 They include people from all different backgrounds, time periods and regions of the state, such as Young. Then there's Martha Hughes Cannon, who in 1896 became the first woman in U.S. history to serve as a state senator. Later this year, her statue will be moved to the U.S. Capitol.
One painting honors an entire Kanab Town Council, which was comprised of Tamar Hamblin, Luella McAllister, Blanche Hamblin, Vinnie Jepson and Mary Chamberlain. Those five won election in 1911 after some people placed their names on the ballot as a joke, according to Better Days 2020 research. The women accepted the position anyway and became Utah's first all-female town council and just the third such council in American history.
---
A big goal for us, with these illustrations, was to make them relatable and to tell the story of each and every one of these women and men we illustrated.
–Utah artist Brooke Smart
---
Then there's Lucille Bankhead, whom Utah Department of Heritage and Arts executive director Jill Love pointed out as a personal favorite of hers. Bankhead organized a protest against a Utah legislative proposal that would have forced African-American residents in Salt Lake City to move out of their current homes into segregated designated areas given the title "black districts" in 1939, Love explained.
"Bankhead had never been to the Utah State Capitol and it was later recounted that she and her group 'stayed until we knew the legislature realized what they had to do and then we went home, and I guess the people of the legislature were glad to see us go,'" Love said. "Recounting the perseverance and conviction, she held so many decades before, Bankhead said, 'If I don't like what you're doing, if I think I'm right, I'm going to speak up. I'm going to talk about it and somebody's going to hear.'"
Another painting honors Olene Walker, who became the first woman to serve as Utah's governor in 2003. Maude Adams found success in two fields: She was the highest-paid actress at a point during her career, including while playing Peter Pan when it first hit Broadway in 1905, and he also helped invent technology that revolutionized theater and cinema, according to Better Days 2020.
Edith Melendez, who served on the Governor's Hispanic Council under Utah Gov. Scott Matheson, was known as a tireless leader in the state's Latino community until her death in 1990. During her life, Melendez fought for social justice and reform and advocated for women's rights and other issues, Better Days 2020 noted.
Only one of the faces on the walls, Susan B. Anthony, is of someone who wasn't from Utah or didn't reside in the state at some point. However, the famous women's suffrage crusader did have several ties to the state, including befriending leading Utah suffragist Emmeline Wells.
"(Anthony) loved the women of Utah," McBaine said. "She was really one of the only national suffrage leaders who was willing to take the Utah women in all of their crazy plural marriage stuff. A lot of the other national leaders didn't want to have anything to do with Utah, even though they were first. She was a great advocate for us and a great friend to us, so we wanted to honor her."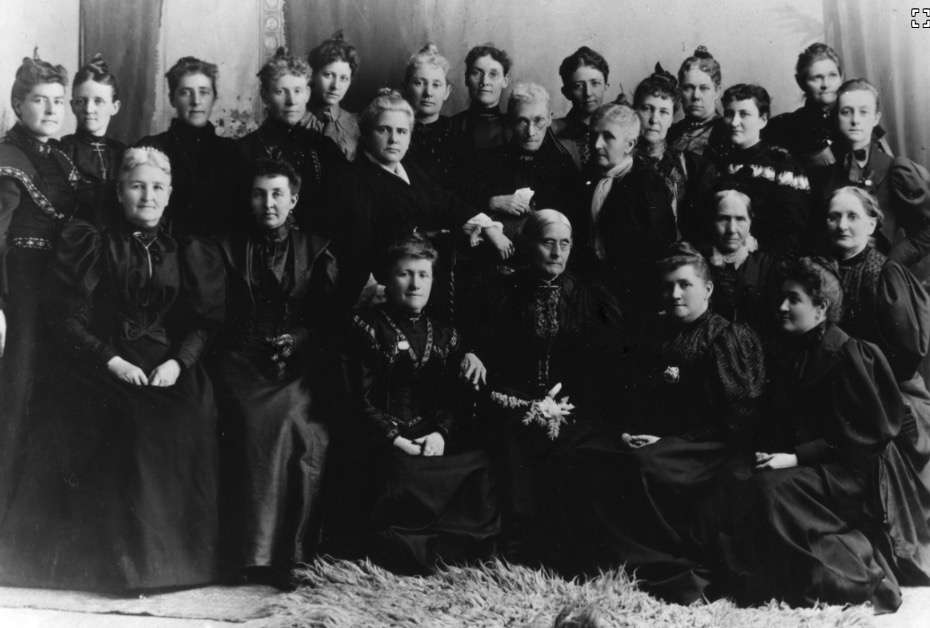 It's hard to list them all. In addition to the paintings on display at the Utah Capitol, the organization launched an online gallery for people to read biographies of all the individuals featured. The organization also printed trading cards, posters and books to help reach Utah's younger generation in different ways and educate them on the people who shaped the state they live in.
In addition to the illustrations, there are a few artifacts on the fourth floor of the Capitol. They include the original 1870 legislation allowing women to vote in the state and Utah's ratification document of the 19th Amendment.
The exhibit will remain on display throughout the year.
"I think it's really important for us to know there are people from our own backyards, from our own communities, who see problems, who see challenges and who band together — sometimes they work against each other, but they do something about those problems and they make their voices heard," said Katherine Kitterman, the research director for Better Days 2020. "We can recognize that our voice does matter, and we can take courage and inspiration from these women and men to make our voices heard in our communities in whatever way we feel like that should happen."
×
Photos
Related links
Most recent Historic stories