Estimated read time: 4-5 minutes
This archived news story is available only for your personal, non-commercial use. Information in the story may be outdated or superseded by additional information. Reading or replaying the story in its archived form does not constitute a republication of the story.
PROVO — These days it may be harder to keep the BYU basketball team focused on the next game, the next task, the next opponent in the West Coast Conference.
The Cougars (13-5, 2-1 WCC) rose as high as No. 24 in KenPom's predictive ratings after Saturday night's 96-70 win over Portland — their first appearance inside the rankings' top 25 since 2012 — before falling to No. 27 on Wednesday afternoon. Thursday's opponent, San Diego, is 178 spots behind at 205 in KenPom, or 202 spots behind BYU's No. 33 ranking in the NCAA-approved NET ratings, if you prefer.
Focus is key for a Thursday night game (7 p.m. MST, BYUtv) against the 7-12 Toreros, a winless team in conference play, with a trip to the Kennel and No. 1-ranked Gonzaga just three days away.
But that's exactly the kind of focus BYU has.
"There's always concern about (overlooking a team). In this case it's easy to see, but I think it's really just overlooking any game," BYU coach Mark Pope said. "These guys have done an unbelievable job of honing in on the task at hand.
"It's going to do us no good to have a great game against the Zags if we don't come compete and play as hard as we can against San Diego."
Insert the latest cliche about "taking one game at a time" or "focusing on the present." Rinse. Repeat.
But for BYU, it's true. The Cougars aren't unbeatable, and they have losses to Utah (No. 60 NET) and Boise State (No. 109 NET) to prove it.
Despite its positive predictive rankings, BYU doesn't have the talent of college basketball's blue bloods to overlook any team. The players and coaches know that as much as the casual fan; if not, it's likely been drilled into them since star power forward Yoeli Childs was left in limbo with an open dislocation on the index finger of his main shooting hand. He's likely to be back in one to two weeks — likely being the optimal term, not the definite one, Pope said.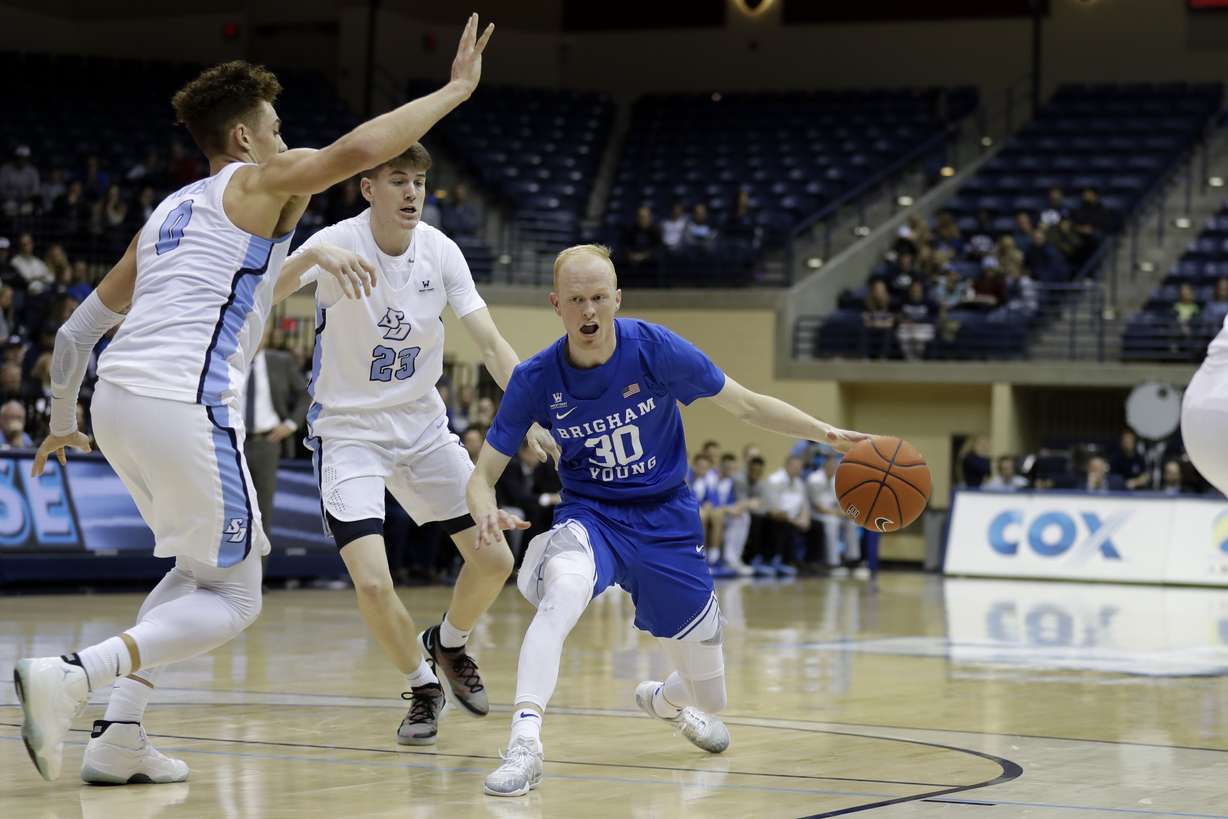 So in the interim, the focus remains on the cliche.
"We definitely see Gonzaga after this San Diego team," BYU guard Alex Barcello said. "But we know that San Diego is a good team. They're going to bring it as much as every other team has brought it.
"It's going to be a battle. We've got to be ready for them."
If there is one team that will catch the Cougars' attention, it should be San Diego.
The Toreros, who are winless in their first four games in conference play, stunned BYU in the opening game of the West Coast Conference tournament a year ago, sending the Cougars home early, and sending a then Dave Rose-coached team off with its first season with fewer than 20 wins since 2005.
Pope joked that his "job depends on" a win over San Diego. And while that may be hyperbole, it's also in the vein of how seriously the Cougars are taking Thursday night's game.
"This is payback," BYU guard Connor Harding said. "They kicked us out of the tournament (last year), and all of our hopes. I think that's why Coach is on edge a bit. It's time to answer the call and get back at them."
Harding scored 12 points on 5-of-7 shooting on that night in Las Vegas, a rare bright spot in an 80-57 loss to the Toreros that most BYU fans have likely forgotten.
"I think it left a horrible taste in our mouths," he said. "Ever since the end of that game, a lot of players recommitted themselves to this next season.
"Not only were the coaches embarrassed, but we were embarrassed. We know we're better than that."
How to watch, stream and listen:
BYU (13-5, 2-1 WCC) vs. San Diego (7-12, 0-4 WCC)
TV: BYUtv (Dave McCann, Blaine Fowler, Spencer Linton)
Streaming: BYUtv.org
Radio: BYU Radio 107.9 FM, KSL 102.7 FM/1160 AM (Greg Wrubell, Mark Durrant)
Series: BYU leads 16-6
×
Related stories
Most recent BYU Cougars stories