Estimated read time: 8-9 minutes
This archived news story is available only for your personal, non-commercial use. Information in the story may be outdated or superseded by additional information. Reading or replaying the story in its archived form does not constitute a republication of the story.
PAYSON — For the first time in several years of his football life, Payson defensive back Tanner Moss was excited about the future.
That's because the 5-foot-10 senior-to-be felt like he had something to work for — and it didn't involve competing for a region or state title.
The Lions, often considered an afterthought when competing for trophies and championships, were plotting a new course. And for a team that finished 3-8 in 2-10 and has barely over a dozen wins since 2013, that course included an independent future in football.
Timpanogos, Payson and Cottonwood all received unanimous approval from the Utah High School Activities Association's executive committee Wednesday to go independent in football for the remainder of the two-year realignment cycle.
"The best part is the hype around the school. A lot of kids have already said they are more interested in playing, going independent," Moss told KSL.com. "Coaches said we'll be playing teams that are at our level, and that will help the morale of the team. I think it's a good option."
The final decision will rest with the UHSAA's board of trustees, but that seems like a formality for the three programs to chart their own course, independent of state championships and region titles for the 2020-21 school year.
It's a small price to pay for schools that haven't been competitive in football for several years.
"They were tired of getting beat up," Cottonwood athletic director Greg Southwick said. "All they want to do is get back out there and compete. We feel like the program might begin to build itself from there, and it might take 2-3 years."
The three schools would join rural schools Whitehorse and Monument Valley, as well as Herriman-based Providence Hall, which just started a football program in 2019, and Judge Memorial, which received approval from the association's board of trustees last week.
Last decade
Back in December, the executive committee initially recommended the Bulldogs' football program not go independent as it sought to realign mid-cycle. The worry was an independent Judge Memorial could "open the floodgates" for other schools to request similar status change while the UHSAA already realigns regions every two years based on the state's population growth and shift.
But Judge Memorial administrators said that's a floodgate that should be opened, if a school wants to venture down such a path.
"That is the flood that we need to have happen," said Judge Memorial athletic director Scott Platz, whose school won a state title as recently as 2013. "When the Nile used to flood, it would leave behind rich soil. Hopefully (going independent) can help stimulate football at some of these schools.
"I think the alternative is to not field a team. That's not good for those who want to participate."
A numbers game
That was an alternative Payson athletic director Brian Argyle described during a parents' meeting at the high school earlier this week. The school has struggled mightily on the football field, finishing above .500 just three times since 1989 — that includes a 14-57 record since 2013 — and it's taken its toll on the student body, both football players and non-football player alike.
Payson had 400 registered student-athletes in the fall 2019 season, according to the statewide database available at RegisterMyAthlete.com. By comparison, Springville and Maple Mountain, which also compete in 5A's Region 8, had nearly 800.
The number still includes quarterbacks and running backs in the Lions' football program, but it did not account for a swelling bevy of offensive and defensive linemen. Factor in injuries — the kinds that every team in the state suffers over the course of a season — and the trenches become disparagingly thin.
"We have decent numbers, but not a lot of it includes linemen, so that's tough," said former Payson coach Derek Campbell, who resigned from football last week.
Going independent in football allows Payson to remain a full-fledged member of the UHSAA in other sports, including its high-profile wrestling program that recently won the Class 5A dual state tournament.
The same with the other schools. Cottonwood football's drop won't have any effect on the Colts' champion baseball team, for example. And in a year, the schools will be invited to re-apply for full membership within the UHSAA on the two-year realignment cycle that will span 2021-23.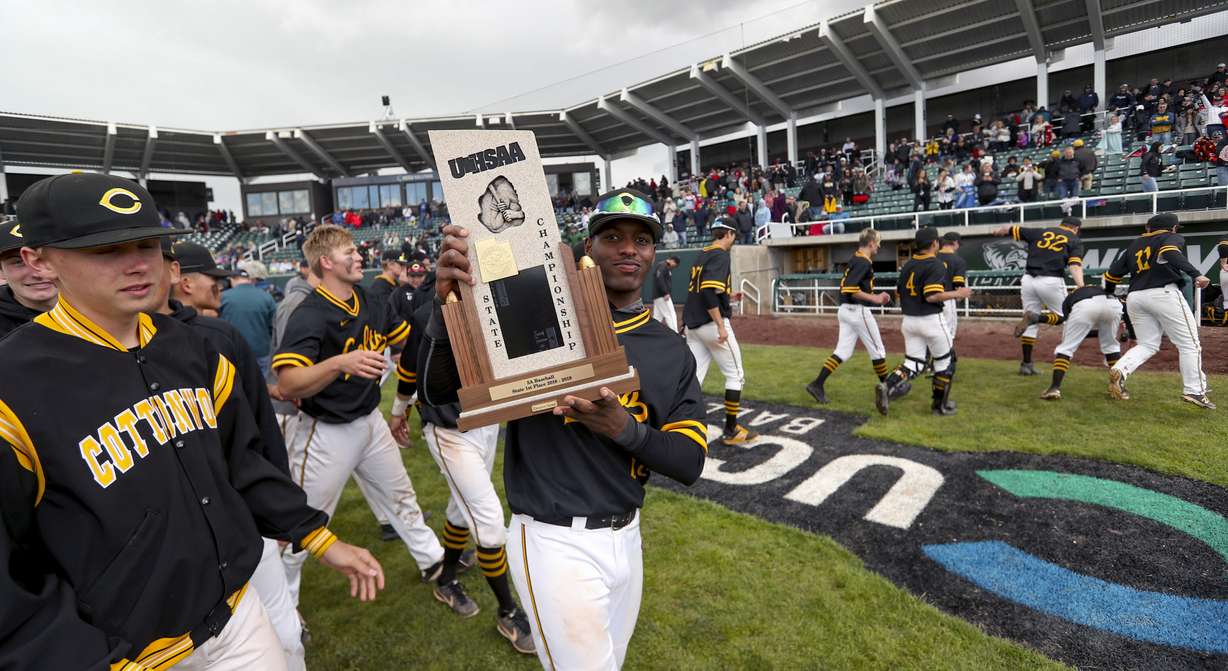 Independence is a short-term fix, but it's hoped to have long-term consequences — especially for a team like Timpanogos, whose program dropped from more than 60 players two years ago to around 40 by the end of 2019.
"Our numbers have dropped, and we want to see if we can get our numbers up by getting into a competitive situation," Timberwolves athletic director Frank Bramall said. "We just want to try to get these kids in a more competitive situation."
Bramall pointed to Mountain View, which went 9-3 in the 4A Region 10 just two years after a 3-9 season that included a 55-13 loss to Timpanogos. That move has reanimated the Bruins' student body, and the Timberwolves hope to achieve a similar goal.
Ultimately, though, it comes down to player safety.
Safety first
There are plenty of reasons the idea of football independence was broached among UHSAA member schools: competition level, travel costs, and "something new and different" were the most cited.
But the biggest reason to move the program forward is player safety. Timpanogos finished 1-10 in 2019, including a 1-4 mark in a Region 7 that also included state champion Orem and Timpview — the team on the other side of the Class 5A state championship.
"Honestly, our kids battled hard and gave it everything they had," Timpanogos' Bramall said. "But in the end, they were outmanned when it came to those teams. We're just looking for a chance to play teams whose numbers are more in line with where we're at."
Going independent in football won't guarantee success. But it will help keep players at these schools healthy and competing at the appropriate level with a more manageable schedule. It will improve the regions these schools leave behind — even more in the era of the RPI, which determines seeding for an all-comers state tournament recently adopted by the UHSAA.
"We didn't want to keep being the bad region partners and forfeit games while playing guys without experience maturity," said Platz, whose school paid a $250 fine for forfeiting a game against Morgan for lack of players. "How could we keep football alive at Judge, but how could we also make it more palatable for our parents and students? How could we not put our 14-years-olds against 18-year-old men? For our students' welfare, that matters more than anything else."
Not in favor
There were plenty of arguments against going independent posed during the parents' meeting in the Payson High School library. Many of them involved college recruiting and concern over a student-athlete who might "get seen" less at an independent program than if it played regular standout schools in region play.
Another involved finances; how much would transportation costs swell for the Lions as buses went to Monticello, Herriman and Preston, Idaho, instead of nearby communities like Springville, Salem and Spanish Fork?
The long answer is "quite a bit," but Argyle told parents the school was prepared to handle those cost adjustments. There will not be an increase in student participation fees to play football.
"Teams will want to play us," he said during the meeting.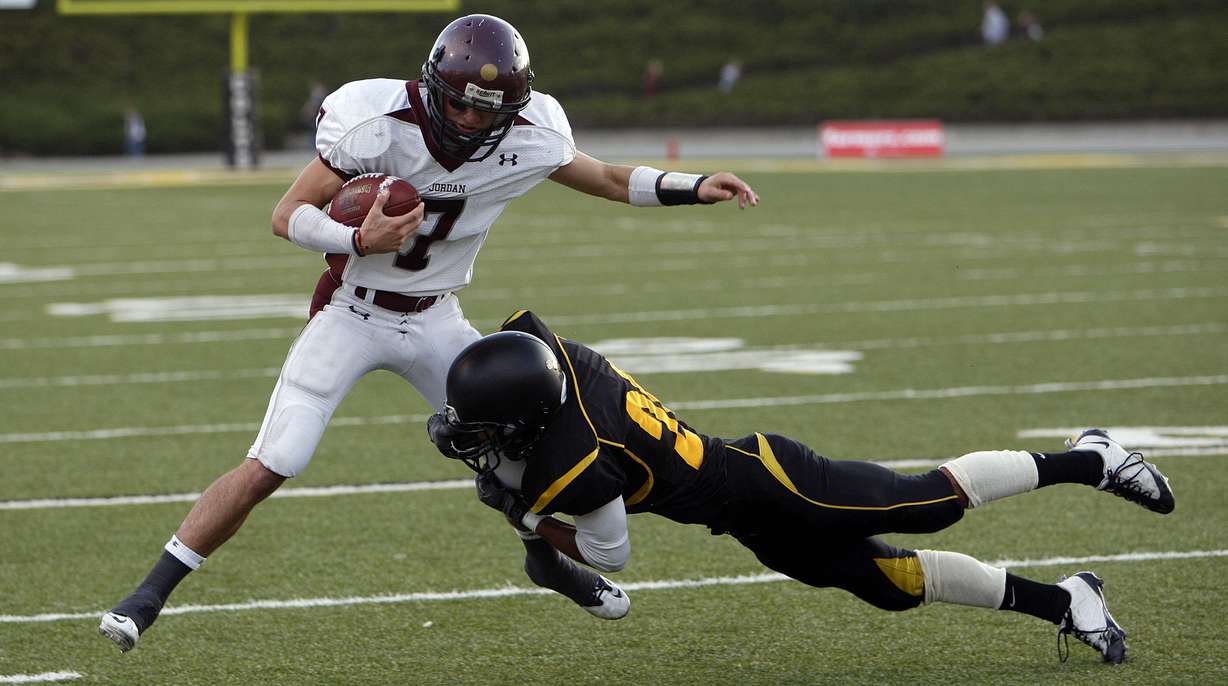 Scheduling a full schedule, without the aid of region play, will be difficult. But that's something each athletic director was prepared to handle — even, in Argyle's case, as he tries to hire a new coach to lead his program.
In the month since the executive committee announced its decision against Judge, Platz has put together as robust of a schedule as any in Utah high school football — one that already includes fellow independents Monticello and Providence Hall. He has one spot available, and the Bulldogs are considering removing an extra bye week to add games against the most recent independent teams, as well.
"We're trying to schedule two more teams that are applying for independence to help us fill a schedule," he said. "That's a concern that a lot of people have, and it could've been rough."
There were some disagreements. But when Payson's parents voted on the concept, the need to go independent was met with overwhelming approval — the vote passed at a rate of 94%.
With so much support for the moves amongst multiple schools, filling a schedule becomes a bit easier.
"We want to play each other," Cottonwood's Southwick said. "But we've got some varsity and JV options, as well. Our varsity will play bigger schools' JV teams. It's going to be harder because you don't have a set schedule … and there will be some schools that might not want to play you because of the RPI. But that's a pretty neutral thing. It's doable."
Excitement renewed
One group that is excited for the chance to try a new course: Payson's football players.
Since the Lions first broached the idea of going independent within their own ranks, a dozen former players have said they want to try out for the team again.
Moss hopes it's only the beginning.
"Enthusiasm has come back just by the rumor of being independent," Moss said. "In the last week or so, I know personally three to four kids who are more interested.
"If that's the last week, then it can be a big difference for us."
Sure, they might not be playing district rivals Springville, Maple Mountain or Spanish Fork. But that hardly matters for the players.
"How they matched up the reasons is kind of messed up. I think all these teams wanting to go independent shows that," Moss said. "It's always been them and us; Payson has been the outlier, and we're kind of sick of it."
×
Related stories
Most recent High School stories