This archived news story is available only for your personal, non-commercial use. Information in the story may be outdated or superseded by additional information. Reading or replaying the story in its archived form does not constitute a republication of the story.
PROVO — Is BYU football a candidate to join the American Athletic Conference?
That's been the question floating around the internet, on Twitter and in fan conversations all week, ever since news broke that the University of Connecticut was headed back to the Big East in all sports but football.
Now we have an answer.
And that answer is: only if the Cougars sincerely want to be.
AAC commissioner Mike Aresco told various local media outlets during a mini-phone tour Friday morning that any conversations between the conference and expansion candidates would have to be initiated by the individual schools.
"We'll be likely to stay at 11," Aresco told BYUtv. "If people call us, we'll listen. But the last thing I want to do is rile the college community. We're not going to keep conferences on tenterhooks.
"I don't think we need to entertain it. I say this without any smugness: We know how good we are, we know how hard we've worked to get there, and I don't think there is any way we would do anything that didn't enhance our brand."
That doesn't mean the conference is opposed to replacing UConn; there's symmetry and ease of scheduling in having 12 teams for football, as opposed to 11.
But the Huskies spurned the conference, and any new additions for football won't be coming from the Hartford area.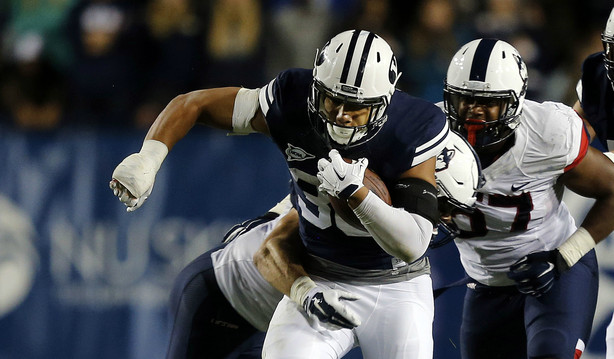 "When a school takes its best product — men's and women's basketball — to another conference, it's not going to play football in our conference," Aresco told The Athletic late Thursday night. "Our membership has made that clear.
"We don't have any interest in UConn as a football-only member."
The commissioner even added that the Huskies brought less value to the league in men's basketball than many gave them credit.
The Huskies won a national title in 2014 as a member of the American, but has only made one NCAA Tournament since then and finished 16-17 with a 6-12 record in conference play in 2018-19 in the final year under head coach Kevin Ollie.
"UConn hadn't contributed much for our basketball," Aresco told BYUtv. "I think they are going to get better, and I think they would have been a factor in our league. But even without them, I think we will be really good in basketball."
BYU is close to an extension with ESPN for the university's football media rights, a deal that will also include provisions for the Cougars' bowl game contracts in the near future. That contract could impact any negotiations BYU might have with any conference, including the American.
BYU's name has been thrown about as a possible replacement in the AAC since, well, before UConn had been officially readmitted to the Big East, with some national writers and pundits boasting strong opinions on the matter.
"If BYU would go to the American, they would make more money in media rights deals than they are currently with ESPN, so that would be a positive," college football reporter Brett McMurphy told Patrick Kinahan. "The negative would be the travel would increase because you're heading east every conference game. Obviously, it would make life easier for Tom Holmoe, as far as scheduling, because now you're finding four games every year instead of 12."
Perhaps those assumptions were premature.
Or maybe not; BYU administrative decisions have changed as quickly as the wind in the past. If the school decides that the best interest of its football program is to join the American — which currently comprises Temple, Cincinnati, South Florida, Houston, Memphis, SMU, UCF, East Carolina, Tulane, Tulsa and Navy — then the Cougars will make efforts to proceed in that direction.
Aresco and his team will listen at that time. But not before.
"BYU is a great national program. It has a ton of history," Aresco said. "We have enormous respect for BYU, and I have great affection.
"I can't say enough good things about BYU. But having said that, we've got a lot of thinking to do about this. And BYU has shown no interest in joining a conference, from what we've seen."
×
Related Stories