Estimated read time: 5-6 minutes
This archived news story is available only for your personal, non-commercial use. Information in the story may be outdated or superseded by additional information. Reading or replaying the story in its archived form does not constitute a republication of the story.
AROUND THE SHIELD — Taysom Hill hadn't even cleaned out his locker after the 2019 season before New Orleans Saints fans and reporters were asking the obvious question.
Will he be back in the Big Easy next year?
For a third-string quarterback with 105 yards passing, 206 yards rushing and 259 yards receiving — not to mention eight total touchdowns, ranking in the top 20 amongst wide receivers or running backs — the answer seems clear.
Add in the fact that Hill made 13 tackles on special teams, returned more than a dozen kicks and even blocked punts — yes, blocked punts — and it seems more obvious. The former BYU quarterback became the first player in NFL history to throw for 50 yards, run for 50 yards and add 25 yards receiving in a playoff game Jan. 5 against Minnesota.
Plus, he's a fan favorite, with his own 12-minute documentary produced by the Saints.
"They love him," WWL-New Orleans radio reporter Kristian Garic told BYUtv. "There's a T-shirt circulating down here that has a picture of a Swiss army knife with him. They buy his jerseys. He's a football player, and they love him.
"But the team loves him. You can see it when he comes in on special plays. It just energizes them."
As the NFL playoffs continue Saturday and Sunday with the divisional rounds, the Saints (along with every other team now in the thralls of the offseason) have several decisions to make.
Does Hill want to remain in New Orleans? He hasn't directly said so — at least not publicly — but it's hard to imagine he wouldn't.
Drew Brees. Michael Thomas. Head coach Sean Payton. The Saints were a trendy pick to win the NFC before a stunning 26-20 overtime loss to Minnesota in last week's Wild Card round.
Still, it's hard to find a better organization in the NFL, especially for an athlete with Hill's skillset.
"This is one of those organizations that's had a really good locker room for a long time," Hill said after the Saints were eliminated from the playoffs Sunday. "I don't think that's going to change."
The 29-year-old Hill, who is set to become a restricted free agent in 2020, made an estimated $645,000 in 2019 with the Saints, according to Over the Cap.
Considering the Pocatello, Idaho, native played just 36 snaps at quarterback while rotating between running back, tight end, slot receiver, wide receiver and an eye-popping 285 snaps on special teams, that's an incredible value for the Saints.
So much so that ownership might simply choose to tender Hill's status, or even extend him in the Big Easy, according to Garic, who covers the Saints every week. That would invite a substantial pay raise for Hill — even in excess of $4 million, according to the going market rate of first-round draft pick tender deals.
"I expect Taysom Hill to get at least a first-round compensation-level tender, or even sign an extension," Garic told BYUtv. "He's worth at least $4.6 million, for his ability to play on special teams, in packages, and running routes.
"The guy is literally a jack-of-all-trades, and he presents tremendous value to that team."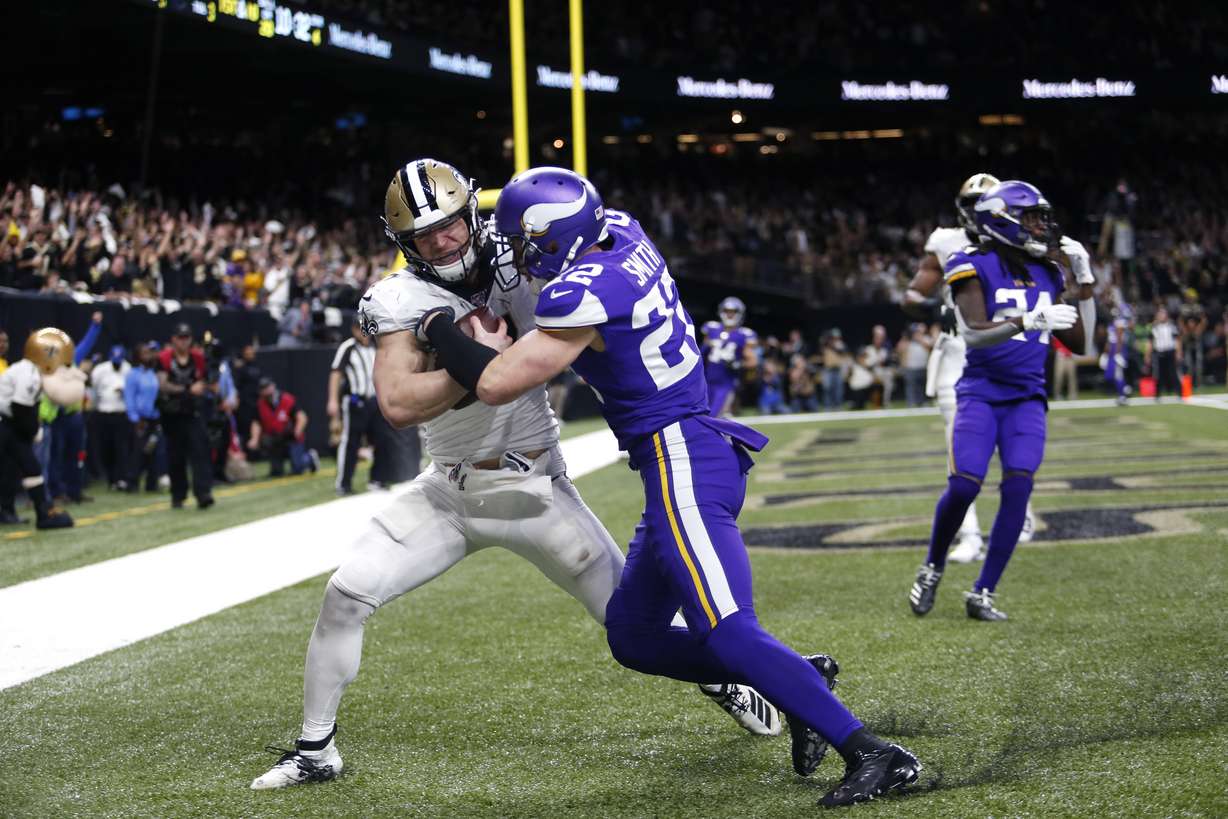 Hill might even have a future as New Orleans' signal-caller. Few expect Brees, a legendary quarterback who has already set several NFL passing records (and has New England's Tom Brady right behind him) to retire this offseason — though the unrestricted free agent will be 41.
If Brees wants to come back to the Saints, there's little (if any) chance the franchise wouldn't allow it.
But Hill could make a suitable backup, assuming unrestricted free agent Teddy Bridgewater seeks out a big payday elsewhere. The Louisville product was the first-choice backup when Brees missed five games with a thumb injury in 2019, and proved a capable quarterback. But it's hard to blame a quarterback who will be an unrestricted free agent from commanding a more significant role (not to mention, paycheck) on the open market.
The Saints could even keep all three, by signing Brees to an extension that will probably take him through the end of his career, putting a franchise tag on Bridgewater worth more than $22 million, and add Hill on a low-cost restricted free agent tender.
That may be unlikely for the salary cap-handcuffed Saints, but Bridgewater could also return on a $22 million fully-guaranteed transition tag. That would give New Orleans the right of first refusal if a team tries to negotiate with Bridgewater — but also leaves them open to receive no compensation if he leaves.
As for Hill, one NFL executive told ESPN NFL reporter Jeremy Fowler that it "wouldn't shock" him if Payton kept Hill on the roster for the foreseeable future, both as a quarterback and for his excellence in gadget plays.
"Sean has always been intrigued by athletic quarterbacks and how to utilize them," the executive told ESPN.com. "Taysom is a talented guy."
So while the Saints' quarterback contract situation is exponentially complicated in the three-man depth chart, Hill's status might be the most straight-forward.
Payton has taken a special liking to Hill, but he's also been pivotal in allowing the former BYU quarterback to blossom into his current role.
It takes a unique coach and a special circumstance to thrust a backup quarterback into kickoff return and punt coverage — but the gamble has more than paid off for Payton, who could only smile as Hill returned 16 kickoffs and blocked two punts in 2019.
But as far as his future in New Orleans? Payton can't say just yet.
"We haven't gotten that far yet," Payton said during Saints' locker-room cleanout. "I like the perfect-world scenario, and yet we don't live in one.
"We haven't gotten down the road yet. We'll meet on all these topics."
×
Related stories
Most recent NFL stories