Estimated read time: 4-5 minutes
This archived news story is available only for your personal, non-commercial use. Information in the story may be outdated or superseded by additional information. Reading or replaying the story in its archived form does not constitute a republication of the story.
AROUND THE SHIELD — When you visit Taysom Hill's bio on NFL.com or the New Orleans Saints' website, you still see the word "quarterback" underneath his name.
But Hill is more than a quarterback.
Hill personally outscored the Falcons 12-9 in the first half, and he helped the Saints clinch the NFC South title with a 26-18 win over Atlanta in the third of three Thanksgiving day games Thursday night in New Orleans.
The former BYU quarterback finished with two rushes for 33 yards and two catches for 12 yards and two touchdowns, as well as a deflected punt on special teams.
"We have so many good players on our team that I think a lot of people worry about those guys and I'm able to come in and do a good team," Hill told NBC's Michelle Tafoya after the game. "I love this team, and I'm glad I got to come in and do some good things. It was a good night."
Hill received a game ball and a traditional postgame turkey leg after the game, joining starting quarterback Drew Brees, who completed his 10,000th career pass, and pass rusher Cam Jordan, who had four sacks.
Hill deflected a punt on special teams, caught two passes for 12 yards and scored on a 3-yard shovel pass from Brees on the same series to give the Saints a 7-0 lead in the first quarter over the Falcons (3-9).
By the end of the half, Hill added a 30-yard touchdown run via a quarterback draw on third-and-one en route to New Orleans 17-9 halftime lead.
"We were trying to get a touchdown throw in there, too. But it wasn't in line," Hill said after the game with his trademark grin. "That offensive staff is so good, and they put so much time and attention into every little detail …. They put all of our guys into good positions, and they certainly did with me tonight to make it work."
Hill, who dazzled with his athleticism in his days in Provo, reached a max speed of 20.17 miles per hour on his 30-yard touchdown, according to ESPN Stats and Information. It's the fastest speed by a ball carrier on a Saints offensive touchdown this season.
It was the first time in Hill's brief NFL tenure that he has scored multiple touchdowns in a game, and he did it by halftime. His fourth receiving touchdown of the year is better than Odell Beckham Jr. and Davante Adams — who have combined for three touchdown catches.
Hill's fourth touchdown catch of the season set an NFL record for receiving touchdowns by a quarterback in a single season.
Athletic. Fast. Shifty. Great hands.
Is Taysom Hill still a quarterback in the Saints' offensive system with an elite-level veteran taking the snaps?
Sean Payton thinks so.
"He's just a football player," said the New Orleans head coach, praising Hill's "practice player" mentality and team-first attitude that endears him to his teammates. "He can play any number of different positions. There aren't a lot of guys like him; he's the first one I've ever coached like him.
"I don't know if there is anyone that enjoys playing football more than him."
Whatever his position, Hill is just happy to be on the field.
"My goal is to provide a spark whenever I can," he said. "I love to be able to go in and add some energy."
Former Utah safety Marcus Williams had seven tackles, just two off the team-high, for the Saints (10-2).
Here's how other former local high school and college football standouts did in spending Thanksgiving on the gridiron.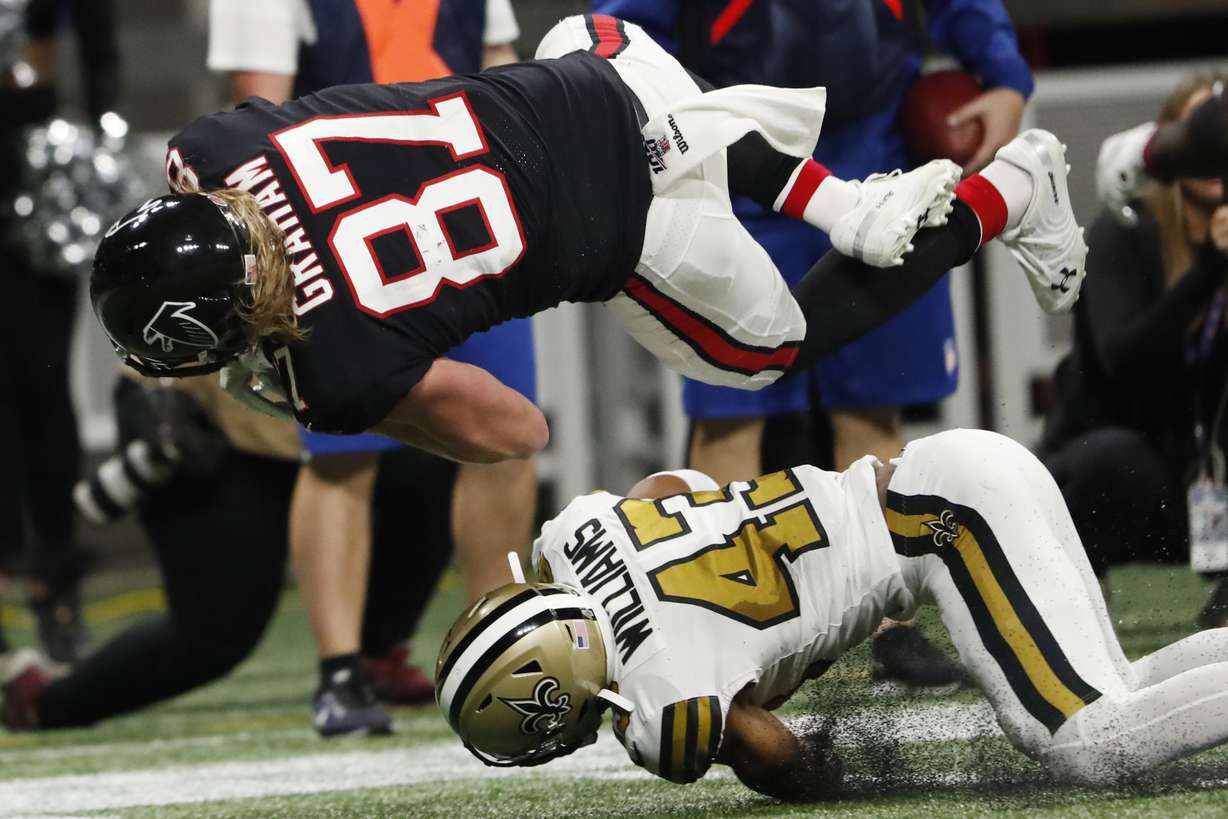 Buffalo 26, Dallas 15
Weber State grad Taron Johnson eight tackles and a pass defended to help the Bills (9-3) stuff the Cowboys.
Former Bingham High and Utah standout Star Lotulelei pulled down an interception — just the seventh of his seven-year NFL career — for the #BillsMafia, who held Dallas to one touchdown before the fourth quarter.
Former Timpview High offensive tackle Xavier Su'a-Filo rotated on the line for the Cowboys (6-6) and had a tackle after a fumble.
Chicago 24, Detroit 20
Weber High and Utah State grad Patrick Scales set seven long snaps, including Eddy Piniero's 30-yard field goal to help the Bears (6-6) to a four-point win over the Lions.
Former Southern Utah defensive back Miles Killebrew made one tackle on special teams for the Lions (3-8-1).
×
Related stories
Most recent NFL stories