Estimated read time: 5-6 minutes
This archived news story is available only for your personal, non-commercial use. Information in the story may be outdated or superseded by additional information. Reading or replaying the story in its archived form does not constitute a republication of the story.
PROVO — There's something unique about each gym in the West Coast Conference.
Take Saint Mary's, for example: a small, Catholic university in 16,250-population Moraga, California, with a student body of fewer than 4,000, that has risen to become a steady force in college basketball.
Much of the credit goes to Gaels' men's basketball coach Randy Bennett and the steady pipeline of international recruits he brings into the Bay Area, notably from Australia. But plenty of the credit has to go to McKeon Pavilion, or University Credit Union Pavilion, after the local bank purchased naming rights to the 3,500-seat arena prior to this year.
It's a special place in college basketball. Despite its size, it has become one of the more difficult places to win in recent years.
Just ask BYU, which will try to win their first game in Moraga since 2014 when the Cougars (12-4, 1-0 WCC) tip-off Thursday night (9 p.m. MST, ESPN2).
"It's a very small gym, but it's extremely loud," BYU guard TJ Haws said. "They pack that thing out, and they have great fans who show out every game. It's small, but it doesn't feel that small when you are in there."
The fans are nearly on top of you in the smaller gym in Moraga. It's enough of an advantage that BYU head coach Mark Pope tried to duplicate the look for the visiting team this week by dropping curtains, shooting against a Saint Mary's-inspired blue background, and dimming the lights in the Marriott Center Annex during practice — similar conditions they'll face in the Bay Area.
Sure, the numbers may not jump off the page when one reads them off the box score. But the Gaels (14-3, 1-1 WCC) have a veritable home-court advantage, and one that has made them one of the top college hoops teams in the West. In the past 11 meetings, dating back to BYU's last win there in the 2013-14 season, the Cougars are just 4-7 against the Gaels and 14-14 all-time in an on-court series that dates back to 1956.
Add to the program and the atmosphere a coach like Bennett — the 57-year-old rising coaching star from Mesa, Arizona, with more than 400 career wins — and the place seems downright impenetrable at times.
"In some ways, it's unparalleled," said Pope of Bennett's tenure with the Gaels, which includes seven trips to the NCAA Tournament and six other postseason appearances. "He's got a great recruiting niche, and he's found a lane of basketball philosophy that he believes in, and he's stayed dedicated to it. It really works … and they've had great, tough players — so many players that roll through there and become more than what you expect.
"This team is no different, with unbelievable toughness, physicality and a veteran group that has won at the highest level. They know how to protect their home court."
And that will be the challenge Haws, Yoeli Childs, Alex Barcello and the rest of the Cougars will walk into Thursday night. Winning on the road is rarely easy, and in a West Coast Conference that ranks ninth in Division I in league depth by KenPom.com, it's even more difficult.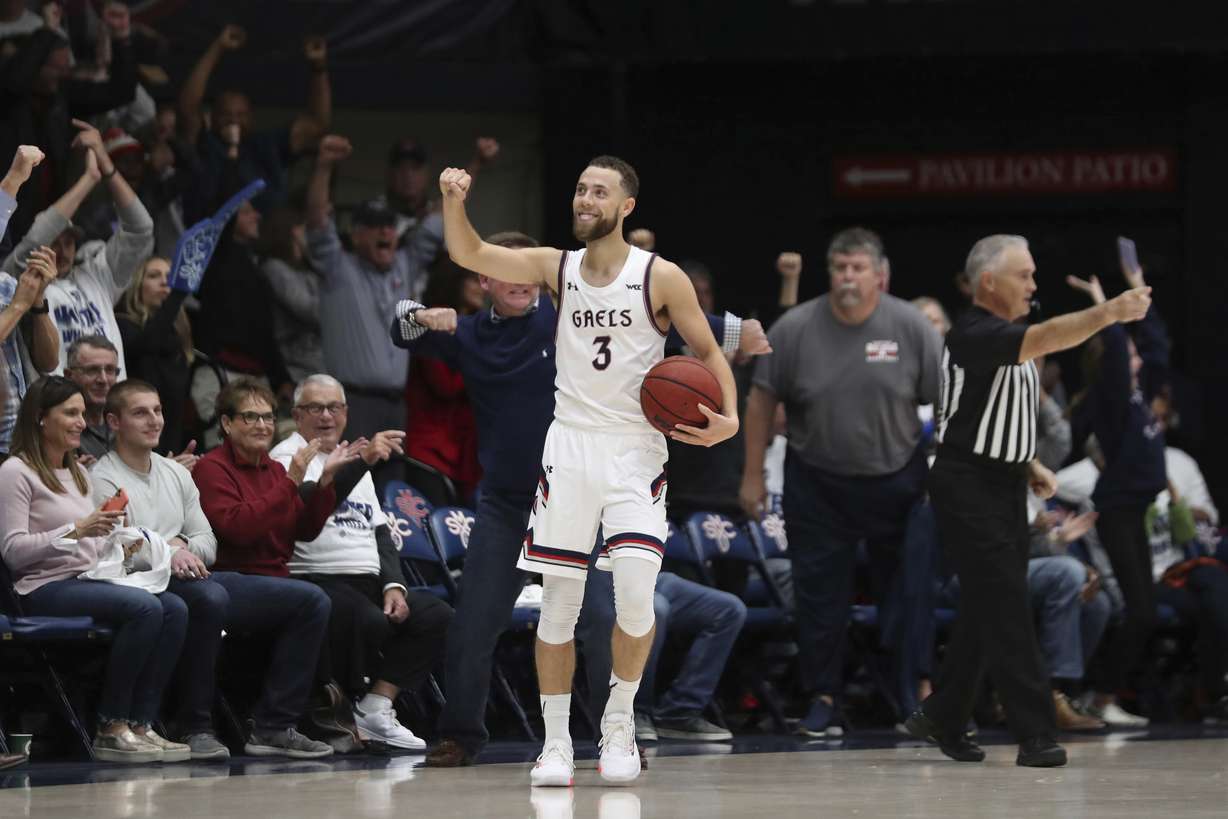 Just ask the Gaels, who are coming off a 107-99 four-overtime loss to Pacific, dropping Saint Mary's to 1-1 in league play and leading the Tigers to a 14-4 start that includes 2-0 in conference.
Pope knows the kind of team that awaits him Thursday: Not only dangerous, high-scoring and with a suffocating defense, but one that topped BYU's in-state rival Utah State 81-73 during nonconference play. This Gaels team will also be angry, hungry and motivated to eliminate the taste of that loss to Pacific.
"This league is a complicated league to find your way through, maybe even more this year than it has been in the past," Pope said. "That's great; it's good for us. It's good for this league. It's good for all the teams.
"I guess I'm always surprised when Saint Mary's loses. But I'm not surprised about how competitive this league is."
BYU passed its first test of league play Saturday with a 63-38 win over Loyola Marymount, overcoming a slow shooting night with a defensive performance that shocked even some home fans in the Marriott Center.
That's the kind of performance they'll need to duplicate to have any chance against the Gaels, who will be angry, upset and just plain hungry to rebound from their first loss to Pacific since 2012 amid the Tigers' best start since 2004.
Because shots don't always follow on the road, even for a team like BYU that ranks in the top-10 nationally in 3-point field goal percentage and similar offensive metrics. But defense travels, if you believe the old cliche.
And in the West Coast Conference, you'll take any advantage you can get in traveling up and down the California coast.
"Home-court advantage is a huge thing in the WCC," Zac Seljaas said. "Everyone is their own gym with their own differences and their own little thing — but the fans are as loyal as they get, everywhere you go.
"You've got to dig deep to fight, go to each gym, and make sure to give it your best."
How to watch, stream and listen
Tipoff: Jan. 9, 2020, at 9 p.m. MST
TV: ESPN2 (Roxy Bernstein, Corey Williams)
Streaming: WatchESPN
Radio: BYU Radio 107.9 FM, KSL 102.7 FM/1160 AM (Greg Wrubell, Terry Nashif)
On-court series: Tied 14-14 (since 1956)
×
Related stories
Most recent BYU Cougars stories