Estimated read time: 3-4 minutes
This archived news story is available only for your personal, non-commercial use. Information in the story may be outdated or superseded by additional information. Reading or replaying the story in its archived form does not constitute a republication of the story.
PROVO — Ugly, dirty and grimy after the weekend, BYU basketball's shooting numbers — among the best in the nation in 3-point shooting, with clean, efficient percentages — probably took a hit Saturday night.
But the Cougars' record didn't.
Yoeli Childs had 19 points, 12 rebounds and two blocked shots; Jake Toolson added 13 points, three rebounds and four assists; and BYU overcame a stodgy shooting night with a 63-38 win over Loyola Marymount in a West Coast Conference opener at the Marriott Center.
TJ Haws added 8 points, four rebounds and four assists for the Cougars (12-4, 1-0 WCC), who missed their first seven 3-point attempts and shot just 25% early in the first half before finishing with a 43% night.
But Childs' dunk opened a 13-2 run late in the half, and BYU turned a 24-19 halftime edge into a 44-29 advantage with a separate 13-2 run midway through the second half.
Eli Scott had 15 points and six rebounds to lead the Lions (7-9, 1-1 WCC).
"I keep talking to the guys that we learn how to endure frustration and get to the next play. It seems like the game is giving us a gift of a lot of frustration to practice with," BYU coach Mark Pope said. "Our guys did an unbelievable job.
"We felt early in the season when shots weren't falling that it affected us on the defensive end. It didn't affect us on the defensive end at all tonight. I can't tell you guys how proud I am of our team that those guys, despite the frustration, muddiness, ball movement and play calling, that those guys came and competed on the defensive end on every single possession."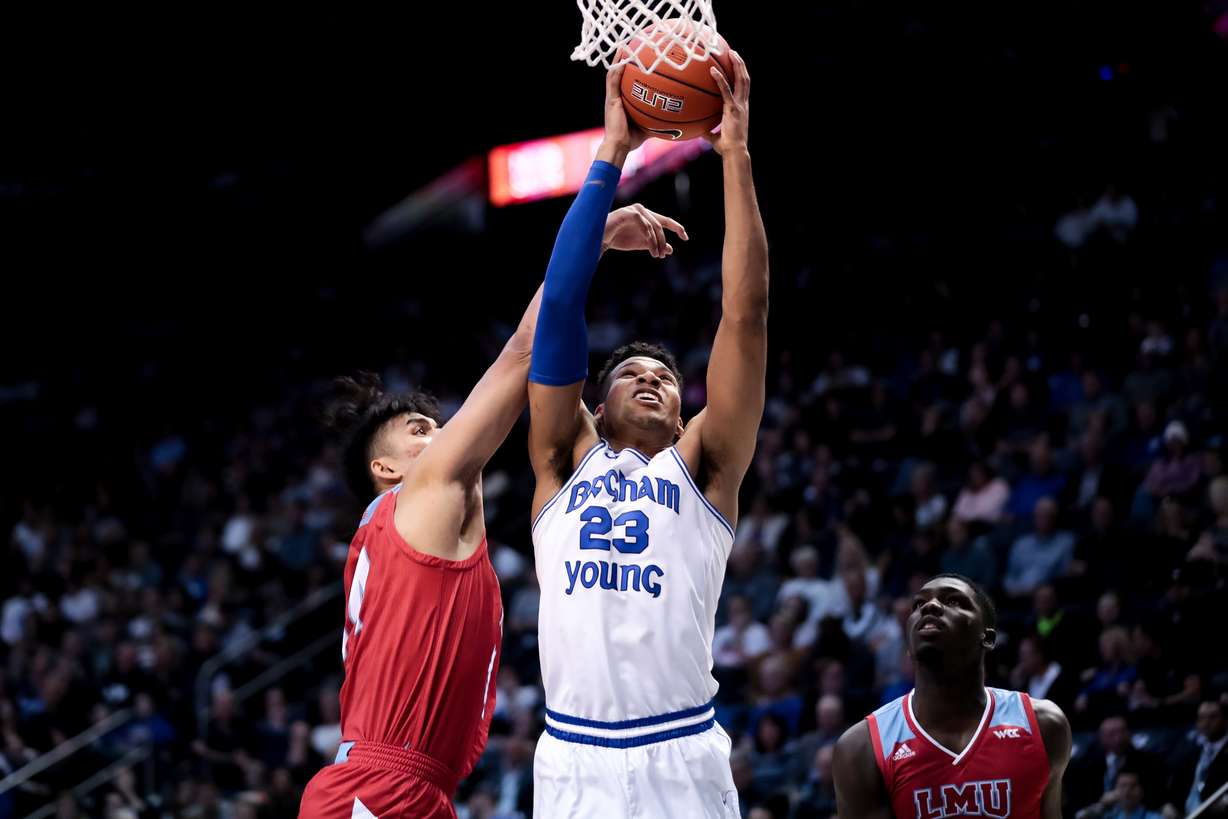 BYU opened shooting just 25% from the field, and couldn't hit from 3-point range — the Cougars whiffed on seven-straight threes to start the game. But the Lions never led by more than five — when they led 5-0 in the opening four minutes of the game — and BYU kept the game within reach for all 40 minutes with a defensive effort.
"We can't let what is happening offensively dictate the energy we have defensively," said Toolson, who shot 3-of-6 from 3-point range. "In this case, we were able to fight through what we were dealing with, buckle down and get stops — and that translated to the other end."
Then Childs had a dunk with 7:16 left that changed everything.
Suddenly, the Cougars found their shot.
Jake Toolson for three? Swish.
TJ Haws, same thing? Yep.
Back-to-back-to-back buckets by Childs, including a deep three from the left elbow to cap a 13-2 run? You betcha.
Childs opened up the shooters, and the shooters opened up Childs in the post. Vice versa and vis-a-vis.
"I just tried to be more assertive and getting my position in the paint," the Bingham High product said. "The guys did a good job of finding me, and the coaches did a really good job of emphasizing getting into the point. Our mentality is just to be more aggressive getting to the rim."
Eventually, BYU led by as much as 24-17 en route to a 24-19 halftime advantage — and never trailed again. After missing their first seven 3-pointers, the Cougars closed by dropping 8-of-17 from deep after Toolson's make with 6:36 to go in the half.
So what changed?
"I don't think anything changed," Toolson said. "We don't stop shooting shots just because we start slow. We take open shots, we try to own every shot, and then we're able to make the next 8-of-17.
"We're not going to stop shooting open shots because they're not falling for a bit. We'll just keep taking the good ones, and sharing the ball."
×
Related stories
Most recent BYU Cougars stories