Estimated read time: 6-7 minutes
This archived news story is available only for your personal, non-commercial use. Information in the story may be outdated or superseded by additional information. Reading or replaying the story in its archived form does not constitute a republication of the story.
SALT LAKE CITY — Light rail trains buzzed back and forth and the city hummed along on a chilly Friday morning as family members, key Salt Lake City officials and religious leaders gathered to unveil a new statue to honor Vasilios Priskos, a man who is credited for helping revitalize the city's Main Street.
Priskos died from cancer at the age of 53 in 2017. By trade, he was a real estate magnate. But he was remembered Friday as a giant, and as someone who had a hand in Utah's growth over the past few decades. So, in many ways, a busy Main Street served as a fitting background for the ceremony, which was attended by surviving members of his family, Salt Lake City Mayor Jackie Biskupski, The Very Reverend Archimandrite George Nikas and a few dozen other people.
Family, friends and city leaders say Priskos' impact on the city is now immortalized. The 8-foot bronze statue, which is located outside of Neumont University, 143 S. Main, leads to a walkway between Main Street and Regent Street that was already dedicated to his memory.
"He was a true visionary, and it's pretty unbelievable he's actually etched in the stone of Salt Lake City," said Christian Vasilios Priskos, Vasilios Priskos' son. "We're here to honor him and honor his vision of what Salt Lake City is, what it's becoming, and to keep up and continue the legacy to grow Salt Lake City."
Who was Vasilios Priskos?
Vasilios Priskos was born on the Greek Island of Evia in 1964 and came to the U.S. with his parents in 1966. His family settled in Utah and opened a burger joint in the 1980s. After graduating from the University of Utah in 1990, he entered a real estate career, and then founded InterNet Properties in 1994.
During his lifetime, he served in positions within the 2002 Olympics Committee, Salt Lake Chamber of Commerce, Salt Lake Redevelopment Agency, Utah Film Center, Salt Lake City Police Foundation, the Children's Museum and other boards across the city and state.
"He was a long-term thinker and a man who understood vision," Biskupski said. "Our dear friend Vasilios loved Salt Lake City. He respected Salt Lake City and the people who live here. He loved this community that partnered with him over and over again."
During his life, he was a key player in reshaping Main Street — a section of the city his family said he had an affinity for. He bought properties on the street that others had abandoned, his family wrote in a 2017 obituary. His transactions helped lead to a modernization of the street with restaurants and bars, they said. When he purchased the old Salt Lake Tribune building, it was turned into Neumont University's campus.
Priskos was someone who devoted his time and resources to create a more vibrant and livable downtown, Biskupski said. He was also someone who supported the creation of the Eccles Theater, which opened in 2016, and revitalizing Regent Street, she added.
---
He was a long-term thinker and a man who understood vision.
–Salt Lake City Mayor Jackie Biskupski
---
Also in 2016, a year before he died, the Salt Lake City Downtown Alliance named him one of the 25 people who helped build downtown.
"Twenty years ago, downtown Salt Lake City was a little forgotten, particularly Main Street. Vasilios recognized that opportunity, made it into a business, made it into a career and made a fortune," said Kip Paul, a Utah broker and friend of Priskos.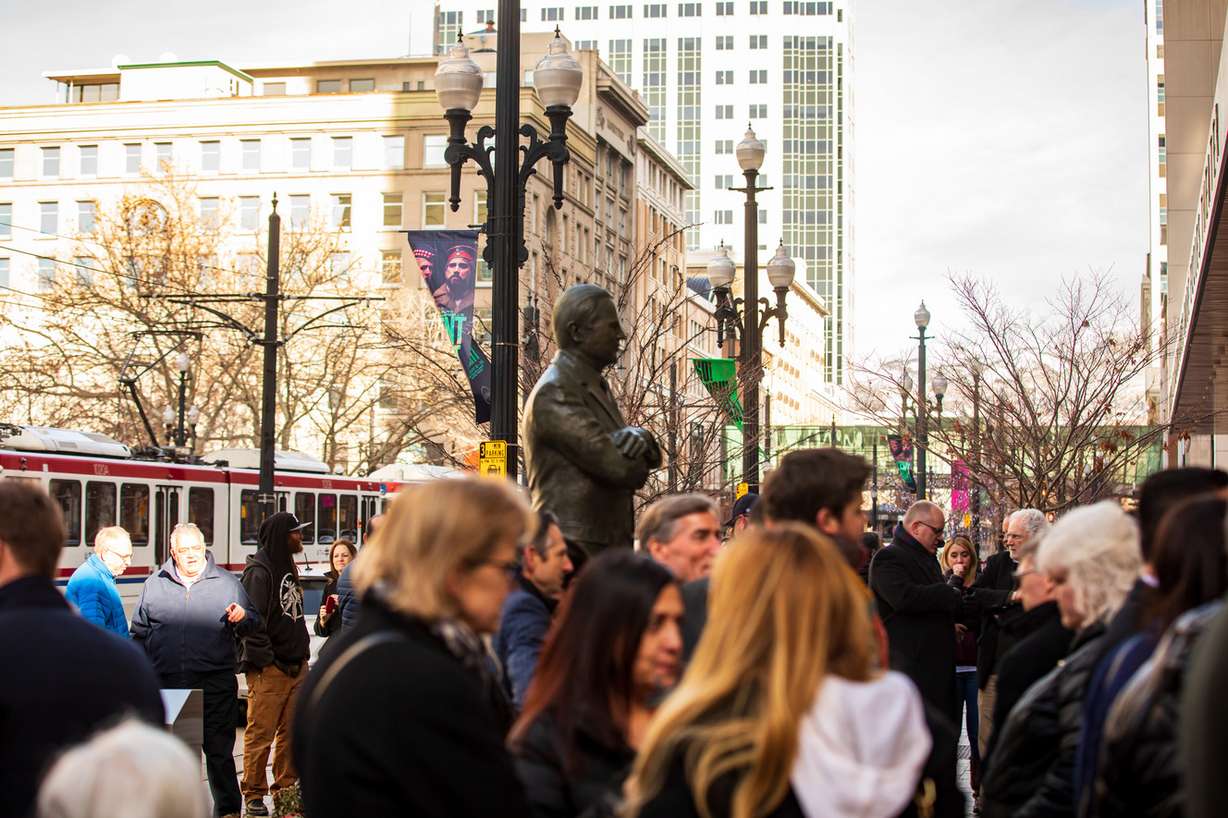 However, he was more than a real estate magnate to those who knew him. He was a gregarious family man who couldn't walk far downtown without running into a friend or acquaintance, according to friends and family. Paul recalled meeting Priskos outside the old Salt Lake Tribune building before they'd walk to a lunch spot somewhere downtown.
"Going to lunch with Vasilios was an event because you couldn't walk more than 10 or 15 feet without running into someone he knew," Paul said, receiving a few chuckles from the audience around him. "That would, of course, generate a conversation. We'd wrap it up, go another 20 feet and repeat the same exercise. That's before you'd reach the restaurant, in which he'd know half the people in there."
When asked about his father, Christian Priskos said he was "larger than life." While he always knew his father for giving him unconditional love, he also knew his father was a friend and a mentor for others.
"I only remember him with the kindness of words for people and always being that person that was always there for someone," he said.
Honoring a giant
The 8-foot statue captures Vasilios Priskos's "larger than life" persona. It was sculpted by Daniel Fairbanks, a Utah Valley University professor and artist. Fairbanks explained that he tried to capture Vasilios Priskos's likeness and personality while adding in some influence to ancient Greek statues.
He worked with Priskos' family, friends and colleagues to piece together an accurate depiction of him.
"What you see is the way he often stood," Fairbanks said, "Equal weight on both legs with arms folded. The pose is intended to show him standing proudly on Main Street, where he spent much of his life, with an expression that depicts kindness and warmth to those who gaze on his face."
Fairbanks made sure the statue featured Priskos wearing a suit and tie — something he commonly wore — and detailed it all the way down his wedding band with five diamonds. The statue was also made at 1 1/4 life-size, which Fairbanks asserts was an ideal size "to make someone literally larger than life and yet not so large that it makes him overbearing."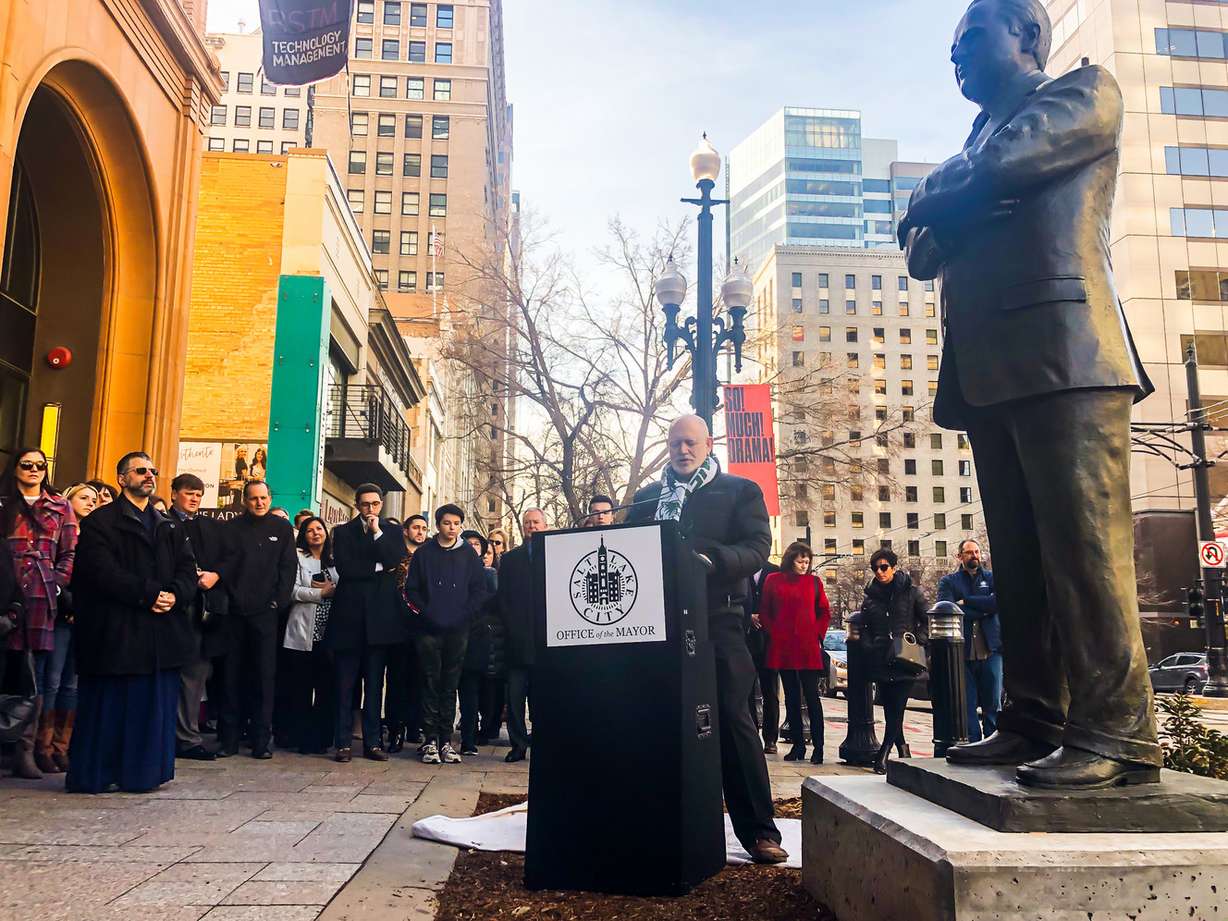 Crews will work to add a granite pedestal with Priskos' name later this year. A plaque about his life and contributions to the city will also be added, according to Fairbanks.
However, Christian Priskos contends the statue is more about the legacy his father left behind. That's why it made sense that any memorial about him would be placed on Main Street, surrounded by an ever-growing city skyline.
Christian Priskos believes the statue represents more of the city's growth, what it means to be a good friend and treating your neighbor with kindness and respect, which is what he hopes people see from it. He added the statue also helps inspire him and his family to keep building Main Street Salt Lake City.
"It gives us more ambition to go out there and continue his legacy and keep on growing it," he said. "Our plan is to keep on growing Salt Lake City, continue to do what he (Vasilios Priskos) was wanting to do and really put Salt Lake City on the map more than it already is."
×
Photos
Related stories
Most recent Utah stories