Estimated read time: 9-10 minutes
This archived news story is available only for your personal, non-commercial use. Information in the story may be outdated or superseded by additional information. Reading or replaying the story in its archived form does not constitute a republication of the story.
MURRAY — Utah's only Democratic member of Congress, Rep. Ben McAdams, announced Monday he will vote yes on impeaching President Donald Trump.
"My duty is to the Constitution and to our country. What the president did was wrong. His actions warrant accountability. I cannot turn a blind eye, thereby condoning this president and future presidents, Republican or Democrat, to do the same," McAdams said, reading from a prepared statement.
"The evidence for me is clear," he said. "The president abused the power of his office by demanding a foreign government perform a personal favor. He obstructed Congress in its constitutional duty of oversight by withholding pertinent documents and central witnesses," actions that weakened the country.
He said he "had hoped to find bipartisan common ground to censure the president instead of putting the country through a divisive and lengthy Senate impeachment trial with a predetermined outcome of dismissal," because that would better protect the country "from future election meddling and presidential wrongdoing."
McAdams had harsh words for Republicans and Democrats in Congress, saying he has been "disappointed and distressed" by the behavior of both parties and that they've "squandered the trust the Constitution and the American public demand of them in these serious times."
Near the end of his statement, delivered from a podium in the Murray City Council chambers, the first-term congressman said, "I will vote yes, knowing full well the Senate will likely acquit the president in a display of partisan theater that Republicans and Democrats in Washington perform disturbingly well."
He said he knows his vote will not remove the president from office.
"We must continue to work together as a Congress and as a country," McAdams said, adding that voters will ultimately determine Trump's fate at the ballot box in November 2020. He said he believes "our country is bigger than one man or either party. I trust the American people to decide President Trump's political consequences."
The congressman took no questions and was scheduled to return to Washington Monday afternoon.
McAdams is among 31 House Democrats whose vote on impeachment could determine their reelection chances next year in congressional districts that sided with Trump in 2016. Several announced their decisions over the weekend and Monday to support impeachment.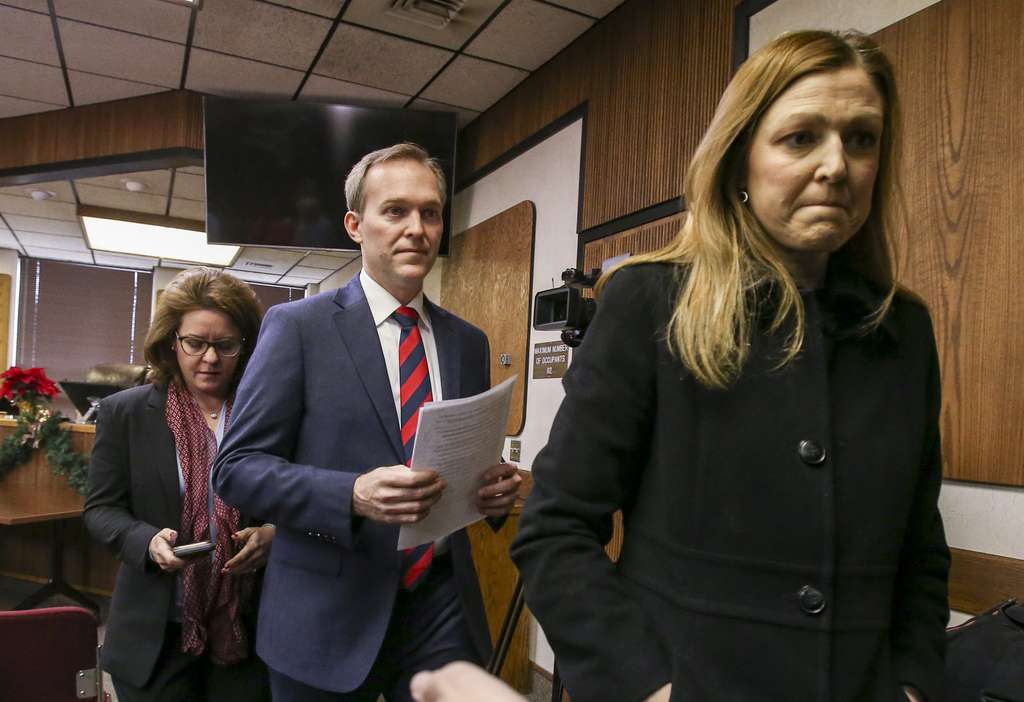 At least two Democrats will be voting against their party.
Minnesota Rep. Collin Peterson, who voted against the inquiry and plans to run for a 16th term next year, said Saturday he will vote against articles of impeachment, according to Minnesota Public Radio. And freshman Rep. Jeff Van Drew of New Jersey announced over the weekend he is switching to the Republican Party.
Despite anticipated defections, the articles of impeachment are expected to pass when the House is scheduled to vote on them Wednesday. Politico reported Monday that with McAdams, 15 of those 31 Democrats have now said they're voting for impeachment.
House Speaker Nancy Pelosi said last week that she was letting each member vote their conscience.
"On an issue like this, we don't count the votes. People will just make their voices known on it," Pelosi said at the Wall Street Journal CEO Council. "I haven't counted votes, nor will I."
Pelosi resisted calls from liberal members of her caucus to pursue impeachment since Democrats took control of the House in January. But that changed in September after a whistleblower complaint alleged Trump leveraged military aid and a White House meeting for Ukraine in exchange for investigations that would benefit him in the 2020 election.
McAdams initially balked at saying whether he would back the inquiry, but then announced in early October he would, saying "the president's refusal to further cooperate with congressional oversight without an impeachment inquiry is regrettable."
He has been frustrated by the increasingly intense partisanship impeachment has created.
"Some of my colleagues have been gleeful about this process since the day the president was elected. On the other side, you know, there's not a thing (Trump) can do that they will hold him accountable for. And I think that's unfortunate," McAdams said in an interview earlier this month.
McAdams doesn't sit on any of the committees overseeing the impeachment and he has been reluctant to publicly say he even supported the inquiry. He was not alone among his moderate colleagues and joined them in pressing leadership to limit the charges against Trump to the president's conduct surrounding Ukraine and proposing that Congress censure Trump rather than impeach him.
He won Utah's 4th Congressional District seat by less than 700 votes in 2018, defeating two-term incumbent GOP Rep. Mia Love. He faces at least five Republican challengers, although a leading contender, state Senate Majority Whip Dan Hemmert of Orem, dropped out of the race Monday, citing the impact of running on his business.
Republican Utah lawmaker Dan Hemmert drops out of congressional race Considered one of the country's most vulnerable House Democrats, McAdams is being targeted by a number of Republican groups, including Trump's reelection campaign. However, a Trump Victory anti-impeachment event in October at McAdams' West Jordan office attracted more opponents of the president than supporters.
Utah went for Trump in 2016, but only with 45.5% of the vote despite the heavily Republican state not having voted for a Democrat for president since Lyndon Johnson in 1964.
After McAdams' announcement Monday, there was a new round of criticism from the GOP.
"Ben McAdams is choosing Nancy Pelosi and the House Democrats' unhinged caucus over his constituents. Voters won't forget his cowardice. McAdams' political career is over," Trump Victory regional spokeswoman Samantha Zager said in a statement.
Related:
Calvin Moore, spokesman for the Republican's Congressional Leadership Fund, issued a statement saying McAdams "finally admitted he's no moderate at all, he's just another impeachment-obsessed Democrat who will stop at nothing to impede, obstruct and even remove Trump from office if necessary to get his way."
Moore said McAdams decision on "the Democrats' impeachment charade shows just how out of touch he is with his district. Voters will remember that when it mattered most, Congressman McAdams put the radical left's attempts to remove Trump from office over his constituents."
There was support expressed for McAdams from the left-leaning Alliance for a Better Utah.
"In spite of out-of-state special interest groups dumping tens of thousands of dollars into Utah to try and influence his vote, McAdams is doing the right thing for his constituents and our country," Chase Thomas, the alliance's executive director, said, calling the evidence clear that action must be taken by Congress.
Thomas called out Utah's three Republican members of Congress, Reps. Rob Bishop, Chris Stewart and John Curtis, for choosing to back the president.
"It's an absolute shame that our other three representatives refuse to do what's right and are placing party over the good of our nation," he said.
Candidates running in the 4th Congressional District also weighed in.
"Ben cannot serve two masters. He has shown a pattern of choosing the Democratic Party over his constituency," former Utah GOP communications adviser Kathleen Anderson, the first Republican to get in the race, said.
Another Republican candidate, former KSL Newsradio host Jay Mcfarland, said he was disappointed. "Regardless of whether or not we support this president's policies, we must protect all future presents from politically motivated impeachment proceedings. Today Ben McAdams failed to do just that," Mcfarland said.
GOP candidate Burgess Owens, a former NFL player, also raised concerns about the precedent set by this impeachment proceeding. "Democrats have prioritized impeachment since President Trump was elected. It seems Rep. McAdams has chosen, once again, to side with the far left," Owens said.
Nurse practitioner Chris Biesinger, also a Republican in the race, said while Trump is not perfect, "there is no offense proven to be worthy of impeachment. I am disappointed in Rep. McAdams and the lack of backbone he has displayed during this process."
But the only Democrat challenging McAdams at this point, Daniel Beckstrand, said "it's great he came around on impeachment." Beckstrand, who describes himself as a progressive running to the left of McAdams, said Democrats in the 4th District supported McAdams in 2018 "to be a check on the Trump administration."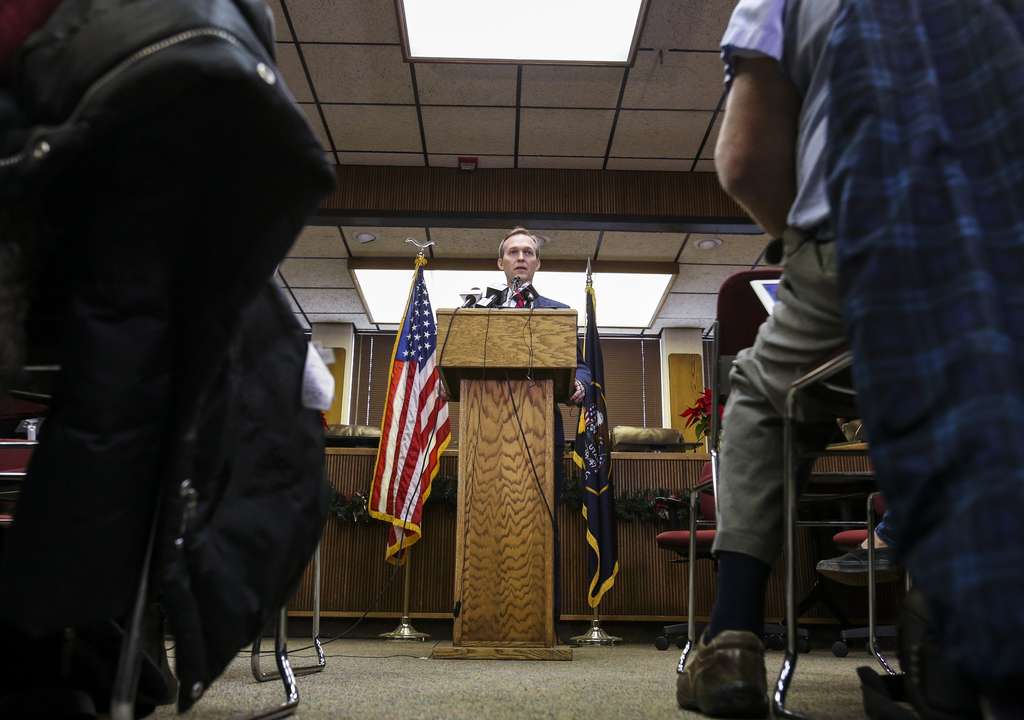 Chris Karpowitz, co-director of the BYU Center for the Study of Elections and Democracy, said it's key that McAdams hold onto to his Democratic base if he wants a second term. But because the district is Republican-dominated, Karpowitz said McAdams also needs moderate Republicans and independents.
"In the end, how they view impeachment will be the key factor," the political science professor said. "They may be more open to the notion that the president has done things that are wrong or troubling. In that sense, a McAdams vote is unlikely to alienate them," unless it's seen as purely partisan.
McAdams' criticism of both parties in the process could help him there, Karpowitz said, "if they believe that he really is sincere in the desire to get beyond the partisan divide. The problem is, an impeachment vote is an up-or-down vote. There isn't really a middle ground."
Judiciary report released early Monday
Shortly after midnight in Washington, the House Judiciary Committee released a 658-page report summarizing evidence gathered during more than two months of private and public hearings and detailing the panel's rationale for impeaching the president, saying he "betrayed" his office and the nation.
"His conduct continues to jeopardize our national security and the integrity of our elections, presenting great urgency for the House to act," wrote committee Chairman Jerrold Nadler, D-N.Y.
The report accuses Trump of abuse of power in asking a foreign government to announce investigations into his domestic political rival, Joe Biden, and corrupting the 2020 elections.
Although not mentioned in the articles of impeachment, the report accuses Trump of criminal bribery and wire fraud in his dealings with Ukraine.
Under the obstruction of Congress charge, the report called Trump's defiance of subpoenas and requests for document followed by a refusal to participate in the Judiciary Committee unprecedented. "In the history of the republic, no president has ever ordered the complete defiance of an impeachment inquiry."
The document included a stinging dissent by ranking Republican Doug Collins of Georgia, who said the Democratic majority's case "dangerously lowers the bar" to impeach a president and called harm to the 2020 election "hyperbolic and misleading."
"The paltry record on which the majority relies is an affront to the constitutional process of impeachment and will have grave consequences for future presidents," he wrote. "The quicker the majority report and the majority's actions are forgotten, the better."
The report was submitted to the House Rules Committee, which will meet Tuesday to set parameters for Wednesday's debate in the full House. If the House impeaches Trump, the Senate will hold a trial in January.
White House press secretary Stephanie Grishman derided the report in a tweet Monday that noted its release "in the middle of the night" underscored that impeachment effort was a "partisan sham."
×
Photos
Related stories
Most recent Politics stories