SALT LAKE CITY — Saturday's third annual edition of the Beehive Classic will be the last, at least for now.
In a written statement Wednesday evening, Larry H. Miller Sports & Entertainment Group announced that the three-time event where Vivint Smart Home Arena hosts the four largest basketball programs in the state will be going away after this year.
That means Utah's matchup against Weber State (2 p.m. MST, Pac 12 Network) and BYU's late game against Utah State (6 p.m., BYUtv) will be the final time all four teams are present on the same day on the same court — at least for the moment.
"Vivint Smart Home Arena has been proud to showcase college basketball in our state and host this round-robin doubleheader in downtown Salt Lake City at an NBA arena," LHMSE spokesman Frank Zang said in an email. "We appreciate the scheduling flexibility of BYU, Utah, Utah State and Weber State and the support of our sponsors to make the Beehive Classic a reality the past three seasons.
"With the end of the agreement in December 2019, a mutual decision has been made to discontinue the series of games, allowing the arena and universities to determine their own schedules in the future. The Beehive Classic has been a worthy effort that brought fans together to celebrate college basketball, raised funds for scholarships and provided a unique Utah experience."
The news was first reported by the Salt Lake Tribune, and confirmed by KSL.com.
Since its inception, the event has raised about $80,000 for the four schools' general scholarship funds and averaged an announced crowd of 9,203 fans per game, Zang told KSL.com.
Tickets are still available for this year's games, beginning at $8 for upper-bowl seats and as low as $28 for lower-bowl entry.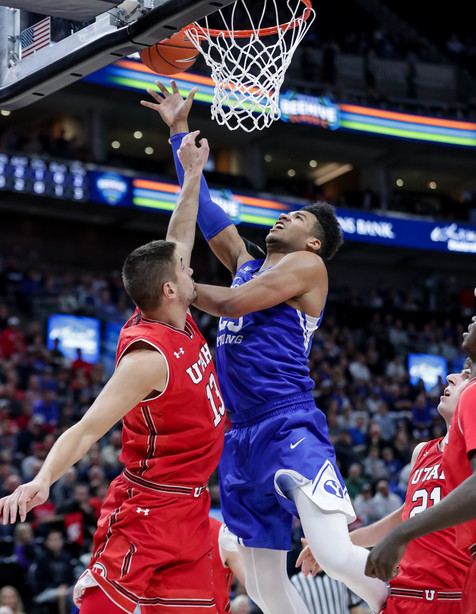 The event wasn't without its flaws, but it succeeded in bringing the state's top programs together at the home of the Utah Jazz for a celebration of college hoops.
It also reignited rivalries; when Utah beat Utah State 77-67 in the inaugural classic two years ago, it marked the Utes' first win over the Aggies since 2009. When the Wildcats play against their Pac-12 competition this weekend, it will mark the first meeting between the two since 2011 — when Damian Lillard led Weber State to an 80-51 upset of the Utes.
"I love it. In-state games, I'm a huge fan of them," said BYU coach Mark Pope, who previously spent four years at Utah Valley. "And we just lost the last one; it was up there with one of the worst experiences of my entire life.
"But the games are great. They're really important for us. It was a devastating deal a week ago (losing at Utah 102-95 in overtime), but this game doesn't ask you what you did yesterday. It asks you how you are going to respond — and can anybody complain about how this team has responded? We get another shot to go play an in-state game, and these in-state games bring everything out of you. They expose me, they expose our team, and they expose weaknesses that I didn't think we had."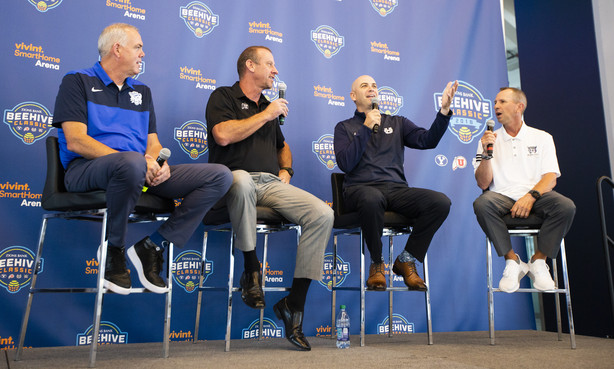 Like Pope said, there's a different energy around playing geographic rivalries, even as college basketball moves to a national schedule.
"I like it. There's a bit of rivalry in it and it makes both teams better," said BYU guard Alex Barcello, who will play in his first Beehive Classic after transferring from Arizona. "It makes us learn more about ourselves, just like it did after that Utah loss. It really helped us learn what we needed to do, and we executed that the last two games."
The four teams signed a three-year contract to play the round-robin event, but economics played a factor in slowing momentum of college hoops' fans long-awaited event out of the gate. The first year averaged an announced crowd of just 7,729 fans to watch Utah play Utah State in the early game, and BYU face Weber State in the nightcap.
Prices for the inaugural event started at $30 apiece for upper-bowl seats, and as much as $60 per seat for the lower bowl. Each team was allotted 4,500 tickets, but student tickets or season-ticket packages were not part of the deal.
Spurred by the universities and fan outrage, LHMSE changed things up the next year — but saw only a mild increase of 10,768 announced fans for BYU's 74-59 win over the Utes by the end of the night.
×
Related Stories