SALT LAKE CITY — If BYU needed to bounce back after an emotional, gut-punching overtime loss at rival Utah, the Cougars got it Saturday afternoon.
Three days worth of stewing over a 102-95 overtime loss — of a humbling defeat in a heated rivalry game, of thinking about the missed opportunity of having a Pac 12 opponent down 16 points on its home court before falling off — and the Cougars looked as good as new.
Maybe UNLV under first-year coach T.J. Otzelberger isn't the same UNLV that went back-and-forth with the Cougars in their days as Mountain West rivals.
But BYU needed a win, and they got it.
Boy, did they.
Alex Barcello had 13 points, including three of the Cougars' 14 3-pointers; and Yoeli Childs chipped in 13 points, 14 rebounds and two assists to help BYU cruise past UNLV, 83-50 in front of an announced crowd of 11,356 fans at Vivint Smart Home Arena.
Dalton Nixon added a career-high 17 points, three rebounds and two assists off the bench for BYU (7-4), which assisted on 19-of-29 made field goals. Connor Harding supplied 12 points for the Cougars, and teammate TJ Haws had seven points and a game-high seven assists.
"I think it's important for us to focus on the ultimate goal for our team, and that's to get better," Nixon said. "That's what we're looking at.
"With the unfortunate circumstance when we played Utah, to bounce back from that and to show we're a resilient group, and we can continue to get better is our goal for the whole season."
There was plenty of introspection following BYU's loss to the Utes. "That's not us" was the common refrain, Nixon said, as the Cougars tried to find answers for what went wrong.
Saturday felt a little more to their liking, then.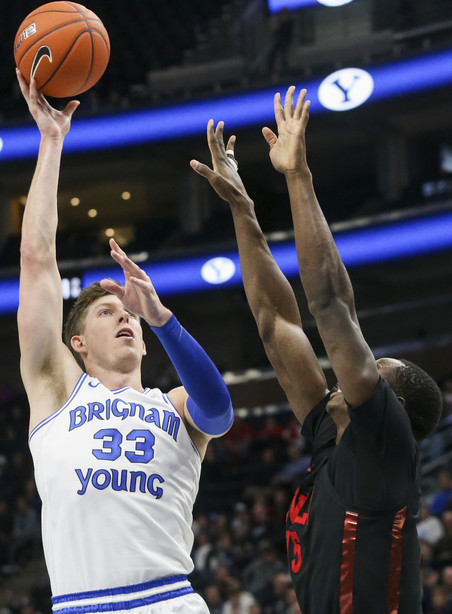 "It feels really good to be able to come back and win after a loss," Childs added. "I think that's something that great teams can do — bounce back from losses and come out and play together like that."
Seven different players made at least one 3-pointer for the Cougars, who shot 69% from deep in the first half and finished making 14-of-26 from 3-point range.
Former Utah forward Donnie Tillman, now in his first season at UNLV, had 13 points, four rebounds and three assists to lead the Rebels (4-7).
Harding drained his first three 3-point attempts in just three minutes off the bench, and Barcello drove to the rim for 2 to cap a 13-2 run that put BYU up 21-9 midway through the first half.
Perhaps more impressive than the first start offensively, though, was BYU's defense. The Cougars held UNLV to just 35% shooting from the field, including a mere 7-of-24 mark from 3-point range.
"We make shots. It's what we do," BYU head coach Mark Pope said. "I don't think we were surprised by it because we work hard to shoot the ball. We work to get other guys' shots.
"Dalton Nixon and Zac Seljaas and those guys feel like they are never going to miss again. But mostly for us, it was our attention to the defensive end that was crucial for us in terms of responding to the debacle that we had a couple of days ago."
BYU shot 60.7% from the field in the first half, making as many as seven-straight field goals at one point before the break. The Cougars saw six players hit at least one trey before the break, including Seljaas, whose triple with four minutes left in the half gave BYU a 40-20 advantage en route to a 46-25 halftime lead.
"We have shooters across the board," Nixon said. "We all trust each other, and I was fortunate enough to find myself in some open spots tonight, too.
"But we all trust each other. We have 3-point shooters on the floor all the time."
The advantage marked BYU's largest halftime edge — even greater than the 16-point halftime lead against NAIA Montana Tech last week.
"We were playing together really well, and we were just making the simple play," Childs said of the strong start. "We made a big emphasis after the Utah game to get back in transition defense, and build a wall of communication. I think we did a great job of that tonight."
Next up
BYU returns to the Marriott Center next Tuesday, Dec. 10 to host fellow Mountain West opponent Nevada. Tipoff is scheduled for 7 p.m. MST on ESPNU.
×
Photos
Related Links
Related Stories