PROVO — Nick Rolovich knows something about the BYU-Hawaii rivalry.
While some may argue about the merits of using the R-word to describe the Cougars and Rainbow Warriors, a series that dates back 32 meetings to 1930, it is for the Warriors' current head coach and much of the Hawaii community.
As a senior in 2001, the former UH starting quarterback led the Rainbow Warriors to one of the more remarkable victories in the series. BYU entered the contest on Dec. 8, 2001, looking to cap off an undefeated regular season in front of a sellout crowd of 50,000 people at Aloha Stadium and a national television audience.
But the 'Bows had other ideas.
Instead, Rolovich set a school record with 543 passing yards and eight touchdowns in a 72-45 shootout victory that helped Hawaii finish at 9-3 and dropped the Cougars to 12-1.
"I remember it being a really enjoyable game to be a part of," said Rolovich, who was playing in his final season of college football after transferring from the City College of San Francisco, back before another home contest with the Cougars in 2017. "The best memory was watching Chad Owens return two early kicks for touchdowns that really got us jumpstarted and energized the crowd."
The fourth-year Hawaii coach who was named Mountain West coach of the year after leading the Warriors to a 9-3 record this season and a West division title still has a copy of the game ball from 2001 sitting in his office today. The leather is ingrained with several of his statistics in that game and sits as a constant reminder of the one-time rivalry.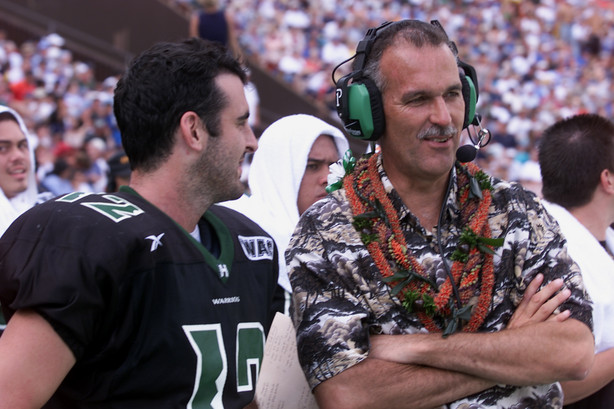 So it's little surprise that before Hawaii came to Provo a year ago to face BYU, Rolovich broke out the old VHS tapes of some of the classic Warrior wins. Naturally, the 2001 game was in the collection. So, too, was 1989, when the 'Bows rolled to a 56-14 rout over the Cougars. As was 1992 — when Ivin Jasper's fourth-quarter TD strike to Marlowe Lewis lifted Hawaii to a 36-32 victory over BYU to help the Warriors finish No. 20 in the final AP Top 25 poll.
"I'm not a big cryer," Rolovich said before the 2017 game, "but I had some tears in my eyes because it's so important to so many people in this program.
"I'm not going to cry this year. But I think they get it."
Rolovich admits he didn't understand it, at first — how are two schools separated by a seven-hour direct flight across three time zones considered "rivals"? It's not until you see the packed Aloha Stadium, hear the roar of the community as BYU comes to town, and witness the passion behind the old group that you begin to understand the magnitude of the game — at least, from Hawaii's perspective.
"Coach Rolo has really emphasized how much of a rivalry it is," said former UH linebacker Jahlani Tavai, a second-round draft pick by the Detroit Lions whose younger brother Justus still plays on the Warriors' defensive line. "There was more blue last time in our stadium than green and black."
While more infrequent than in the past, the Cougars are scheduled to host Hawaii in 2024, with a return trip planned for 2025 in Honolulu. And while it's not on the "rivalry" level of Utah, Utah State or Boise State, there are still many proud Cougar fans who remember the days of BYU and UH as one of the more important games of the year.
It certainly has a history for BYU quarterback Zach Wilson, whose father, Mike, grew up in the islands until he was 17, when he came to the mainland to play football. The former Utah defensive lineman who has raised his family in Draper and will make the return trip to Oahu with his wife, Lisa, to watch his son play quarterback for the Cougars this Christmas Eve.
And there will be plenty of time for family reunions, too.
"My grandma is still there, and her husband," Zach Wilson said. "My dad goes out there almost every year."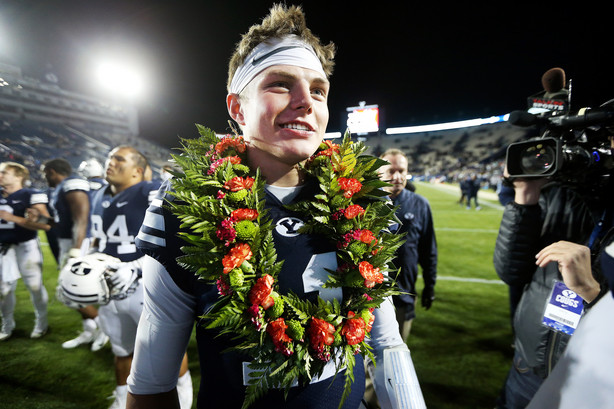 The Warriors hold a special place in the younger Wilson's football career, as well. Hawaii's visit to Provo on Oct. 13, 2018, marked Wilson's first collegiate start, and the then-true freshman threw for 194 yards and three touchdowns with an interception in a 49-23 win, becoming the youngest-ever starting quarterback in BYU history in the process.
Now the sophomore signal-caller is hopeful he can make similar memories against UH in the same jersey.
"I would say we've grown a lot since that last game, as a team and an offense," Wilson said. "Personally, as a player, I've gotten so much better.
"That's based on my personal overview of watching the game … I think for this bowl game, everyone has to have the energy and want to go out there and win that game."
How to watch, stream, and listen
SoFi Hawaii Bowl: BYU (7-5) at Hawaii (9-4)
Kickoff: Dec. 24, 6 p.m. MST
Where: Aloha Stadium in Honolulu, Hawaii
TV: ESPN
Streaming: WatchESPN
Radio: BYU Radio / KSL 1160 AM, 102.7 FM
×
Related Stories