PROVO — The last time BYU faced Hawaii, the matchup was highlighted by the tale of two quarterbacks.
On the home sideline of the Cougars' 49-23 win over the Rainbow Warriors, true freshman Zach Wilson threw for 194 yards and three touchdowns with one interception, and ran for 30 yards and another score. Visiting quarterback Cole McDonald, meanwhile, threw for 248 yards and two touchdowns and a pick.
Just over a year later, Hawaii's talented signal-caller continues to get better and better — and the Cougars are well aware as they prepare for the Christmas Eve kickoff at the SoFi Hawaii Bowl (6 p.m. MST, ESPN).
It will be the second time in three years BYU will end its season in Hawaii, after a 30-20 win capped a 4-9 season two years ago.
There are plenty of differences to be had in this year's postseason matchup, though.
"They're a good team," BYU wide receiver Micah Simon said. "I know their offense, or passing at least, is ranked sixth in the nation. The defense is improved, too. We'll have to be ready for them, watch the film and get a good game plan together. I know our coaches will be ready to go."
McDonald ranks fifth nationally with 3,642 passing yards, and the Rainbow Warriors boast four receivers with more than 800 yards in Cedric Byrd II (95 catches, 1,068), Jared Smart (80-987), Jason Sharsh (80-823) and JoJo Ward (58-975).
All that in addition to 940-yard, eight-touchdown rusher Miles Reed, in addition to McDonald's dual-threat capability of 509 rushing yards and six touchdowns, adds up to an explosive offense that averages 469.3 yards and 33.6 points per game, good for No. 33 in the Football Bowl Subdivision in total offense.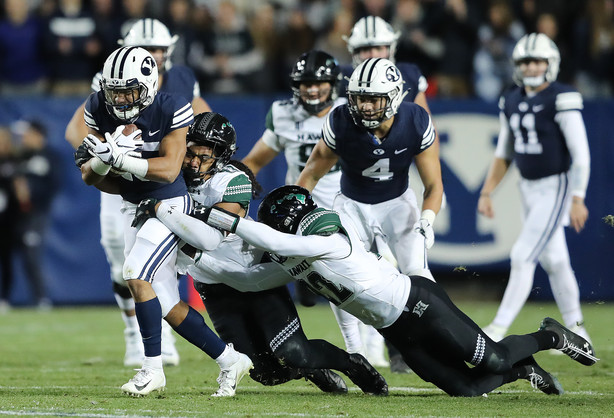 The Cougars are outside the Top 50 offensively after a 7-5 regular season that ended with a 13-3 loss to San Diego State.
"They just have a lot of solid players all around," BYU linebacker Isaiah Kaufusi said. "I think the offense really starts with their quarterback. He's got 3,600 yards passing this year, and he's a stud. He's really tall and lanky, and he gets the offense going. I think last year, we could dominate them because we understood that he is their role player. That's just how their offense is.
"It starts with the quarterback. Hopefully we can get after him this year, and really just prevent him from being really good."
That's a similar mark to Liberty, which averages 404 yards and 33.7 points per game. The Cougars outgained the Flames — a 7-5 team that was selected to play in the Cure Bowl against Georgia Southern in their first season of eligibility — with 471 yards to 431 in a 31-24 win back on Nov. 9.
Much of that offense, too, started with Liberty quarterback Stephen Buckshot Calvert, who threw for 303 yards and three touchdowns with one sack taken in the loss at BYU.
Unlike the Flames, though, the Rainbow Warriors are coming off a division title in the Mountain West and have won nine games for the first time since 2010. Hawaii has won four games or fewer five times in the past eight seasons.
"They're able to put a lot of points on the board," BYU coach Kalani Sitake said. "They got to their conference championship game and had to play in Boise, which is always a tough matchup. But they execute really well in all three phases. I think (Hawaii coach Nick) Rolovich has done a great job getting their team the way that they're playing. They have an opportunity to get to 10 wins, and we have an opportunity to build off our momentum from last year and continue our bowl win streak.
"There's a lot to play for in this game. I am looking forward to playing a quality opponent like Hawaii."
How to watch, stream, and listen
SoFi Hawaii Bowl: BYU (7-5) at Hawaii (9-4)
Kickoff: Dec. 24, 6 p.m. MST
Where: Aloha Stadium in Honolulu, Hawaii
TV: ESPN
Streaming: WatchESPN
Radio: BYU Radio / KSL 1160 AM, 102.7 FM
×
Related Stories