PROVO — Micah Simon's clutch hands have been a highlight for BYU in his senior season.
On Saturday night, the former Texas high school quarterback got to show off his arm, too.
Simon caught a team-high seven passes for 91 yards and a touchdown, and added a 44-yard touchdown strike to Matt Bushman to help the Cougars out-gun the Flames 31-24 in front of an announced crowd of 54,683 fans at LaVell Edwards Stadium.
"It was actually pretty fun. Brought back memories from high school," said Simon, the Cougars' senior leader who played QB at Bishop Dunne High School in Dallas. "I guess I've had two completions this year with a little bit of pressure. It's fun and I love the aggressiveness from our coaches.
"Every week, they've put in some different wrinkles for us to go out and execute and it worked out tonight, and I'm glad (Bushman) scored."
Baylor Romney threw for 262 yards and three touchdowns with an interception for BYU (5-4), which used a 24-3 spurt in the middle quarters to pull away from its fellow FBS independent football team.
Bushman finished with 86 yards and a touchdown, while Aleva Hifo added 62 yards receiving and a score. Sione Finau led the Cougars on the ground with 60 yards on nine carries.
But when it came to leading the team against a fellow FBS independent and private religious university, it was Simon's turn to take the torch and pull the Cougars within a game of bowl eligibility for the second-straight year.
"He's definitely one of the leaders of the team, especially on the offense," Busham said of Simon. It's good to have him around. He's a vocal leader. It's just good to have those kind of guys on your offense when you could be struggling early on in the season like we did for a couple of games. Guys like (Simon) can really turn things around."
Liberty quarterback Stephen Calvert threw for 303 yards and three touchdowns, including 162 yards and a score to star receiver Antonio Gandy-Golden for the Flames (6-4).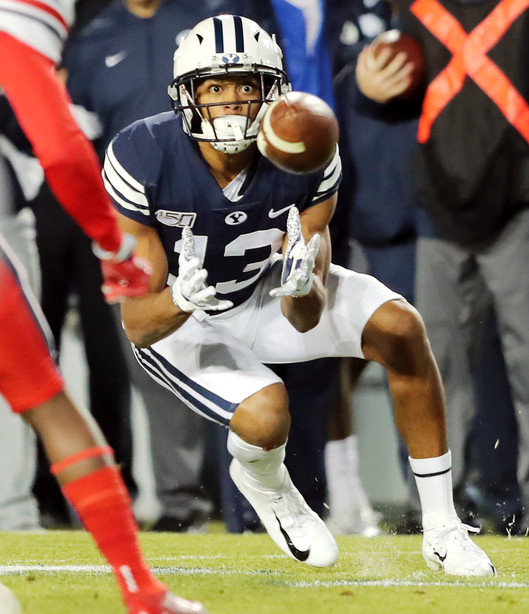 BYU held a Liberty team that averaged 33.8 points per game nearly 14 points below its season average in the Flames' furthest trip west of their second season in the Football Bowl Subdivision.
"I give a lot of credit to Liberty; their guys came ready to play," BYU coach Kalani Sitake said. "They were really well coached and I thought they had a really good game plan. We battled with them. I was really proud of our players and how the resiliency that they showed and the opportunity to make plays and get this win."
After Calvert found Zach Foutz with a 19-yard strike in the first quarter (the first of two scores between the Flames duo), BYU rattled off a 24-3 run beginning with Simon's 2-yard touchdown from Romney and ending with Aleva Hifo's 41-yard TD jaunt to go up 24-10 with 4:11 left in the third.
It included Simon's first touchdown throw as a Cougar, to Bushman in a play similar to the halfback option between Hifo and tight end Moroni Laulu-Pututau in last year's upset of Wisconsin.
.@micahsimon_ ➡️ @Bushman1Matt

BYU leads 17 -7!#GoCougs#BYUFOOTBALLpic.twitter.com/YqUjlOvW50

— BYU FOOTBALL (@BYUfootball) November 10, 2019
Laulu-Pututau also caught a touchdown, his first score since that game in Camp Randall Stadium back on Sept. 15, 2018.
But Liberty didn't go away. Calvert and Gandy-Golden combined for 162 yards and a touchdown, and the Flames pulled as close as 31-24 on Foutz's second touchdown with 6:35 left.
Calvert even had a chance to score and at least force over time in the final moments. But the 40-game signal caller's pass at Gandy-Golden was deflected by Isaiah Kaufusi, who had five tackles on the night, and BYU survived to move within one win of bowl eligibility with three games remaining.
"We live for moments like that, especially as a defense," said Khyiris Tonga, who had four tackles and a tackle for loss on a night when BYU's defense failed to force a turnover. "We love a challenge. It's part of the game, and you just have to learn to love it and cherish those moments because life is short and football isn't going to be around forever."
Max Tooley led the defense with nine tackles.
×
Related Links
Related Stories