AROUND THE SHIELD — Eric Weddle's game Sunday against the Seattle Seahawks was always going to be special for the former Utah two-way star.
He made it special for the Los Angeles Rams, too.
Taking advantage of the NFL's "My Cause, My Cleats" policy to auction off a personalized pair of spikes for a charity of their choice, Weddle dedicated his shoes to the Hayes Tough Foundation that benefits childhood cancer research.
He then went out and piled up eight tackles — the second-most on the team — and a quarterback hurry, helping the Rams to a 28-12 win over Seattle that dropped the Seahawks to 10-3 in Los Angeles Memorial Coliseum in a game the visitors sorely needed to keep pace with San Francisco atop the NFC West.
"Second year running, I get to honor Hayes, the 20-month legend, in my game tomorrow," Weddle wrote on Twitter late Saturday. "Steve and Savanna, we love you. Amazed by the effort you two have put in to carry on Hayes' legacy. The service you guys do to help families (and) raise awareness for childhood cancer is incredible."
Weddle's cause was the foundation organized by former teammate Steve Tate, who lost his son Hayes to cancer after less than two years. The foundation run by Steve and his wife, Savanna Tate, has helped nearly 100,000 children suffering from cancer and their families annually since its inception in 2018.
2nd yr running I get to HONOR Hayes, the 20 month legend in my game tomorrow. Steve and Savana, we love you. Amazed by the effort you 2 have put in to carry on Hayes legacy. The service u guys do to help families, raise awareness for childhood cancer is INCREDIBLE! #hayestoughpic.twitter.com/hoG4jUecOl

— Eric Weddle (@weddlesbeard) December 8, 2019
Just as important, in football terms at least, was the win. The Rams are still in the hunt for an NFC wildcard berth with the victory.
"I believe we're hitting our stride at the right time," said Weddle, who added he'll "stir up something" for his children after the big win. "We haven't done nothing yet. We're must-win the rest of the way.
"We're in win mode. We've got to win out to get in, and that's our focus."
Former Utah State linebacker Bobby Wagner had a game-high 14 tackles to lead the Seahawks, and Utah and Brighton High grad Cody Barton added three tackles and a pass breakup for Seattle.
Former Utah safety Marquise Blair even had a tackle on special teams for the Seahawks. But the Rams held Seattle to just 308 yards to keep their own playoff hopes alive.
Here's how other former high school and college football stars from the state of Utah performed in Week 14:
Tennessee 42, Oakland 21
Former Utah State defensive back Nevin Lawson had a pass breakup in the Raiders' loss to the Titans, dropping Oakland to 6-7.
Former Southern Utah defensive back LeShaun Sims did not play for consecutive weeks for the Titans (8-5).
LA Chargers 45, Jacksonville 10
Former Utah lineman Sam Tevi started at right tackle in leading the Chargers (5-8) by the Jaguars (4-9).
Kansas City 23, New England 16
Former BYU safety Daniel Sorensen had two tackles and a quarterback hurry to help the Chiefs move to 9-4.
Former Utah State running back Darwin Thompson caught four passes for 36 yards for the Chiefs.
Fellow BYU alum Kyle Van Noy had five tackles for the Patriots (10-3).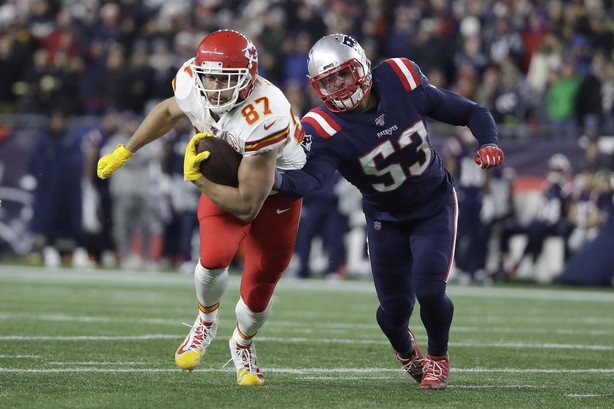 Tampa Bay 38, Indianapolis 35
Former Orem High, Utah Valley and Utah standout Matt Gay made five extra points, and kicked what amounted to the game-clinching 44-yard field goal in the fourth quarter to lead the Buccaneers (6-7) to the win over the Colts (6-7).
NY Jets 22, Miami 21
Former BYU and Bingham High linebacker Harvey Langi had a special-teams tackle in the Jets' fifth win of the year.
Former Utah defensive back Eric Rowe tied for a team-high nine tackles and added a forced fumble,for the Dolphins (3-10).
San Francisco 48, New Orleans 46
Former BYU linebacker Fred Warner had three tackles and a pass breakup, including stopping a short gain by former BYU teammate Taysom Hill, in the 49ers' win.
Former Utah punter Mitch Wishnowsky averaged 44.7 yards on three punts, including a 49-yarder, for the 49ers (11-2).
Hill ran five times for 13 yards and caught one pass for 12 yards for the Saints (10-3), who got four tackles and a pass breakup from former Utah safety Marcus Williams.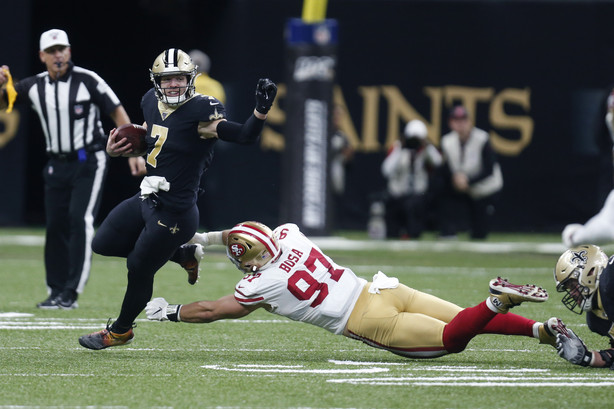 Denver 38, Houston 24
Former Westlake High, Snow College and Utah standout Garett Bolles started at left tackle in the Broncos' win over the Texans.
Fellow Utah alum Devontae Booker caught two passes for 24 yards for the Broncos (5-8), and Tim Patrick caught two passes for 50 yards.
Green Bay 20, Washington 15
BYU all-time leading rusher Jamaal Williams ran for 24 yards on 7 carries for the Packers in a win over Washington.
Former Utah State linebacker Kyler Fackrell added two tackles, including half a sack, for the Packers (10-3).
Cleveland 27, Cincinnati 19
Former BYU linebacker Sione Takitaki and ex-Salem Hills quarterback Porter Gustin each had a tackle to help the Browns improve to 6-7.
Former Utah State and Fremont High linebacker Nick Vigil had four tackles, two pass breakups and an interception for the Bengals (1-12).
Baltimore 24, Buffalo 17
Former Weber State defensive back Taron Johnson made three tackles, and Utah, Snow College and Bingham High alum Star Lotulelei added a tackle for the Bills (9-4) in a loss to the Ravens.
×
Related Stories