AROUND THE SHIELD — For NFL fans, Sunday night's primetime matchup featured 8-2 Green Bay against 9-1 San Francisco.
For BYU fans, it may have been boiled down to two former Cougar players: running back Jamaal Williams vs. linebacker Fred Warner.
Advantage, defense.
Warner had a game-high 11 tackles, including a 13-yard sack in the first half, to help the 49ers roll to their 10th win of the season, a 37-8 win over the Packers on Sunday Night Football.
"We have a lot of great players playing great ball right now," said Warner, whose team improved to 10-1. "I don't want to single guys out."
The former BYU linebacker whose younger brother Troy is still with the program also opened the game with an early forced fumble, one that he wasn't sure he managed after Nick Bosa pounced on the loose ball and tried to take it home.
But make no mistake; Warner's presence on the Niners was felt, with some teammates even calling him the "quarterback of the defense."
"I feel like it's just part of being the middle linebacker," he said. "I take great pride in that. I have a great group of guys I get to give the call to. There's not much to it, but when we're out there we have a blast."
Former Utah punter Mitch Wishnowsky averaged 45.5 yards per punt over four kicks for the Niners, including one punt downed inside the 20.
Williams finished with a team-high 45 yards on 11 carries, and also caught seven passes for 35 yards for the Packers (8-3), who dropped to 8-3 on the season. Former Utah State linebacker Kyler Fackrell added one tackle and a quarterback hurry for Green Bay.
Here's how the other former local high school and college football standouts fared in Week 12 around the NFL.
Cleveland 41, Miami 24
Former Salem Hills quarterback Porter Gustin had a sack in his debut with the Browns.
Former BYU linebacker Sione Takitaki added two tackles and a pass breakup for Cleveland (5-6).
Former Utah cornerback Eric Rowe made one tackle for the Dolphins (2-9).
Tennessee 42, Jacksonville 20
Former Southern Utah defensive back LeShaun Sims made four tackles on defense and another on special teams in the Titans' victory (6-4).
Washington 19, Detroit 16
Utah and Skyline High alum Tony Bergstrom started at tight end, and former Utah State standout Donald Penn rotated on the offensive line to help Washington improve to 2-9 with a win over the Lions.
New England 13, Dallas 9
Former BYU linebacker Kyle Van Noy had five tackles and a tackle for loss as the Patriots (9-1) held the Cowboys without a touchdown in a win.
Bingham High grad Dalton Schultz had one kickoff return for five yards for Dallas (6-4).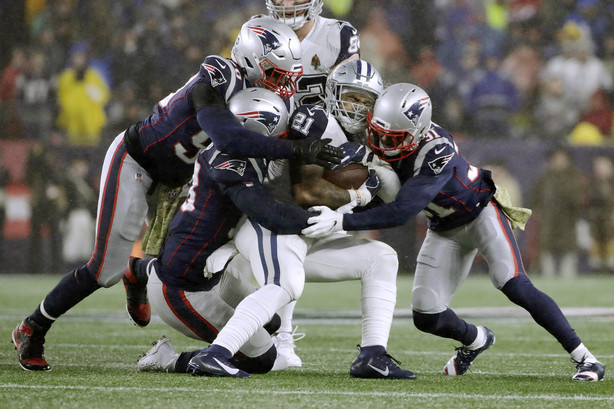 NY Jets 34, Oakland 3
Former Bingham High and BYU linebacker Harvey Langi made a tackle on special teams in the Jets' win over the Raiders.
New Orleans 34, Carolina 31
Former Utah safety Marcus Williams had four tackles, and former BYU quarterback Taysom Hill added a short catch as the Saints (9-2) held off the Panthers.
Seattle 17, Philadelphia 9
Former Utah State star Bobby Wagner had six tackles to help the Seahawks (9-2) to win over the Eagles.
Ex-BYU star Ziggy Ansah made four tackles, including 1.5 sacks, two quarterback hurries and forced a fumble for Seattle, which got a special-teams tackle from Utah and Brighton High grad Cody Barton.
Pittsburgh 16, Cincinnati 10
Former Fremont High and Utah State standout Nick Vigil had six tackles and a quarterback hurry in the Bengals' loss to the Steelers.
Buffalo 20, Denver 3
Former Weber State star Taron Johnson had four tackles and a pass breakup, and former Utah standout Star Lotulelei provided a sack to lead the Bills to 8-3 with a win over the Broncos.
Devontae Booker returned one kick for 11 yards, and fellow Utah alum Tim Patrick caught one pass for three yards for Broncos (3-8).
Tampa Bay 35, Atlanta 22
Former Orem High, Utah Valley and Utah kicking standout Matt Gay had a 32-yard field goal, and made two extra-point attempts in the Buccaneers' win over the Falcons.
×
Related Stories