This archived news story is available only for your personal, non-commercial use. Information in the story may be outdated or superseded by additional information. Reading or replaying the story in its archived form does not constitute a republication of the story.
PROVO — The Smith Fieldhouse holds a mystique in college volleyball, an older building housing a program that has risen to become one of the top in the sport in BYU, and a venerable home-court advantage for the Cougars — both during the men's and women's volleyball seasons.
It's part of what propelled the 13th-ranked women's volleyball program to a 26-4 record and a win over New Mexico State in the first round of the NCAA Tournament on Friday night.
Utah's volleyball team knows this; their own campus is located just 48 miles away.
But on Saturday night, the Utes made themselves right at home.
Dani Drews poured in 17 kills and six digs, and Kenzie Koerber stuffed the stat sheet with 11 kills, eight digs, five blocks, two assists and two aces to lead No. 17 Utah to a stunning 25-15, 25-15, 25-15 upset of No. 13 BYU to advance to the Utes' fourth Sweet 16 in program history, snapping a four-match winless skid against their southern rivals with their second win in the last 10 in the series.
"The support we get is unreal," said Drews, a Brighton High product. "I'm so grateful to have such great fans and supporters. For them to come down here, it shows how invested they are in our team.
"It does help; having people supporting you, cheering for you, getting you pumped up definitely plays a part in the win."
Berkeley Oblad added eight kills and five blocks for the Utes, who got seven kills from Zoe Weatherington — including the match-winner for a Utah team that out-hit the Cougars .394 to .109 and fielded an improbable 82% sideout percentage.
"I thought that we came out ready to go, and never looked back," said Utah coach Beth Launiere, the Pac-12 Coach of the Year. "For a team that has played a lot of five-setters, that was for sure the most complete match we played. We were on offense all night, played aggressively, and kept our ears down."
Oblad and Koerber were instrumental in helping the Utes (24-9) start fast, rolling to a 13-6 advantage in the first set and dropping in 80% of their serves, 43% of their attacks, and adding five blocks to roll to a 25-15 win in the opener.
"When we're on offense, we're on offense," said Oblad, a fifth-year senior who received a medical redshirt to finish her career in 2019. "We hold it, and we stick to it. We know as a team that it's important for us to go out, to start strong and to stay strong the rest of the match."
Saige Ka'aha'aina-Torres dished out 38 assists, 10 digs, five blocks and four kills for the Utes, who led from start to finish and never allowed their rivals into the match in front of a favorable crowd on the road.
The multifaceted sophomore kept a balanced BYU attack off balance in the second and third sets, ensuring that the Cougars never found their footing in a home they knew well.
"We didn't serve very tough. We didn't serve very well. We didn't pass very well. So that really just put us in a funk offensively and defensively the whole night.
"It starts with serve and pass, and I thought they did both those things pretty well. So it was kind of a mismatch from the start. We couldn't get things going."
The Cougars, fresh off an appearance in last year's Final Four, never looked comfortable at home.
Utah was one of those scalps as the then No. 4-ranked Cougars used their home court to a full advantage to cruise into Minneapolis before falling to Stanford in the national semifinals. BYU added a 3-1 win over Utah during the regular season, back in September, inside the Huntsman Center in Salt Lake City.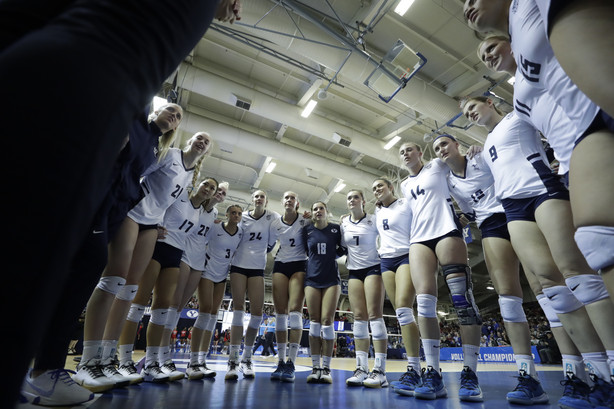 But the Utes had a little practice in dethroning a national power fresh off a Final Four appearance; they had wrapped up a five-set victory over Illinois just 24 hours previous.
"From last year, playing BYU and finishing how we finished the season, coming into this game, everyone used what happened last year to motivate, to get better and to get to where we are now," Ka'aha'aina-Torres said. "The game last year really motivated us to be better in every aspect of our game."
McKenna Miller had seven kills to lead BYU, and Kennedy Eschenberg added seven kills and four blocks. Whitney Bower dished out 23 assists and seven digs, and Mary Lake supplied 14 digs for the Cougars (26-5).
But there was something off about Saturday night's BYU team that has shown few weaknesses since Olmstead took over as head coach five years ago. That credit has to go to the Utes.
"The one thing the team did was fight the whole time," Olmstead said. "I could see the fight in their eyes. It just wasn't happening. We just couldn't execute the skills the way we needed to.
"At this point in the tournament, you've got to play your best or close to your best to keep advancing, and we weren't able to do that tonight."
Utah will face No. 3 Stanford next Friday or Saturday in Stanford, California. The Cardinal (26-4) took both regular-season meetings with the Utes, 3-2 and 3-1.
×
Related Stories