PROVO — McKenna Miller was jumping out of the gym, Mary Lake was steadying the back line, and BYU women's volleyball did what it has done in 21 straight postseason home matches in its 2019 NCAA women's volleyball tournament opener Friday night in the Smith Fieldhouse.
Miller poured in 13 kills, four blocks and three aces, and Lake had a team-high seven digs with five assists and two blocks to help No. 13 BYU sweep New Mexico State, 25-7, 25-23, 25-19.
So was there any surprise on the night?
Maybe one: freshman Whitney Bower.
The 18-year-old who only recently celebrated a birthday had 31 assists, two kills, seven digs and three aces in her first collegiate postseason experience.
And she's just getting warmed up, too.
"She was awesome. I thought she did a really good job getting every hitter involved," Miller said of the freshman setter. "We knew they were a really good blocking team, and I think Whitney gave us a lot of opportunities with holes in the block. She was able to get Kate, the middles and even the back row involved."
Freshman Kate Grimmer had 10 kills for BYU (26-4), and Kennedy Eschenberg added a match-high six blocks and five kills for the Cougar, who hit .520 in the first set and took control of the match with a 16-1 run.
The server behind that massive run? You guessed it: Bower.
"She's been working hard on her serve, but it felt like the jitters of the tournament," BYU coach Heather Olmstead said. "(New Mexico State) wasn't quite themselves, and that's not their team at all. I've watched a bunch of film on them — but we tried to stay as neutral as we could about the first set."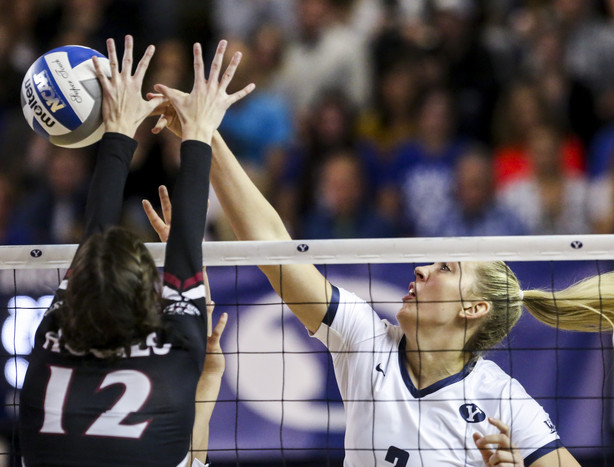 The second set wasn't nearly as easy. But Grimmer gave the Cougars a 23-21 edge late and Miller sealed the 2-0 advantage with her ninth kill of the match for a 25-23 win. The final score was a bit more indicative of an Aggie team that won 19 matches in a row, went 16-0 in WAC play and finished the season with a 27-4 record.
"I think more bodies started to turn up," said Savannah Davison, who finished with a team-high 12 kills and five digs for the Aggies. "More people were more involved in the game … and we played better defense, for sure. We worked hard on serve-receive, and though they served really tough, I thought we did pretty good."
Savannah Davison led New Mexico State with 12 kills and five digs, and Krysten Garrison and Natalie Mikels added 13 and 12 assists, respectively for the Aggies.
"We got stuck in a pattern, and they ran off a big run on us," New Mexico State coach Mike Jordan said. "Part of that was adjusting to their size and level of play; their block was just bigger, and we took too many low swings.
"Once we got through that first set, I was pretty happy with a lot of what I saw. I thought we competed really well."
New Mexico State led by three twice early in the third set, as the Aggies — with a 23-match unbeaten streak that included all of Western Athletic Conference play — tried to fight back off the mat. But Bower had a kill, an ace and a diving assist to set up Miller's kill that flipped a 12-9 deficit into a 13-12 edge.
"I wish she did that more," Miller lauded of Bower's go-ahead swing in the third set. If Bower is coming for Miller's job, then Miller might try to unseat Lake, who is BYU's all-time leader in digs. The senior outside hitter had one dig, a key pancake that fueled BYU's match-ending 12-7 run.
"I definitely get more excited when McKenna does something huge than when I do," Lake said. "It was a game-changer, and that pancake was huge. It was a ball that she wasn't supposed to get up and I was just proud and excited for our team and for her."
The Cougars advanced to face rival Utah at 7 p.m. MST Saturday (BYUtv) with a berth in the Sweet 16 on the line.
BYU rallied to top the Utes, 3-1 in Salt Lake City during nonconference play.
×
Related Stories