Editor's note:This article is a part of a series reviewing Utah and U.S. history for KSL.com's Historic section.
MILLCREEK — The Old Meeting House has served as a chapel, a reception center and has been a fixture in the Millcreek community for more than a century. It also nearly served as the headquarters for the community when it became a city a few years ago.
"It's valued by a lot of people, including me," said Millcreek Mayor Jeff Silvestrini. "We, in fact, even explored the possibility of occupying that building for our city hall when we first incorporated. It was one of the ideas we had. … It's a part of our history and that's why it's valuable."
However, concerns over its structural integrity and safety forced the city to look at other options at that time. Now the iconic structure is now set to come down amid worry of those exact problems.
Its owners plan to demolish it and replace it with a 38-unit condominium and townhouse complex — a plan that was approved by the city's planning commission late last month. There were some advocating the building's preservation, but ultimately all decisions regarding the property fell to its owners, Silvestrini said.
The paperwork to tear down The Old Meeting House (4120 S. Highland Drive) and replace it with a housing complex was filed by the property's owner, Paul Gardner, earlier this year. In an adjoining letter filed by Utah-based Think Architecture dated Oct. 22, owners cited concern over the building's safety, as well as a belief that it had "outlived its economic use," as principle reasons for wanting to tear the structure down.
"The structure is currently built on a fault line and is roughly a century in age. When it was built, building codes and building methods were nowhere near as safe as they are today. Combine that with the aging process over the last century, this building is a liability for the property owner," the letter read. "If an earthquake were to occur, the possibility of a loss of life is much higher than it would be if the building was rebuilt outside of the fault line with today's more stringent building codes."
The origin of the building
The Old Meeting House is actually two buildings in one, according to a short history of the building compiled by Preservation Utah. The first part was constructed in 1905 for what was dubbed as the Winder Ward within The Church of Jesus Christ of Latter-day Saints. Its exact cost was not recorded. When the ward grew, a $45,000 addition was built sometime between the late 1920s and early 1930s.
The historical group states that it was overseen by architect Joseph Don Carlos Young and his son, Don Carlos Young. The two were son and grandson of Brigham Young. In fact, Joseph Don Carlos Young was Utah's first professionally trained architect, as noted by Preservation Utah.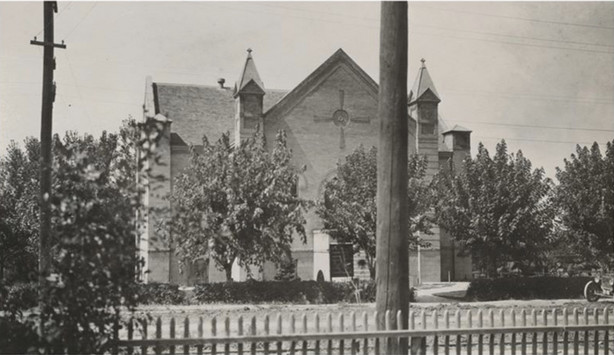 Since the addition was built during the Great Depression at a hefty cost for the time, Preservation Utah officials said the building "can be read as a monument to the sacrifices of many Millcreek residents of yesteryear."
It remained in The Church of Jesus Christ of Latter-day Saints' possession until it was sold to a private owner in 1978, according to Think Architecture.
A farewell to the chapel
There seem to be mixed feelings about the plan to tear down the structure. Silvestrini said there are many people in the city who have a connection to the building one way or another. In history-themed social media groups, many reacted to the news by sharing memories. Several said they had attended weddings at the building, while others admired the building's unique colonial design.
"What a shame that we tear down old beautiful buildings in Utah," one person wrote in reaction to the news. Some also pointed out that a property owner has the right to do what they want with their property.
In a document filed to the city on Nov. 20, Think Architecture officials noted it would cost "well over $1 million" to get the building "up to acceptable conditions." That's why Silvestrini said the property owners' decision was practical, given the building's current condition and what would be needed to save it.
He likened the conundrum of wanting to preserve a historic building and not having the funds to preserve it to Salt Lake City's recent sale of the Utah Theater. A plan is in place to tear down the theater and build a skyscraper in its place. While a municipality owned the property in that case, there have been no donors willing to pay the steep price of repair in either situation.
That's likely what ultimately will doom The Old Meeting House.
"A number of property owners, like the city of Millcreek, who explored acquiring the property, have just determined the cost of rehabilitation that would be required to make the building usable outweighs the benefit of keeping it," Silvestrini said. "It's an unfortunate thing. Old buildings like this are a part of our history and our culture. We obviously don't like to lose them.
"I wish we could do something about it ... I wish we had a sugar daddy who could come in here and say here's some money to save this building," he added.
What comes next
The timetable for The Old Meeting House to be torn down and construction to begin on the housing complex is up to the property owners. KSL.com reached out to Gardner for comment but did not receive a response by the time this article was published.
The plan submitted to Millcreek officials calls for 11 three-bedroom, two-story townhomes and 27 one or two-bedroom condominium units, as well as 88 total parking stalls. They would also construct a plaque with information about the historic building outside the complex.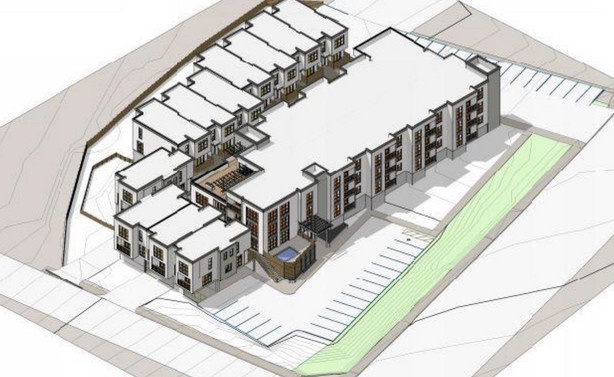 Silvestrini remains sympathetic to the idea of preserving The Old Meeting House. However, it's no secret there's also a housing shortage across the state, including Millcreek. Many projections have Utah's total population doubling in the coming decades.
The condo and townhomes would help toward having housing available as growth continues across the area.
"Growth is not a faucet we can just turn off," Silvestrini said. "We have to accommodate that. That doesn't mean we have to sacrifice our soul for that. It doesn't mean we have to tear down historic buildings and put up high-density housing everywhere.
"It's not my goal to tear down every building in Millcreek to make room for housing," he added. "I certainly would be judicious in this case if I could possibly find the money to save this building. … A lot of this is a supply-and-demand problem. It's simple economics, and so working to increase the supply of housing in areas that can tolerate it, I think those are choices we need to make in order to adapt Utah to the next coming generations of our state."
×
Photos