Estimated read time: 6-7 minutes
This archived news story is available only for your personal, non-commercial use. Information in the story may be outdated or superseded by additional information. Reading or replaying the story in its archived form does not constitute a republication of the story.
Editor's note: This is another episode in a series that highlights a KSL investigative podcast series titled "Cold" that reports new information about the case of missing Utah woman Susan Powell.
WEST VALLEY CITY — Josh Powell engaged in potentially fraudulent behavior tied to multiple low-speed car crashes in the months and years prior to the December 2009 disappearance of his wife, Susan Powell.
The KSL podcast "Cold" has identified three specific instances in which Josh Powell, while driving, stopped abruptly in front of other drivers. In all three cases, the other drivers collided with Powell's vehicle, causing minor damage.
In all three instances, Powell later claimed to have sustained injuries requiring months of chiropractic and massage therapy care. None of the crashes ever resulted in criminal or civil action against Powell. However, they raised suspicion among insurance companies that handled the claims.
The details of the three wrecks are emerging from police reports, medical records, insurance company documents and Josh Powell's own handwritten notes obtained exclusively by "Cold."
June 8, 2000
The first of the three crashes occurred on June 8, 2000, roughly four months before Josh Powell met his eventual wife, Susan Cox.
At the time, Powell was living with his father in South Hill, Washington, and preparing to move into an apartment in nearby Tacoma. Powell's personal audio journals, previously obtained by "Cold," revealed he was struggling to keep up with mounting debts.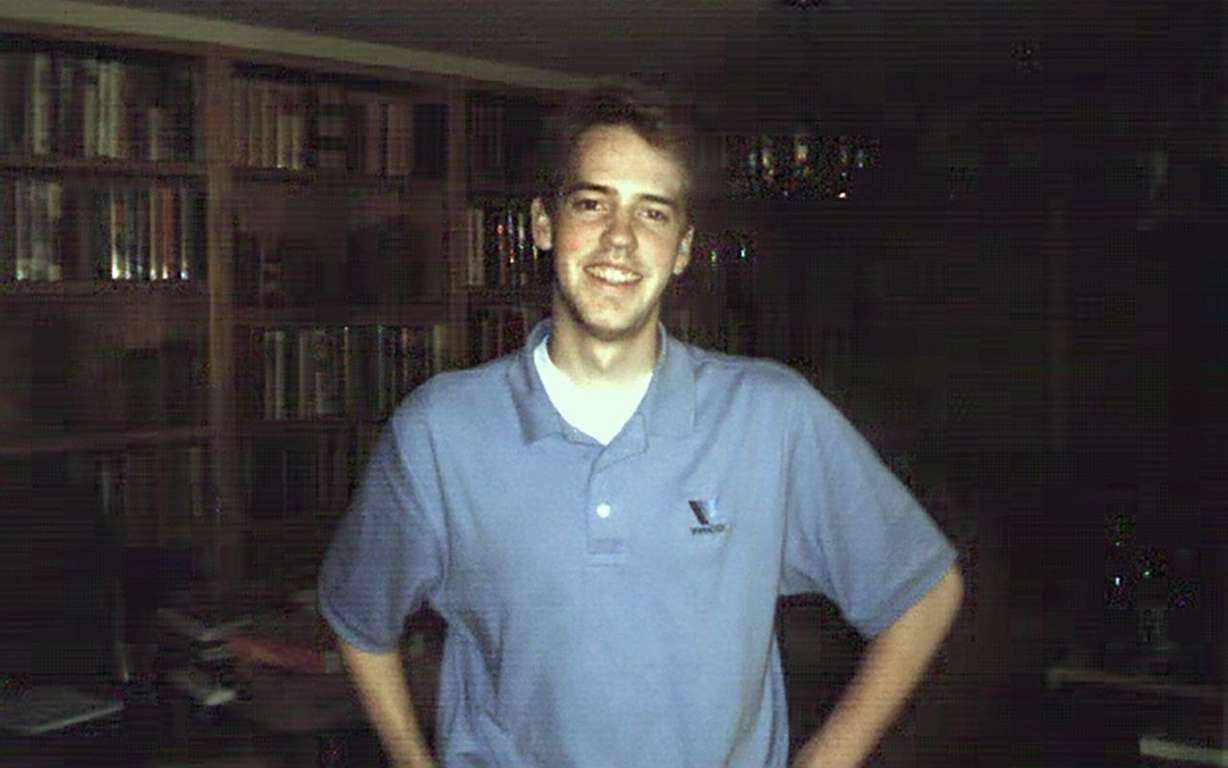 That afternoon, a woman named Nichole Lyons pulled into traffic on northbound Meridian Avenue near the South Hill Mall in Puyallup, Washington. She encountered bumper-to-bumper traffic.
The vehicle ahead of her, a Plymouth Voyager, began moving forward after stopping for a red light at the intersection of Meridian and 39th Avenue. Josh Powell was at the wheel of the minivan.
"Thought he was going but he wasn't," Lyons said. "I rear-ended him just ever so slightly."
Lyons estimated her speed at 2 or 3 miles per hour. After the impact, both Powell and Lyons pulled out of traffic to inspect their vehicles.
"He seemed completely fine," Lyons said.
Powell's minivan showed signs of very minor damage.
"I think there was a little indentation in his bumper," Lyons said. "There was not any damage to my vehicle, whatsoever."
They exchanged insurance information. Lyons provided a statement to her insurance company, Progressive, and did not hear anything more about the crash until contacted by "Cold" 19 years later.
"I don't remember there being any concern of injury," Lyons said.
Yet, records show Powell underwent six weeks of treatment for neck and back pain. He also hired a personal injury lawyer and made a claim for damages against Progressive.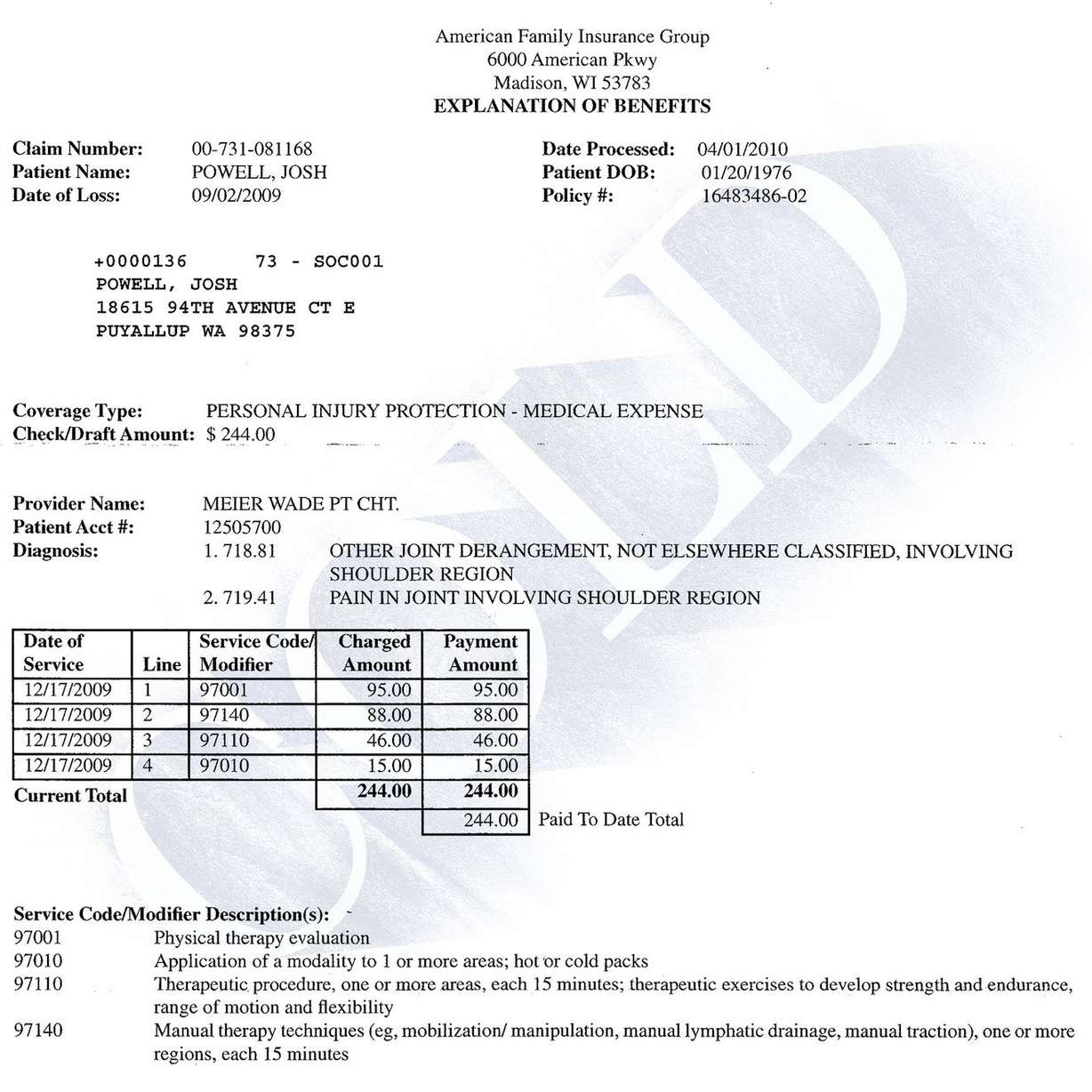 Progressive ended up reaching a settlement with Powell. The company agreed to pay roughly $3,400, less than half of the $8,000 Powell and his attorney had first demanded. Of that, Powell netted $728.
May 12, 2003
Josh Powell's second questionable crash occurred just shy of three years later, on May 12, 2003, in the town of Union Gap, Washington, south of Yakima. Josh and Susan had been married for two years and were working as live-in managers of a retirement community.
While driving north on Rudkin Road, a frontage adjacent to I-82, Josh Powell came to an unexpected stop next to a fruit warehouse.
Bob Powers was behind the Powells' minivan. He said the minivan was traveling below the posted 25 mph speed limit when he glanced left to look at a house.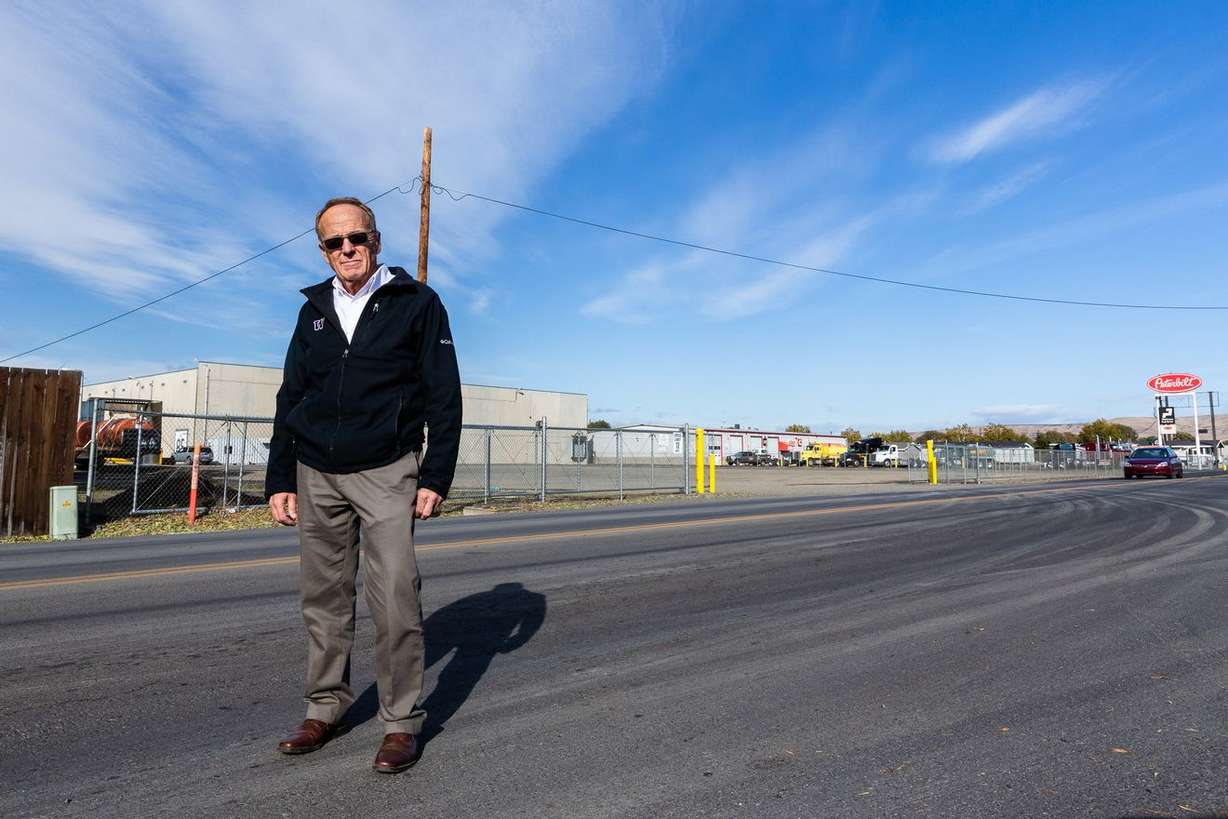 "The minute I'd looked back, he'd stopped," Powers said.
The sedan impacted the rear bumper of the minivan. Airbags did not deploy in either vehicle. Photos of the damage taken by an auto body shop later showed a small mark on the minivan's rear bumper cover and a dent in the bumper beam.
An accident report showed the officer who responded faulted Powers for following too close. He also wrote that there were "no injuries reported." The citation against Powers was later dismissed by a judge.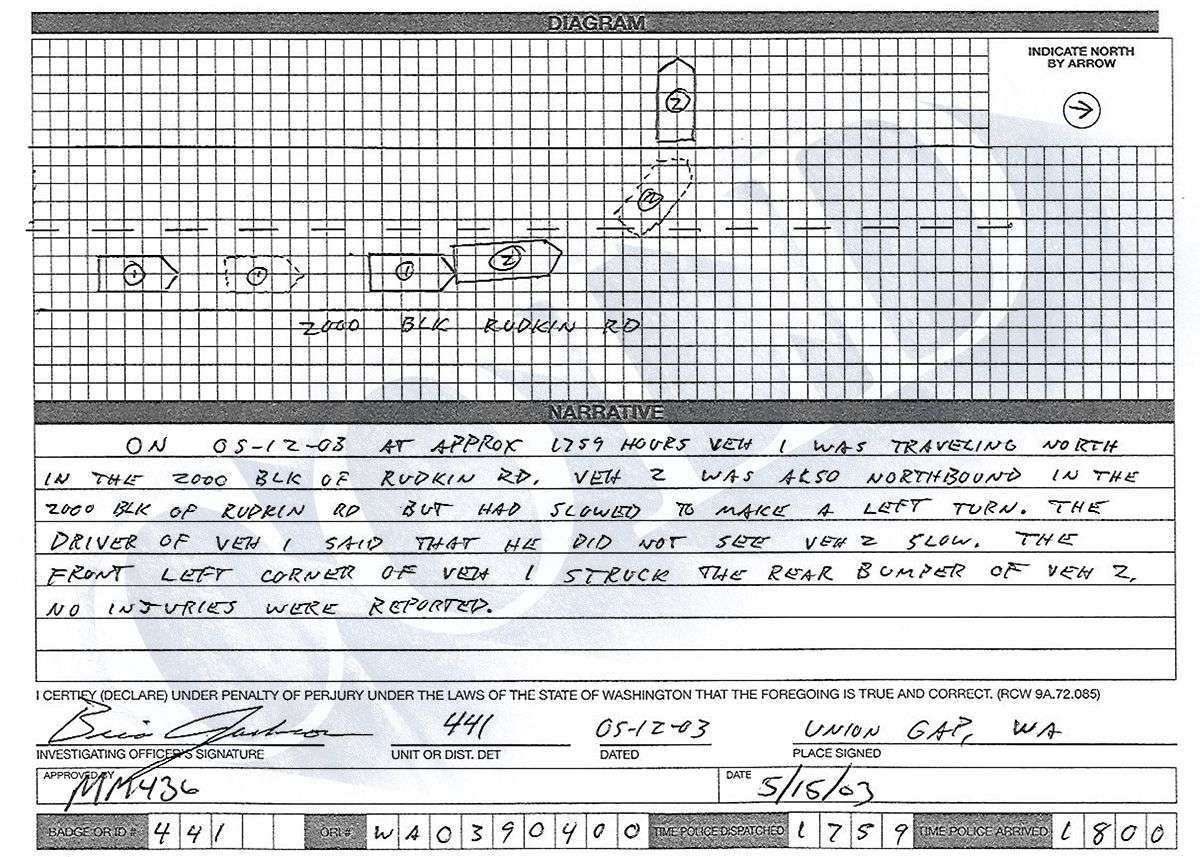 After the crash, Powell had his wife drive him to Memorial Hospital in Yakima.
In the months that followed, both Josh and Susan Powell underwent extensive chiropractic and massage therapy care. They billed those visits to their auto insurance. Their insurance provider, Pemco, eventually ordered independent medical examinations over questions about the necessity of treatment. Pemco ultimately refused to pay for some of the treatments.
Josh Powell, meanwhile, hounded Powers' insurance company, State Farm, for money. State Farm eventually agreed to settle the claim for roughly $13,000, of which Powell pocketed more than $6,100.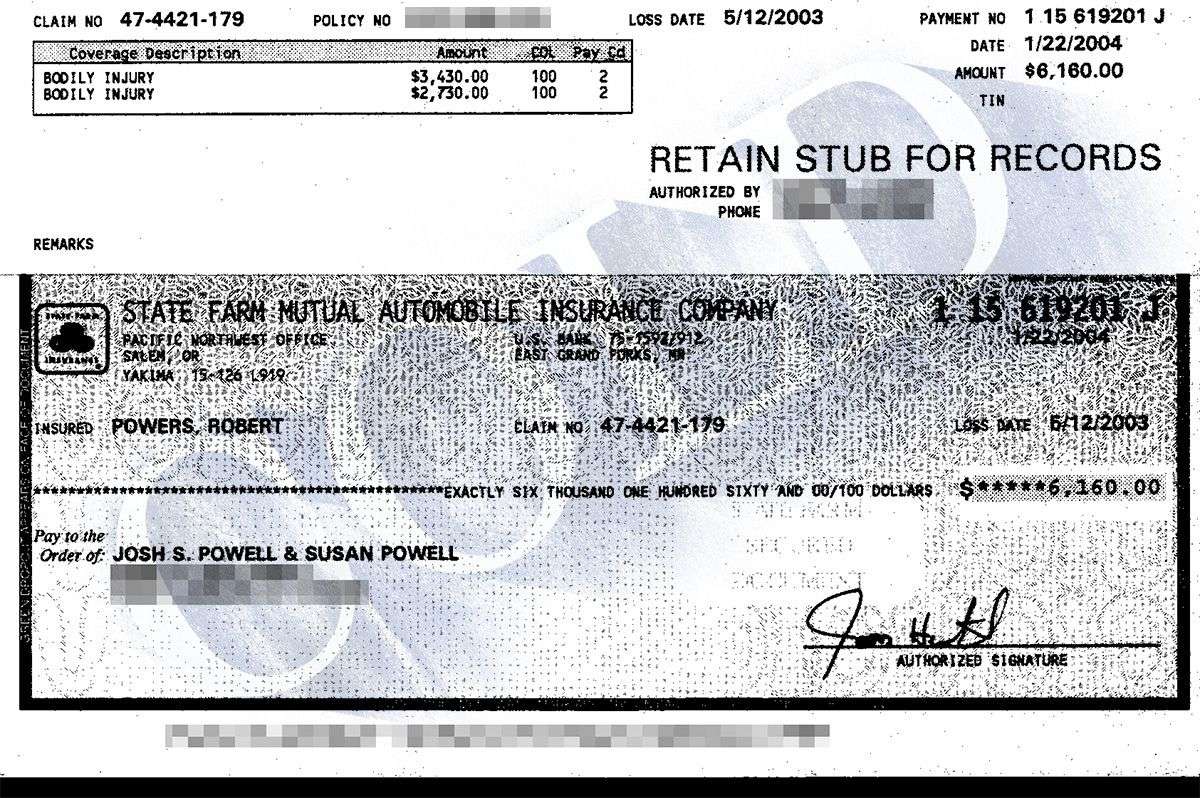 Powers was unaware of the settlement until informed of it by "Cold."
"Just astounding," Powers said. "Good income for a couple of months back then."
Sept. 2, 2009
The third questionable crash occurred on Sept. 2, 2009, about three months before Susan Powell disappeared.
Josh Powell was making a right-hand turn onto Bangerter Highway from 1820 South in Salt Lake City. The driver who was behind Powell, Jeff Lewis, said the light at the intersection had turned green. Powell's minivan began to move forward.
"I naturally looked left as I was pulling forward," Lewis said. When Lewis looked back, the minivan had come to a complete stop, "and I ran into the back of the minivan."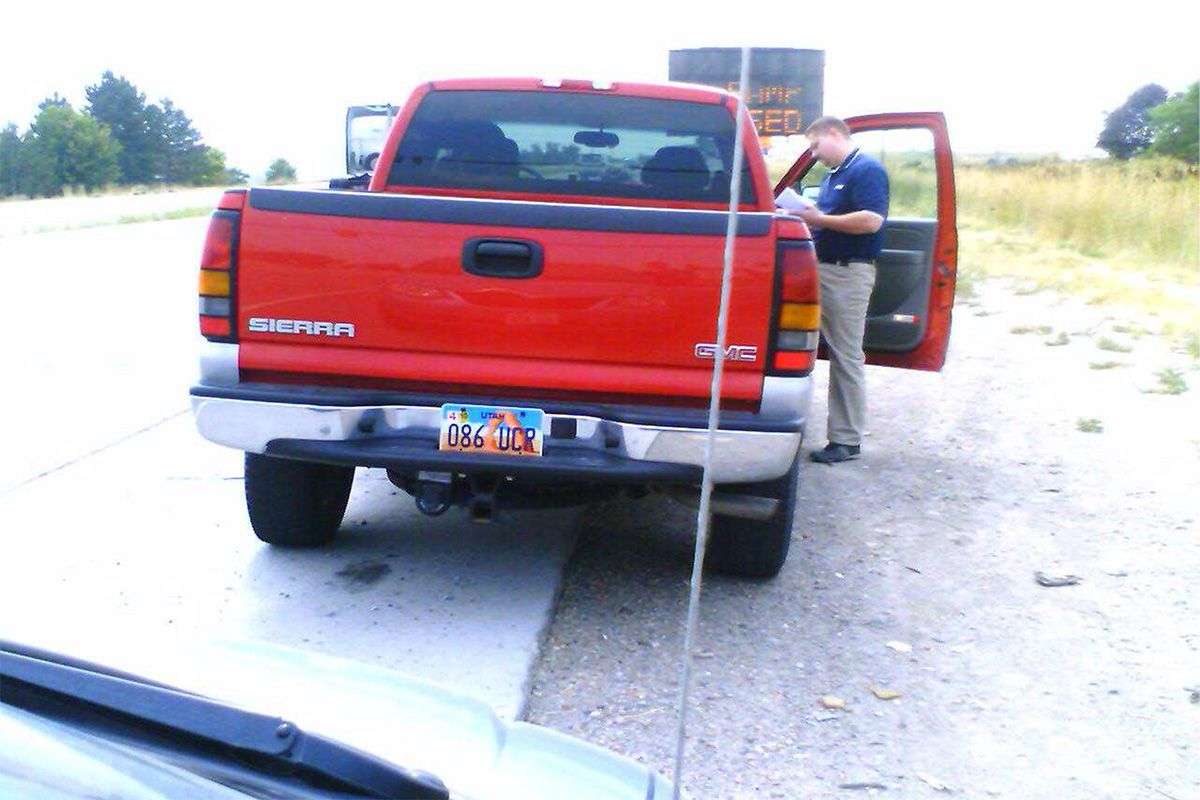 Lewis pulled his truck, a GMC Sierra, around the minivan and onto the right shoulder of Bangerter Highway. He also called 911. A trooper arrived at the site minutes later.
"As soon as Josh looked over and saw that there was a cop pulled up, all the sudden his back started hurting," Lewis said. "He kind of started holding his lower back and limping back to his vehicle."
Powell went to Granger Medical Clinic in West Valley City that afternoon, where he received a prescription for a muscle relaxant called cyclobenzaprine. He also began receiving chiropractic and massage therapy treatments. Those were continuing at the time of Susan Powell's disappearance on Dec. 7, 2009.
The auto insurance company billed for those treatments ordered an independent medical evaluation for Powell. It revealed Powell was diagnosed with a rotator cuff strain or partial tear 10 days after his wife vanished. Powell claimed the injury was a result of the crash three months prior, though there was no mention of it in records until Dec. 17, 2009.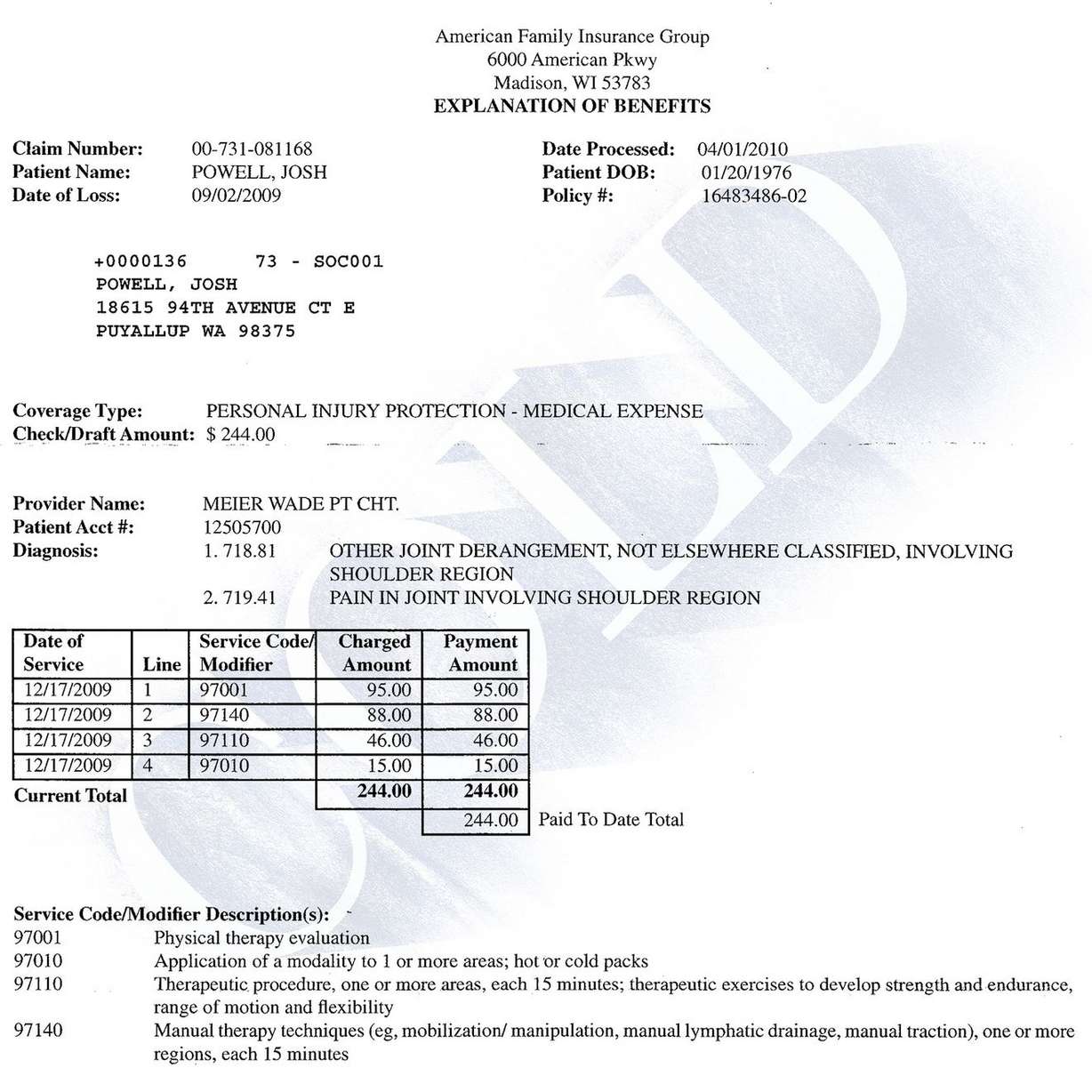 Lewis, the driver who hit Josh, was unaware of the shoulder injury until it was first reported in "Cold."
"It was an act," Lewis said. "When the cop pulled up, he was holding his back."
When Lewis saw news reports about the disappearance of Susan Powell 10 years ago this week, his experience made him immediately suspicious.
"I'm going, 'Man, this guy got rid of his wife for money,'" Lewis said.
___
___
Subscribe for free to new episodes of the KSL "Cold" podcast at thecoldpodcast.com. Engage with "Cold" on Facebook, Instagram and Twitter at @thecoldpodcast.
×
Related stories
Most recent Utah stories