PROVO — Babalu Ugwu always thought she was a big player.
Standing 6-feet tall, Ugwu always played center on her grassroots basketball teams in her native Brazil, and the same was true when she moved to North Carolina to attend Friendship Christian School in the Research Triangle.
She was, quite simply, a post player: pulling down rebounds, scoring on putbacks, and finding her shot under the basket — usually over much smaller players.
Then she came to BYU's campus in Provo and met 6-foot-7 teammate Sara Hamson.
"I thought I was tall, but compared to Sara? No," the sophomore said after practice this week. "Sara's a beast inside, and I can't even compare myself to Sara."
Fortunately for Ugwu, BYU coach Jeff Judkins doesn't expect her to be Sara Hamson, the daughter of legendary BYU women's basketball player Tresa Spaulding and younger sister of two-sport star Jennifer Hamson.
All Judkins wanted was for Ugwu to be Ugwu. And just over a year into her collegiate transition, that's more than enough for the Cougars, who improved to a 3-1 start with a 67-50 win over in-state rival Utah State on Tuesday morning.
"I'm probably on her more than anybody on the team," Judkins said of Ugwu. "But she's taken it, she's listened, and she's already gotten better in the mental part of the game.
"We all know she was athletic, that she could rebound and that she could score — but she had to fit into the team concept. That takes a while … But I think she's done a nice job of figuring it out."
The native of Sao Paulo played in 30 games as a freshman, starting 13 and averaging 10 minutes per game. But she scored in double figures just twice, primarily playing power forward next to Hamson and fellow post Shalae Salmon.
This year, in an effort to get Ugwu on the court more, Judkins has moved her to the wing to play the small-forward "three" guard and get the sophomore more involved in the offense. The addition of assistant coach Lee Cummard aided that transition.
The move has made a world of difference in Ugwu's game. The 6-foot forward has already scored in double figures twice in four games, including a 10-point, 11-rebound double-double last week in a 71-65 road win over Fresno State.
With fifth-year senior Jasmine Robinson out for at least a week with a foot injury, the Cougars will likely rely on Ugwu even more. That includes Friday's game against in-state rival Utah — a matchup that has special meaning for BYU, even for those who didn't grow up in the state of Utah where everyone wears either red or blue.
"Our team wants to take every game seriously, and every game is just as important to us as Friday's game," BYU guard Brenna Drollinger said. "We want to get these wins and go into the NCAA Tournament, and hopefully get further than we did last year."
Then, unprompted but as if she saw the cue, Salmon jumped in.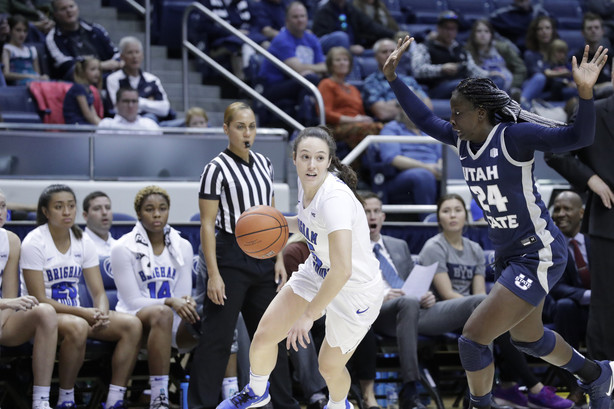 "But we are for sure excited for this week," the native New Zealander said. "Utah is a big game for us; we're excited, and we like this rivalry. We thrive off it."
Ugwu's path to BYU was long, and not just because of her path through Brazilian customs.
Originally from Judiai in Sao Paulo, Ugwu played for the Brazilian youth national team that won several international tournaments in 2015 and 2016. That brought her to the Carolina Waves grassroots basketball program, led by head coach Eric Hemming, and Friendship Christian.
Hemming, a member of The Church of Jesus Christ of Latter-day Saints, had as many as five Brazilian players on his grassroots teams, and he spoke to Judkins directly about two of them — Ugwu, and point guard Maria Albiero.
The two wanted to continue college in the United States, and after a visit to campus, they were hooked. BYU was the place for them.
There was one thing that caught Ugwu off guard, though: the language.
No, not learning English. Portuguese. It seems like everyone in Provo speaks her native tongue, owing to the large numbers of returned church missionaries on campus.
"I would introduce myself, they'd hear I was Brazilian — and suddenly just start speaking to me in Portuguese," Ugwu said with a laugh. "That was weird at first; they were everywhere. But it was super cool, too."
×
Related Stories