PROVO — In-state rivalry games have a little extra juice, an extra oomph, and even a little bit more physical play.
BYU women's basketball has two such games this week.
The Cougars handled the first one well enough.
Brenna Drollinger poured in a game-high 21 points and played all 40 minutes, and Paisley Johnson added 15 points, five rebounds and four assists to help the BYU women's basketball team overwhelm in-state rival Utah State, 67-50 in front of a crowd that featured more than 5,000 elementary school-aged children Tuesday afternoon in the Marriott Center.
Maria Albiero supplied 11 points, four rebounds and four assists for the Cougars (3-1).
"I feel like I can go forever," said Drollinger, who added four rebounds and three assists. "We train for this, to play a whole game if we need to, and I've done it in the past. I feel like I can do that more."
Former Sky View star Lindsey Jensen-Baker led Utah State (2-4) with 14 points, three rebounds and two assists, and Steph Gorman added 13 points and three assists for the Aggies.
Shalae Salmon added 10 points and 10 rebounds and Sara Hamson added 11 boards and six blocks for a BYU squad that outrebounded the Aggies 48-28.
"That's my game; physicality? Let's go," said Salmon, who registered her third double-double of the season. "When Juddie gives you the green light to be physical, you already know I'll be in there."
Equally impressive was how BYU's post presence took the Aggies' front line out of the game. Salmon and Hamson held Layton High standout Hailey Bassett to just six points and three rebounds in the Aggies' loss.
"Shalae's becoming a force, and I hope she keeps it up," BYU coach Jeff Judkins said. "Consistency is what I really preached on her, and she's really taking it to heart."
Drollinger scored five as BYU opened the game on an 11-2 run, but Utah State scored six points off six BYU turnovers early to keep the game close.
Albeiro snapped a four-minute-long scoring drought with a 3-pointer with just under 3 minutes remaining in the half. Johnson pushed the Cougars' lead to 32-21 with a fast-break score on the next play en route to a 32-22 halftime lead, and the Aggies never threatened again.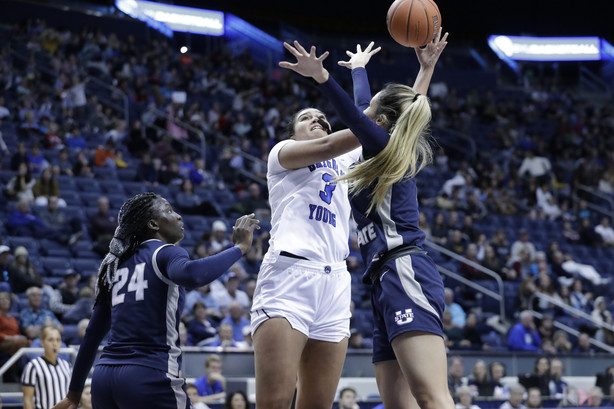 Get well soon, coach
Utah State was playing without eighth-year head coach Jerry Finkbeiner, who resigned Monday after previously taking a medical leave of absence for a non-life-threatening health condition. Finkbeiner's son Ben Finkbeiner, the Aggies' associate head coach for the past two years, will serve as the interim head coach for the remainder of the 2019-20 season.
Jerry Finkbeiner was 570-366 in 30 years as a collegiate head coach prior to stepping down. But more than a successful coach, he was a friend — including to BYU's Jeff Judkins. When BYU point guard Shaylee Gonzales went down with a season-ending ACL injury this summer, Finkbeiner was the first person to reach out to Judkins with condolences.
"We go way back, and we've had a lot of great conversations. It's sad to see somebody not have the health that they want," Judkins said of Finkbeiner.
"He loves to coach, and he loves to be a part of it. I don't think he'll be out of it (forever). I think he'll take some time off, and then get back into it because he has that bug. But it's hard to see your coach go through that. Thankfully his son is a lot like him, and I think this team is going to be bounce through it."
Next up
BYU hosts fellow in-state rival Utah at 7 p.m. MST Friday. The game will be televised on BYUtv.
The Aggies host Division II Dixie State at 7 p.m. MST Monday.
×
Related Stories