PROVO — In the end, the BYU basketball team just ran out of gas.
Ochai Agbaji had 14 points, five rebounds and three assists, and David McCormack added 16 points to help No. 4 Kansas use a 19-4 run in the second half to pull away from BYU, 71-56 on Tuesday night in the semifinals of the Maui Invitational at the Lahaina Civic Center.
Devon Dotson had 13 points and eight assists and Udoka Azubuike supplied 11 points and 10 rebounds for the Jayhawks (5-1), who outscored the Cougars 42-18 in the paint.
TJ Haws had 16 points and five assists to lead BYU, which trailed by 2 at halftime but couldn't keep up. Kolby Lee added 13 points and three rebounds for the Cougars (4-3), who will play Virginia Tech in a consolation game Wednesday night (9:30 p.m. MST, ESPN2).
The Jayhawks held BYU's Jake Toolson to 7 points and seven rebounds in the loss.
"That was a hard team to guard. Early in the game, they had us on our heels," said Kansas coach Bill Self, who likened the game to a Big Ten-style game from his days at Illinois in 2003. "That was a hard game, and of course, it sets up a harder game tomorrow. From a coaching standpoint, it was fun for me to watch from a defensive standpoint."
The Cougars shot just 4 of 16 from 3-point range in the second half, including a 4 of 6 effort in the final minutes of the game with the result out of reach. At one point, BYU missed on 11 straight 3s after the break.
"We were really excited about this gamel" BYU coach Mark Pope told BYU Radio. "We were excited to get a shot against a Top 5 team, and see how we were.
"We clearly have some room to grow. We're excited about seeing that, and finding answers."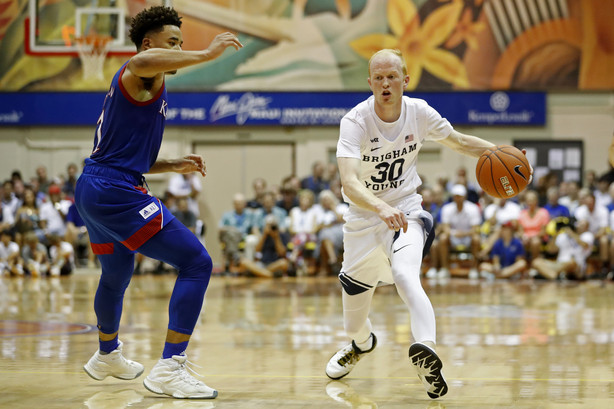 Zac Seljaas made a pair of free throws to give BYU a 19-18 lead midway through the first half. But Kansas held the Cougars scoreless for nearly eight minutes, and Azubuike stripped Haws on a 3-point attempt with just over 3 minutes left in the half, rumbling in for a rim-rattling transition dunk as part of a 6-0 run that put the No. 4-ranked team ahead at the break.
"Any time we see Doke run and dunk it, it's going to spark our team," joked McCormack, whose coach called it the first time Azubuike has made that play. "We just started playing with a lot more energy after that."
Despite all that, the Cougars trailed by just 2, 29-27 at the break. Haws had 8 points, including a clutch 3-pointer right before the half, to lead the Cougars, who held Kansas to 2 of 9 from 3-point range to keep it close.
Agbaji capped a 13-2 run in the second half to give the Jayhawks a 42-31 lead with 14:04 remaining. The run swelled as high as 19-4 in favor of Kansas as the Cougars searched for answers, inserting second-half subs Connor Harding, Trevin Knell and Taylor Maughn into the game.
Answers were hard to come by, though. The Jayhawks simply lived up to their Top 5 ranking — one that could rise even higher after No. 1 Duke lost its first nonconference home game since 2000, 85-83, to Stephen F. Austin earlier Tuesday.
Missing 3s hurt, as did the Cougars' inability to find the open man like they did in a win over UCLA less than 24 hours previous. And of course, there was the suffocating defense of Kansas, one of college basketball's bluest of blue bloods.
BYU needed to make up for its size disadvantage from the 3-point line, but ended up shooting just 9 of 33 from deep, led by three treys from Haws.
"That's a little bit of a concern," Pope said. "I don't mind the 33 3s; I actually like that. I just don't like the character that we got them.
"It's a real issue. One of the things that has haunted us is our inability to get downhill and our inability to get to the free-throw line. We have to do a better job of getting to the line."
Dalton Nixon's 3-pointer cut the Cougars' deficit to 64-48 with just under four minutes to go. But one night after its upset win over UCLA, BYU simply ran out of gas.
"As much as we want to feel it out, we're still growing," Pope said. "That'll be something we will continue to work on throughout the year. We need to grow into a team that can do it against a top-five defensive team, and the only way to do that is to grow in these games and learn."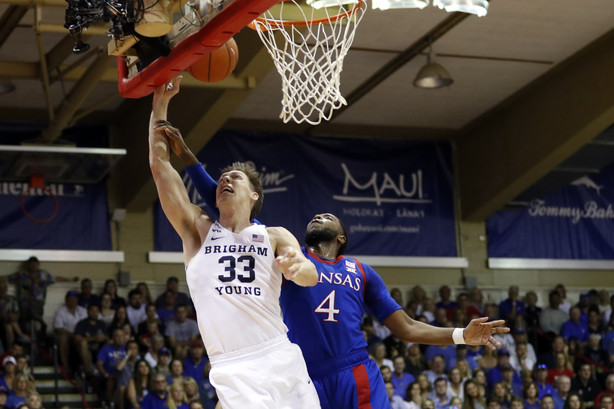 Notes
Tuesday's game was the second semifinal of the Maui Invitational. … Dayton beat Virginia Tech 89-62 in the first semifinal. … Tuesday's meeting between the Cougars and Jayhawks was the first in the series since 1993. … Kansas owns a 4-1 record all-time against BYU.
×
Related Stories