PROVO — BYU went to the Hawaiian Islands for the week of Thanksgiving.
And they'll leave Lahaina with at least one win over a Power Five contender.
Jake Toolson stuffed the stat sheet with 20 points, three rebounds, two assists, three steals and a block to help BYU pull away from UCLA, 78-63 in the first game of the Maui Invitational at Lahaina Civic Center in Lahaina, Hawaii.
Kolby Lee supplied 13 points and two rebounds for the Cougars, and TJ Haws added 15 points and four assists, including an and-one play during a 14-2 run that helped the Cougars pull up on a 20-point lead with 1:54 left.
"Tonight these guys trusted in each other down the stretch … and it was beautiful," said BYU coach Mark Pope, whose team assisted on 13 of 31 made baskets. "This difficult schedule is better for us. We're a better team now than we were a week ago, and hopefully after we play Kansas, we'll be a better team tomorrow night than we are tonight."
The Cougars (4-2) will face No. 4 Kansas in the Maui Invitational semifinals at 8:30 p.m. MST Tuesday.
Alex Barcello chipped in 9 points and five assists for BYU, which shot better than 60 percent from the field with nine 3-pointers.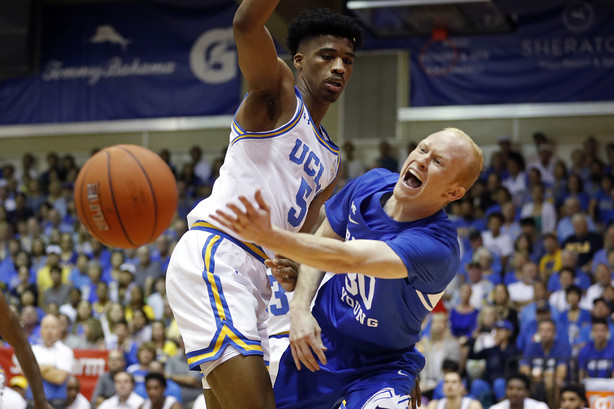 Jules Bernard led UCLA (4-2) with 16 points, six rebounds and two assists, and Cody Riley added 12 points and five rebounds for the Bruins, who outrebounded BYU 28-26.
But none of that seemed to matter against an undersized Cougar squad that shot a season-high 65 percent from the field in the first half, and finished at 62 percent.
Zac Seljaas had a career-high 11 rebounds for BYU, and Dalton Nixon added 8 points and four rebounds for the Cougars.
"This team, when we have great energy on both ends of the floor, we're really good," Haws said. "That helps us box out, get rebounds; when we have energy on offense, we're moving fast. It can be a challenge to play three games in three days, especially against great opponents, but if we can come out and play with great energy, then we're going to have a good night tomorrow."
Toolson and Haws hit back-to-back 3s to spark BYU midway through the first half, then ended with a 9-4 spurt just before the break — and led just 36-32.
The Bruins came out of halftime firing, shooting as high as 70 percent early in the half, but led for just 5:37 of the game. Simply put, BYU just shot better.
Haws' 3-pointer with 7:17 remaining capped a 10-0 run for BYU that put the Cougars up 61-52 amid a nearly five-minute scoreless drought for the Bruins. It was the first of several big second-half runs for the Cougars on a magical night in Maui.
"My mindset is always to try to make a play, and to help this team win — whether that's grabbing an extra rebound or making the extra pass," Toolson said. "The way we played tonight, we set ourselves to make plays for each other. Down the stretch, TJ had the ball a lot and he was making plays. Our mindset was to make a play for our teammates. When you can live there, good things come back around to you."
Notes
Former UCLA star and NBA legend Bill "Big Wave Billy" Walton called the game alongside ESPN's Dave Pasch. … Walton's one-time Boston Celtics teammate (and former BYU star) Danny Ainge sat courtside during the game. … In addition to his executive role with the Celtics, Ainge is also the uncle of BYU senior Jake Toolson. … The game matched up first-year head coaches in Pope and UCLA's Mick Cronin, who recently moved to Westwood after going 296-146 in 13 seasons at Cincinnati. … The Cougars improved to 3-1 in the Maui Invitational when former BYU star Kevin Nixon is in the building.
×
Related Stories