This archived news story is available only for your personal, non-commercial use. Information in the story may be outdated or superseded by additional information. Reading or replaying the story in its archived form does not constitute a republication of the story.
PROVO — When Lone Peak quarterback Talmage Gunther ran in a 13-yard touchdown scamper with 5:44 left in the third quarter to put his team up 35-14 at Timpview, he knew his Knights had accomplished something big.
They had just snapped a 27-game winning streak, the fifth-longest in Utah state history, over the three-time defending Class 4A state champions.
And then, like most of the senior leaders on his team, his thoughts drifted to next week.
"It feels amazing," Gunther said. "I didn't want anything more than this one.
"But we can't sit on it too long; we've got to be ready to go for another one the next week."
Gunther finished with two touchdowns, one on the ground and another through the air, and BYU commit Jackson McChesney added two scores to help Lone Peak (2-0) move past the Thunderbirds (1-1) in a battle of top 10 teams in Utah.
"I really can't point to one kid to highlight; they all did a great job. Talmage Gunther was pretty savvy at quarterback," Lone Peak coach Mike Mower said. "But I'll tell you what — my assistant coaches had great game plans, they motivated the kids all week, and the credit goes to the kids and my assistants. I was along for the ride. They did a great job."
For Lone Peak, the game turned on defense.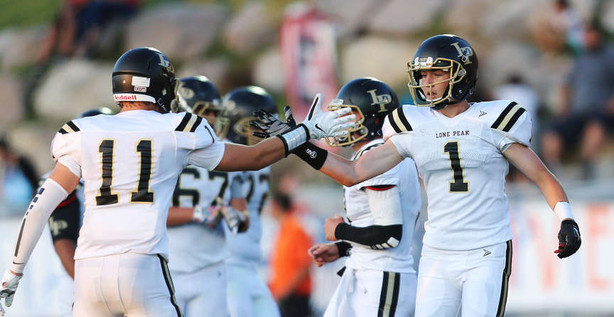 Clinging to a 14-7 lead at halftime, the Knights dropped Timpview quarterback Kahi Neves for a 19-yard loss that was one yard away from turning into a safety, and linebacker Britton Bettridge ran an interception eight yards in for the score on the next play to go up 21-7 before the Knights' offense had taken the field in the second half.
"That was the key right there," Mower said. "Our kids were ready for the second half. They came out with a vengeance."
It was all downhill from there, ending with Lone Peak celebrating on the turf of a heated rival and one of the top teams in Utah prep football history.
"When we went into the half, coach told us we were winning but they were still in the game. They wanted us to come out and make a statement proving we were the better team," Gunther said. "Our defense was huge stepping up, and then they gave us the ball in good spots and we finished it."
The Thunderbirds started the game fast. After stopping the Knights on their seven-play opening drive in which only two of those plays went for positive yardage, Neves found Fielding Wallace for a wide-open 78-yard touchdown on the Thunderbirds' first offensive play of the game with 9:27 remaining in the first quarter.
Will Watanabe picked off Gunther on the next series, but the Knights' defense came alive to force a three-and-out and get the ball back around midfield with 6:49 left in the quarter.
"(Coach Cary) Whittingham has a great program here, and it's just a privilege to be here to compete against this great program," Mower said. "This is a great win for us, but we've still got a lot to work on. The kids know we can still get better and better. But I'm delighted with their effort."
After finding themselves in a 7-0 hole, BYU commit Jackson McChesney and the Lone Peak offense went to work. The 6-foot junior pounded away on back-to-back runs, then hauled in an 11-yard touchdown pass from Gunther to set up Seth Corry's touchdown that tied the game exiting the first quarter.
"They were definitely keying on him, and I would've if I were them, too," Gunther said of McChesney. "But he told me to get him the ball, so I did."
Corry juked a Timpview defender out of his shoes for a gashing 13-yard run up the middle to set up his 3-yard touchdown jaunt with 4:27 left in the opening quarter to tie the game at 7-7. The Knight defense stiffened up again to force a turnover on downs on Timpview's next series after the Thunderbirds ate up about four minutes of game time.
McChesney scored the go-ahead touchdown for Lone Peak, hauling in a 10-yard pass on a slant route across the middle to go up 14-7 with 7:15 left in the half, and the Knights nearly put another three points on the board but missed a 45-yard field goal with 57 seconds to go before halftime.
McChesney added a second touchdown with 8:32 left in the third, running in the final play from the 11-yard line to put the Knights up 28-7.
Neves lauched a 13-yard touchdown pass to Nejad Arshad with 3:55 left in the third quarter to bring the Thunderbirds within two scores, 28-14 by the end of the third.
"I think it means that it's something to build on the rest of the year," Gunther said in summing up the moment. "It's something we can definitely use to keep going forward and build toward our goal, which like everyone else is the state championship."
×
Photos
Related Stories