This archived news story is available only for your personal, non-commercial use. Information in the story may be outdated or superseded by additional information. Reading or replaying the story in its archived form does not constitute a republication of the story.
BOISE, Idaho — Zach Wilson proved to be the BYU's quarterback of the future during the second half of the Cougars' 2018 football season.
But he's also pretty good in the present, too.
Wilson completed all 18 of his pass attempts, and BYU used a 28-0 run in the third quarter to pull away for a win over Western Michigan, 49-18 Friday afternoon in the Famous Idaho Potato Bowl in Boise, Idaho.
The Draper native who grew up a Utah fan threw for 317 yards and four touchdowns, and graduate senior Dylan Collie had 124 yards and two touchdown catches on six grabs to lead the Cougars (7-6).
Riley Burt ran for 113 yards and a touchdown, and the Cougar defense forced six tackles for loss, including three sacks in front of a decidedly pro-BYU crowd of 18,711 at Albertsons Stadium.
Wilson's last game at Boise State — where he was once committed as a senior at Corner Canyon — ended with him thrown to the turf on a fourth-and-goal play that would've given the Cougars their first-ever road win over the Broncos.
Less than two months later, he finally got that victory — over a different Broncos squad but on that same fabled blue turf. Wilson's freshman season started slow, backing up senior incumbent Tanner Mangum until a midseason switch gave him starting the job.
It continued through several hiccups, like a 7-6 home loss to Northern Illinois and a 35-27 loss to rival Utah.
But on Friday night in the cold winter air of the Treasure Valley, Wilson's game started to come together.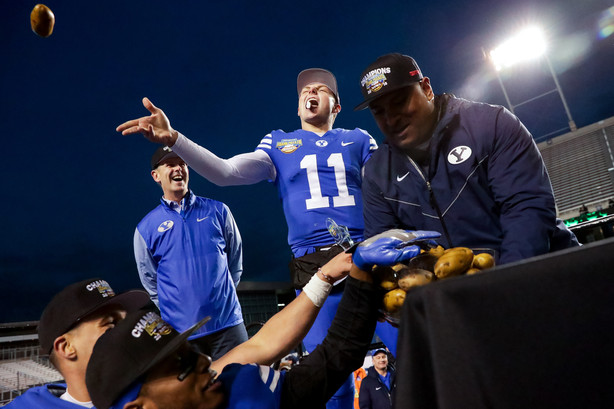 "I've learned more in these past six games than I have in my entire life, playing football," said Wilson, who was named Potato Bowl most valuable player. "I'm starting to get more and more comfortable with the flow of the game."
His 18th-straight completion went five yards to fellow freshman Dax Milne for his fourth touchdown, putting the Cougars up 42-10 with 11:38 left in the fourth quarter. The freshman from Corner Canyon set a BYU record for most consecutive completions in a single game, and broke Steve Sarkisian's single-game pass completion record that has stood since Nov. 25, 1995 against Fresno State.
"I've been trying to let Zach loose for a long time," BYU coach Kalani Sitake said of his freshman signal caller. "I think an aggressive style of football is what we need to have on offense.
"If teams are going to be committed to stopping the run, it's good to know that we can make it."
Sione Takitaki had a career-high 19 tackles, including nine solo stops and a tackle for loss. The senior nearly topped the Potato Bowl record of 20 tackles set by Idaho's Ryan Skinner in 1998.
The "quarterback of the defense," in many ways, Takitaki's game may have been equally impressive.
"I just knew this was my last go-around with my guys and these coaches," Takitaki said. "I just wanted to play hard on every single play."
Down 10-7 at halftime, BYU came alive in the third quarter. Collie's second touchdown of the day — an 8-yard grab from Wilson during a three-play, 69-yard drive immediately out of the break — started a 28-0 run through the quarter that finished with Dayan Ghanwoloku's 1-yard TD plunge and a 35-10 advantage with 2:47 on the clock.
The Cougars out-gained the Broncos (7-6) 220 yards to 41 in the third quarter.
That's not a typo. Forty-one. And yes, the defensive back who prepped at Northridge scored the short-yardage touchdown that broke the game open.
BYU was rolling, even on defense, where Austin Lee picked off Western Michigan freshman quarterback Kaleb Eleby, and Khyiris Tonga added one of the Cougars' half-dozen tackles for loss.
Sitake said he didn't even have to give an impassioned, rah-rah speech at halftime. His players did the job for him, and those same players — led by a senior class of two dozen — backed up his claim.
"It was 7-10, but coaches emphasized do your job and we'll be fine. We felt that, too," Takitaki said. "You could see it out there in the third quarter. Everyone was flying out there."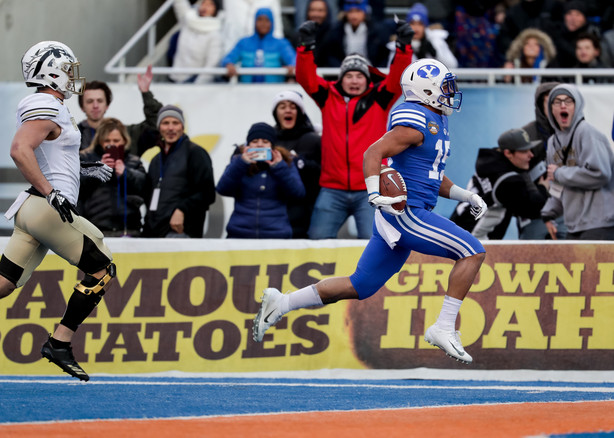 Wilson connected with Collie for his second touchdown of the game, this one from eight yards out, to give the Cougars a 14-10 lead on the first drive of the third quarter.
The catch capped a three-play, 69-yard drive over the first 1:46 of the half and was opened by a 48-yard grab by Neil Pau'u to set up Collie's second touchdown.
From there, Wilson was off to the races.
"He's a great player," Western Michigan linebacker Alex Grace said of Wilson. "If we would've got to the quarterback a little more, hurried him a little more, I think it would've been a little bit different."
After Khyiris Tonga's tackle-for-loss gave the ball back to BYU, Riley Burt added a 37-yard touchdown to give the Cougars a 21-10 advantage with 7:29 on the third-quarter clock.
BYU kept rolling in the third.
Wilson connected with junior Aleva Hifo on a 70-yard strike on the first play of a drive, and the Cougars didn't allow a second-half touchdown until Eleby's 1-yard TD plunge with 7:37 remaining.
By then, BYU was up 42-18, and even senior backup quarterback Tanner Mangum saw time in the game. The Eagle, Idaho native completed one pass for 41 yards on a drive capped by senior fullback Brayden El-Bakri's one-yard TD plunge to finish off the rout.
"Everything that happened from the get-go was filled with a lot of ups and downs — for the team and for me personally," said Collie, the younger brother of BYU all-time leading receiver Austin Collie who transferred from Hawaii last summer. "To be able to go out after that trial and finish on a high note like this, with guys that I genuinely care about — I'm lucky to call them teammates and friends."
×
Photos
Related Stories