SANDY — For Italian-born artist Valeriano Ugolini, it is no secret that Christmas is his favorite time of year.
"I love Christmas. The baby in Bethlehem, the angel, the shepard, the humble people, the wise men, the stars, all that is magic to me," Ugolini said. "It's more than just spiritual, it connects me with something bigger that I don't comprehend."
One of Ugolini's passion projects to express his love of Christmas is to create unique nativities. He began making nativities as a young boy in Italy, inspired by his grandfather's influence. Ugolini recalls he was about three years old when he started helping his grandfather make nativities.
"I don't remember anything else about my grandpa, other than we were going in the fields at Christmas time (looking) for things that could look like trees, the moss, and go home and put the figurines on, it was very simple," Ugolini remembered.
Over the years, Ugolini's nativities have evolved from simpler designs into elaborate and detailed creations.
"Of course they were different and more simple, over the years I kept making them, and made them all kinds of material, starting with paper, now I'm doing it with MDF wood, glass, and other things," Ugolini said.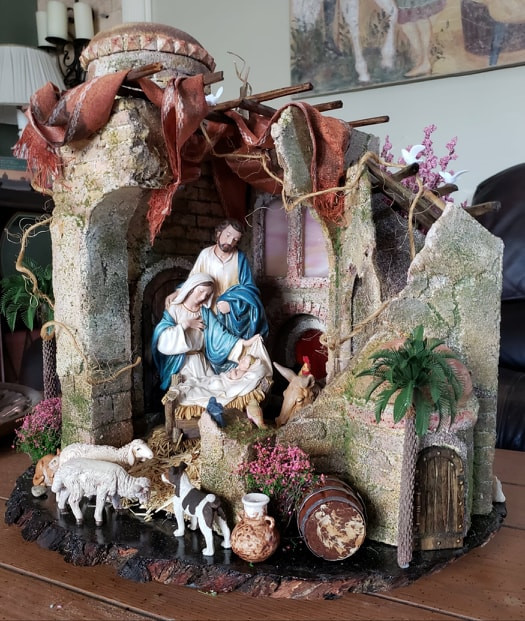 In his home workshop, he typically starts with a basic nativity set, and then makes a custom world around the figures.
"The figurines tell me what they want, that's why they are all different," Ugolini said. "In general, I don't make the figurines, I buy them, and by looking at the figurines, I try to perceive what (they) want around them."
Ugolini's artistic skill and craftsmanship have been nurtured throughout his life. As a young man he studied art at the Vatican Minor Seminary in Rome.
"I was able to study in the Sistine Chapel when nobody was around," Ugolini said.
As a young man, he met missionaries from the Church of Jesus Christ of Latter-day Saints and was baptized. After his baptism, he met his wife Carolyn in Milan, Italy, who had previously served a Latter-day Saint mission in the country.
---
The figurines tell me what they want, that's why they are all different.
–Valeriano Ugolini
---
In 1991, the young family returned to Carolyn's home state of Utah, and have since lived in Sandy, Utah.
During those years, Ugolini was busy working at the BYU bookstore in creative works, and then the art department, where he worked with many prominent Latter-day Saint artists. Though he was busy in his professional life, he stayed active as an artist and nativity designer.
"When it was around August, because I didn't have a lot of time when I was working, I started in August to build stuff. I did it in the basement. So, our two girls were smelling the smell of wood…(and they'd say) are you working on Christmas?" he recalled.
In addition to his nativity creations, Ugolini also wrote a book about Christmas and Jesus Christ's central role in the holiday. His book, "Santa's Christmas Dream," focuses on the importance of the meaning and spirit of the season by focusing on the celebration of Jesus Christ's birth.
"Fortunately, every year we renew his birth, and we renew his message of love and peace," said Ugolini, "Christmas gives me good feelings about how life should be."
Ugolini is also an accomplished artist, in addition to his nativities. His work has been displayed in the Springville Museum of Art, the Church of Jesus Christ of Latter-Day Saints' History Museum, and Brigham Young University's Harold B. Lee Library, among others.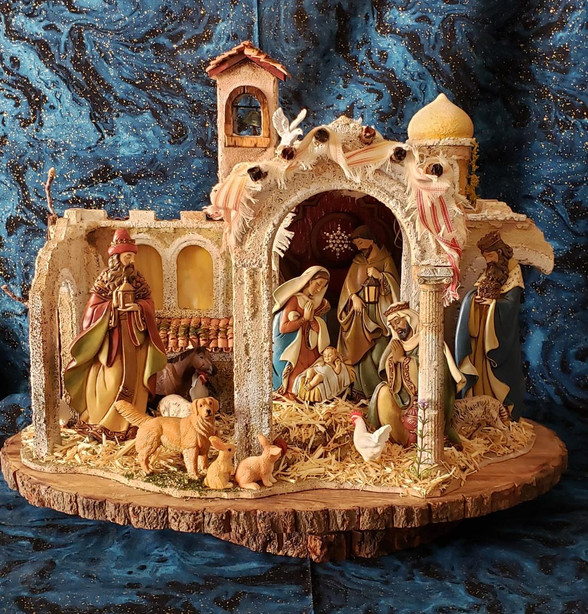 Yet, even with these accolades, Ugolini remains humble.
"I don't consider myself an artist...I could be a nativity scene artist, I could do that forever," he said. "To me it's a connection to my grandpa…the connection is my grandpa, Christmas, me, Christmas — so the circle goes around these two people, connected by Christmas," he said.
To learn more about Ugolini, his work, and his Christmas book, visit UgoliniFineArt.com or check out Ugolini's Instagram and Facebook.
A short documentary highlighting Ugolini's career and life can also be found here.
×
Photos