SALT LAKE CITY — If the television series "River Monsters" piques your interest and fires your imagination, you're not alone. The show is among the most popular ever for Animal Planet, according to The Guardian. Although no longer in production, it remains widely viewed on streaming services like Hulu and Netflix.
Show host Jeremy Wade travels to remote areas to catch bizarre and potentially dangerous fish. What you might not realize is that the opportunity to catch many of these river monsters is available even to anglers from Utah.
In October, I traveled from Salt Lake City to a fishing camp in the remote Amazon jungle and caught several fearsome varieties of fish featured in the "River Monsters" series. I was invited on the trip by a friend from Wisconsin who had previously fished in the area for super-sized peacock bass. Also in the camp were two anglers from Missouri, one from California, and one from New Jersey.
If you are among the many Utah anglers who do an annual trip to Alaska to catch salmon but would like to try something more adventurous, a trip to the Amazon can give you an entirely new fishing experience.
The river monsters
During our trip, the water was unusually high, which made for tougher fishing conditions. In spite of that, every person in our group caught multiple big fish during the week — most of which have received extensive coverage on the "River Monsters" series.
Here are some examples:
This is the largest of the piranha species. The world record black piranha is 8 pounds, 7 ounces and it came from this camp in 2009, according to The International Game Fish Association. We caught large ones — most at 5 pounds and many more than 6 pounds — every day while fishing for other, bigger trophies.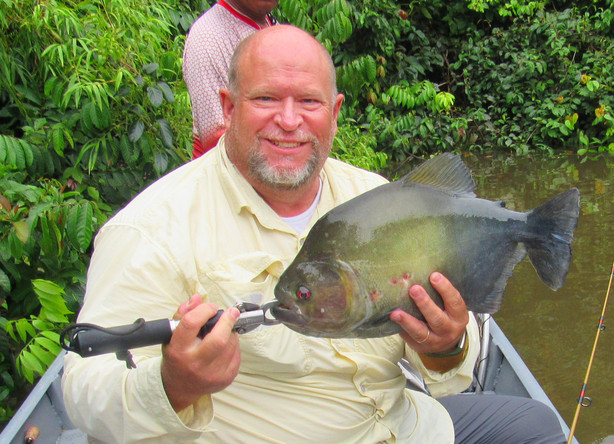 We also often used big chunks of piranha for bait. The piranhas were so voracious we regularly changed locations because they devoured the bait before other fish could get them. Other times they would slice through 100-pound test braided line and heavy wire leaders, costing us tackle and forcing us to regularly rerig.
The body shape and the silvery color of these fish are reminiscent of salmon, as are its acrobatic fights. However, this fish has razor-sharp and uniquely long teeth that make this a fish of nightmares. Payara attacked both baits and lures, and the biggest specimens we caught approached 20 pounds.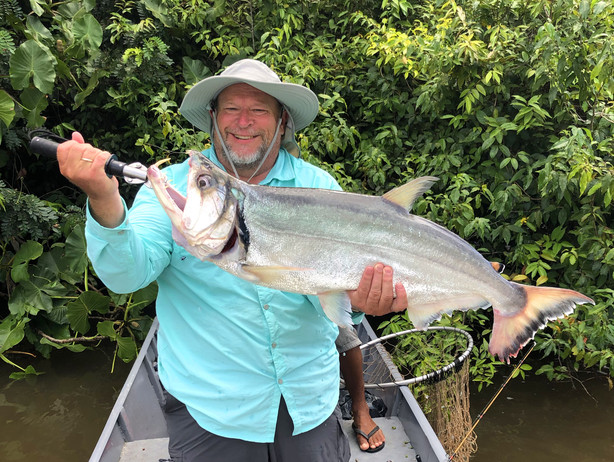 This fish looks like a prehistoric monster. It seems to prefer shallow, backwater areas or the eddies behind rocks in faster water. The trairao we caught ran 20-30 pounds, but they reportedly get larger than that.
We caught lots of these fish, which ranged from 30 to more than 80 pounds. It was difficult to get exact weights on fish over 30 pounds, but I have experience on a mini-farm and regularly carry heft bags of feed and building supplies that weigh 40, 50, 80 or 100 pounds, so I have a good feel for things in those weight categories.
Regardless, they fight ferociously and head for underwater snags whenever hooked.
This is the rarest of the large catfish in the area and the camp typically produces just a handful each season, but our group landed two that were more than 100 pounds each. The International Game Fish Association record is 109 pounds in 2004, and it's possible both fish were larger.
Everyone in our group caught at least one of these massive catfish. The two largest were more than 6 feet long and likely weighed more than 200 pounds. Others were in the 5- to 6-feet range and weighed between 100 and 200 pounds. The camp has produced specimens exceeding 300 pounds.
The fish we caught were so large that it was impossible to bring them onto the boat. That means to get a photo with the fish, you had to jump into the water — the water that is full of giant piranhas.
Everything else
Many other types of fish and wildlife are common. We caught freshwater stingrays, sorubim, jundira, pescada, bicuda, pacu, peacock bass and more.
The peacock bass were beautiful and attacked lures aggressively, so they were fun to catch. In this river, they average 2 to 10 pounds. Our guide would stop at any area that looked like it would be good for peacock bass and encourage us to fish for them. However, once we started catching the giant catfish, we told him we did not want to bother with any more peacock bass.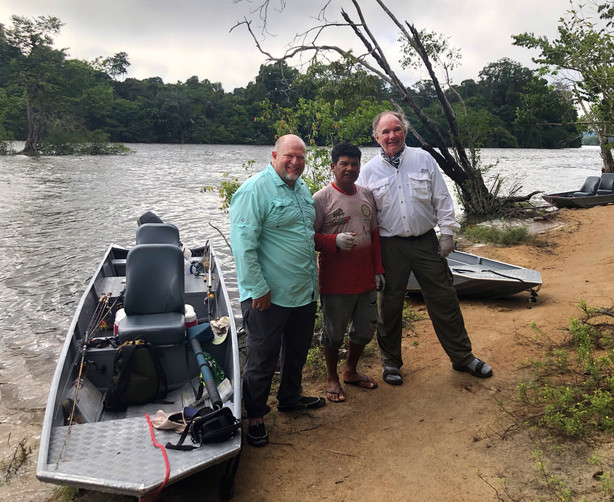 The bigger fish spoiled us. We caught many catfish specimens in the 15- to 30-pound range — fish we would have been thrilled to land anywhere else. But halfway through the trip we weren't even taking photos of them because they became commonplace.
We also saw anacondas, capybaras, monkeys, bats, turtles and a wide variety of colorful birds, including flocks of macaws. Others in our group saw giant river otters and sloths.
Getting from Utah to the Amazon jungle
Traveling from Salt Lake City to Manaus, Brazil, takes multiple flights and one to two days, depending on your stopovers. This is not a do-it-yourself fishing adventure. It takes place in one of the most remote areas of the planet.
From Manaus, you take a floatplane about 150 miles. There are no roads; and while you could technically get there in a small boat, access is limited by river rapids and by indigenous tribes who control the region.
The tribes granted exclusive sportfishing rights to Acute Angling, a firm based in New Jersey. The company offers several fishing trips in northern Brazil, which are mostly for anglers seeking peacock bass. The trip where anglers can chase monsters is the multi-species trip.
For this adventure, participating anglers are housed in comfortable cabins on an island on a tributary of the Rio Negro. They can accommodate up to eight fishermen each trip or about 150 for the season, which runs from October through February.
The cabins feature beds, flush toilets and showers (it's river water), air conditioning and 110-volt electrical power. The camp has a chef that cooks all the meals and staff that does laundry and cleaning each day.
Each pair of anglers are assigned to specially designed aluminum motorized boat manned by an indigenous guide who lives in the area and has extensive knowledge of the river, fish and wildlife.
The cost of the trip is roughly the same as you would pay for a deluxe seven-day Alaska fishing package, but the airfare is more expensive. Since the camp is in the Southern Hemisphere, the seasons are also switched. Our October trip was early spring there, during what would normally be the start of the dry season.
×
Photos