Estimated read time: 5-6 minutes
This archived news story is available only for your personal, non-commercial use. Information in the story may be outdated or superseded by additional information. Reading or replaying the story in its archived form does not constitute a republication of the story.
PROVO — It's hard to find someone who flies under the radar on the BYU women's soccer team, a club ranked No. 4 in the nation and a No. 2 seed in this year's NCAA tournament.
Maybe Cameron Tucker, the Lone Peak product who "only" had seven goals and seven assists (compared to 18 goals and five assists for Elise Flake, and 14 and six for West Coast Conference Player of the Year Mikayla Colohan) fits that billing.
She won't be overlooked much anymore, though.
Tucker had two goals and an assist, and SaraJayne Affleck, Jamie Shepherd and Elise Flake each supplied a goal and an assist to help BYU pull away from Boise State 5-1 in the opening round of the NCAA women's soccer tournament Friday night at South Field.
Lizzy Braby dished out two assists for the Cougars (19-0-1), who scored three unanswered goals in the second half in front of 3,682 fans to clinch the win.
"Kayla and Elise are both great players, and everybody knows that," Tucker said after her team's first tourney win since 2016. "When people are marking them extra hard, it leaves me open — and that's really nice.
"We've been working so hard all season to get here, and we want to keep going. To get this win was really rewarding, and we're anxious to continue to win."
Emily Curran scored the lone goal for Boise State (18-5), which won the Mountain West tournament to clinch the league's autobid.
For Tucker, it was the junior's first multigoal game since Sept. 21, when she had a hat trick at Kansas State. And it represented the Cougars' intense efforts to drive forward in the second half, when they outshot the Broncos 12-2 and did not allow a shot on goal.
"Lizzy and Cam are great attacking players, and our strength is to get them going forward," BYU coach Jennifer Rockwood said. "In the second half, it put Boise State on their heels a little bit when they had to defend more."
Colohan earned the first dangerous free kick of the night to get the ball rolling in the 18th minute, and her 22-yard set piece nearly bested Sydney Smith before the Boise State goalkeeper made a diving save.
That set up a corner kick, which Affleck booted to the head of Shepherd before Tucker finished off the opening score directly in front of the goalmouth.
Tucker doubled the advantage less than two minutes later, sliding a right-footed blast tucked under the right corner to give BYU a 2-0 advantage.
"We talked about me getting touches in the box, getting my shot off," Tucker said. "I knew I had to focus on getting touches in the box, and that's what I did."
Boise State's Emily Curry pulled one back in the 21st minute, finishing off a header from Morgan Stone to pull the Broncos within 2-1. The Cougars outshot the Broncos 9-4 in the first half, limited the visitors to just two shots on goal — and led just 2-1 at the half.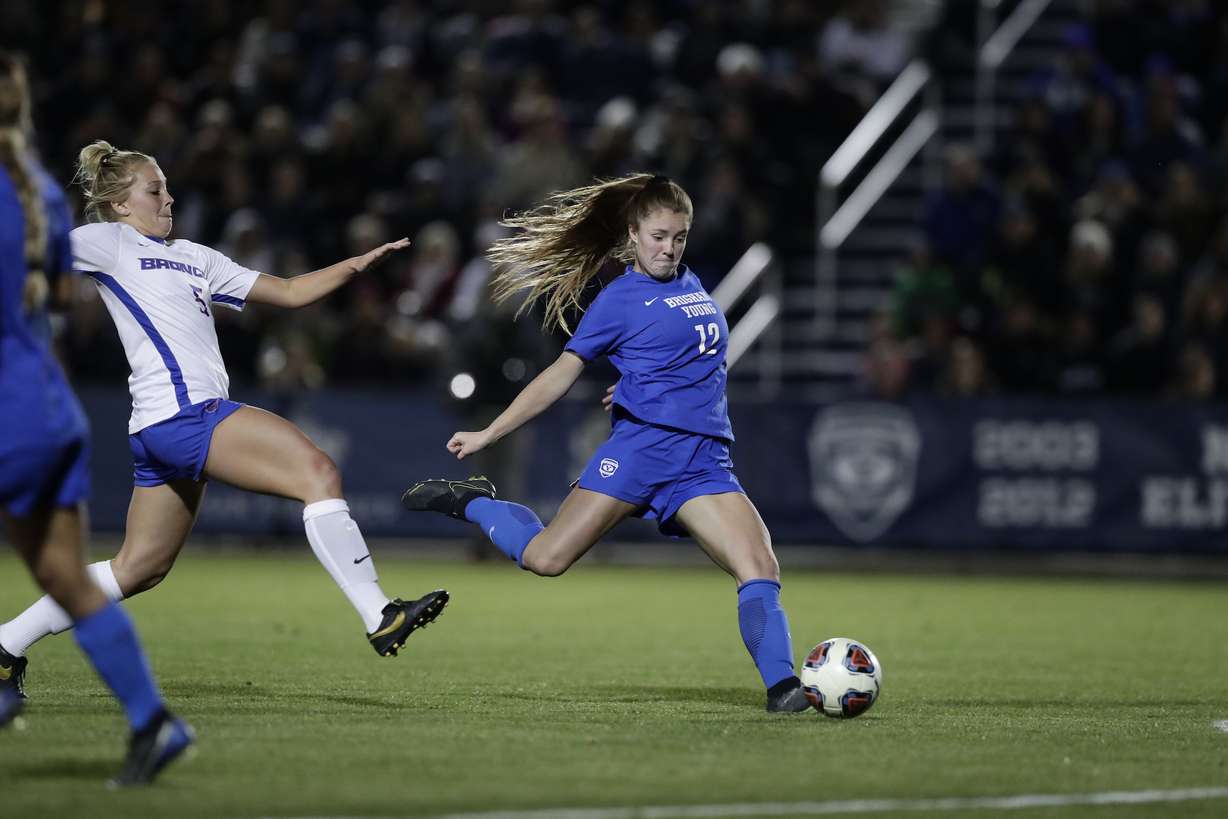 "We were feeling really good about ourselves," Boise State coach Jim Thomas said. "To be within a goal on the road against a team like that was a great place for us to be, and I think it was a little bit of a jerk for them. It woke them up a little bit, and you saw a lot more assertiveness from them.
"We had a little difficulty staying on our feet; it looked like we were on ice skates at times. But that was the force with which they were coming at us."
The Broncos were Mountain West champions, entering the tournament winning seven of their final nine games. But Boise State had never faced BYU — or a team the caliber of a squad ranked in the top-five nationally for most of the season.
"A season like this is one that you rarely get to experience," Thomas said. "For us, 18 wins breaks all the records that we've ever had. The amount of goals we scored, the amount of goals we didn't give up.
"I couldn't be more thankful for this group for standing by me and supporting us … But that's an incredibly powerful team."
Shepherd pushed BYU's lead back to two goals to initiate the rout in the 54th minute, flying on to the end of a cross from Braby at the top of the box and rifling home her second goal in a BYU uniform that nicked Smith's gloves as it caromed into the back of the net.
The former Deseret News Ms. Soccer honoree showed why she was such a heavily recruited target out of American Fork.
"That was unreal. It was such a good goal," Braby said. "Jamie was doing a really good job of finding the space that was open."
Affleck added her own goal in the 63rd minute, and Flake slid home her 19th goal of the year past the keeper four minutes later for the 5-1 advantage.
BYU advances to face Louisville, which topped Lipscomb 1-0 with a first-half goal earlier Friday. Sarah Hernandez scored the lone goal just before the half, and goalkeeper Melissa Gray made eight saves to preserve the shutout for the Cardinals (13-4-2).
The Cougars and Cardinals will kick off next at 6 p.m. MST Thursday, Nov. 21, at South Field. The winner will face the winner of No. 3-seeded Arkansas and North Carolina State, which will kick at 3 p.m. MST Thursday.
Duke 4, Utah 0
At Durham, N.C., Emmy Duerr scored twice, and Tess Boade and Mackenzie Pluck each added a goal for the Blue Devils in eliminating the Utes from the tournament.
Utah ends the season at 8-9-4, including a 3-5-3 mark in Pac-12 play.
×
Related stories
Most recent BYU Cougars stories