Estimated read time: 7-8 minutes
This archived news story is available only for your personal, non-commercial use. Information in the story may be outdated or superseded by additional information. Reading or replaying the story in its archived form does not constitute a republication of the story.
PROVO — Wednesday night's contest between BYU basketball and Southern Utah had all the makings of a classic boxing match.
The 10-point favorite and host came out swinging, with TJ Haws scoring 10 points in the first half — even when he had two 3-pointers disqualified after review — as BYU clung to a 36-31 lead at the break.
But the scrappy upstarts, a Thunderbirds team coming off a win at Big Ten foe Nebraska just four days prior, struck back. Athletic on defense and strong on the glass, SUU just needed one guard to find his shot to make a run at forcing an upset, one that would be remembered from Las Vegas to Salt Lake City.
The T-birds got that in John Knight III, the Utah State transfer who tied for a game-high 22 points, including back-to-back buckets, to cap a 13-3 run that put SUU ahead a little over six minutes into the game.
A resolute effort from Jake Toolson, the Utah Valley graduate transfer who had an equally impressive 22 points, saved the Cougars from taking a loss in lieu of a 68-63 victory in the Marriott Center.
Under normal circumstances, the game would be discussed Thursday morning on sports talk radio leading into BYU's next game Friday at Houston (7 p.m. MST, ESPNU). But a great game — arguably the best in the 12-game history of the series, all wins by BYU — won't be discussed.
But this game mattered, and it was exactly the type of game that first-year BYU coach Mark Pope needed as he prepares his team for West Coast Conference play, for March, and — before that — for the return of star power forward Yoeli Childs, who eclipsed the third game of his nine-game suspension Wednesday night.
"I just love them. I think they're more interesting, and there's more juice," Pope said of hosting the in-state matchup. "There's a good chance that my team could've walked on the floor tonight just a tiny bit less engaged if we were playing some team from back east that nobody's heard of. But they happened to walk on the floor tonight, and there was some jawing about 40 minutes before the game. My guys were ready."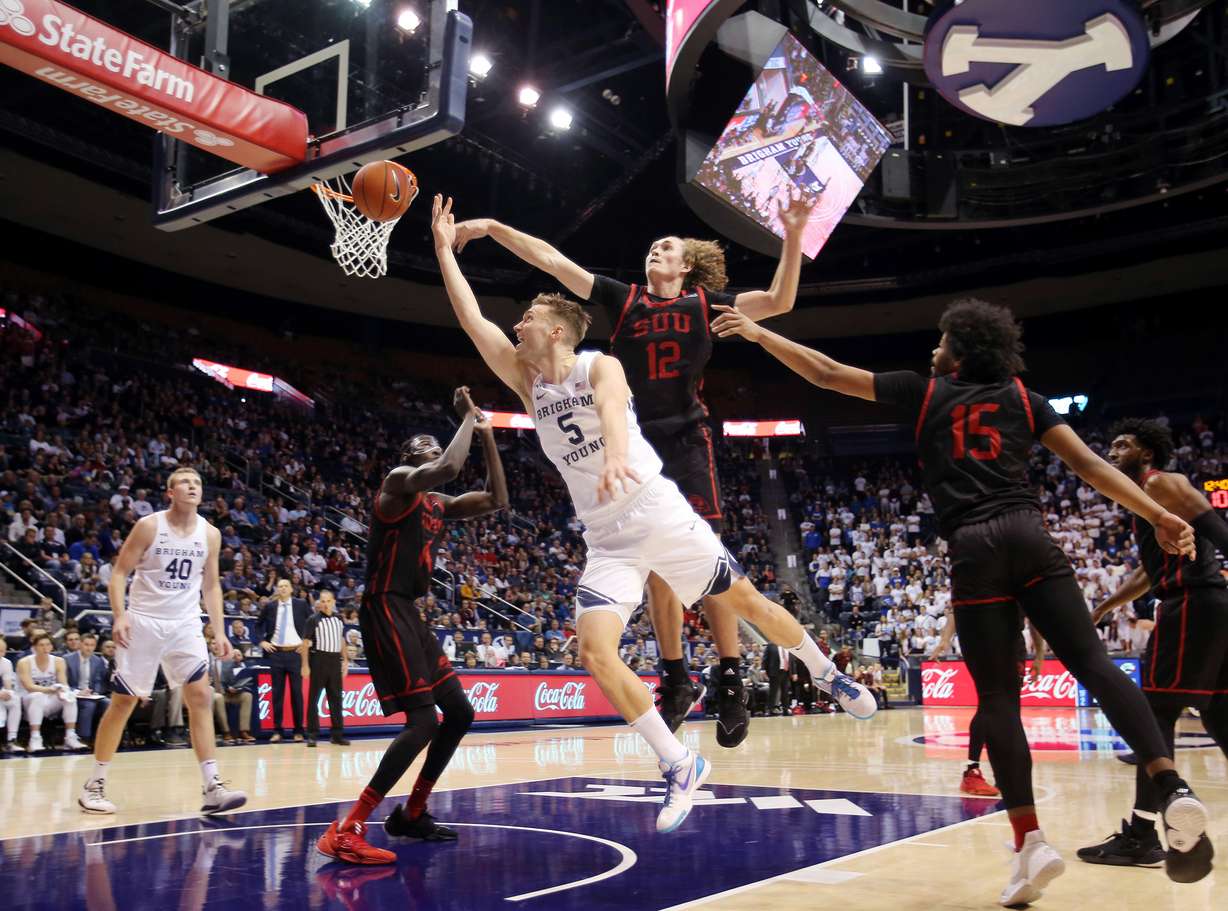 Because the Cougars were supposed to win, this game won't be talked about beyond a game recap and a few box score notes. The Thunderbirds had nothing to lose, everything to gain, and came out as such. The Cougars were supposed to be the bigger school, the big brother in the in-state rivalry, the team that simply doesn't fall — especially at home — to a Big Sky power.
Make no mistake; Southern Utah will be a good team. If the win over Nebraska didn't prove it, take note of returning starters like Dwayne Morgan and Cameron Oluyitan, of scrappy guards Dre Marin and the aforementioned Knight.
Take notice of a roster that has been building in the three previous seasons under first-time college head coach Todd Simon, and seems to be peaking, being picked to finish in the top four in the Big Sky Conference.
"They're a good team," BYU senior guard Evan Troy said of the Thunderbirds. "I know that we're 12-0 against them, but they're a really good team. They're going to make some noise in the Big Sky, I swear."
This game mattered, notably to the Thunderbirds — but it should also matter to the Cougars. A little pregame jawing turned into a little in-game jawing, with players, coaches and even referees occasionally struggling to contain their emotions.
"There was some jawing going on before the game," said Pope, who coached four years previously at Utah Valley. "There was some jawing going on during the game. It just makes the game fun."
Simon, for his part, hopes the Thunderbirds are invited back before the next 12 years elapse.
"If they give us a 10-year contract, we'll play every year. We'd love to play them," said Simon, whose team last played at Utah in 2015. "Obviously, I understand the bigger schools in the state, not just here in Utah but everywhere, don't necessarily want to play the smaller schools in the state because there's everything to lose and nothing to gain — because they're supposed to win. And the smaller schools — us, Weber — want to come beat the tar out of them. So I get it. I get it. But yeah, we'd play Utah, BYU — we will play them every year.
"We'll sign up 10-year deals. It's good for the alumni. It's good for everybody."
The Cougars are scheduled to play four in-state opponents this year, resuming regular rivalries with Utah and Utah State, in addition to Big Sky foes Weber State and SUU. Ironically, the only in-state opponent Pope's team did not schedule is Utah Valley, which is coming off a four-game contract with the Cougars that included the first-ever game in Orem between the two sides just two years ago.
That's a subject for another day, though it still sparks emotions on Utah Valley's side, for obvious reasons.
"I'm extremely disappointed (that UVU doesn't play BYU this year). The talk last year, that this game is important to the community and a rivalry, how the two cities of Provo and Orem need it; now it's not happening. It's disappointing," said UVU forward Casdon Jardine, a Boise State transfer, during the Wolverines' media day before the season. "For a lot of us, that's a game where we have something to prove. That's a game where we have a chip on our shoulder, and we just don't get to experience that this year."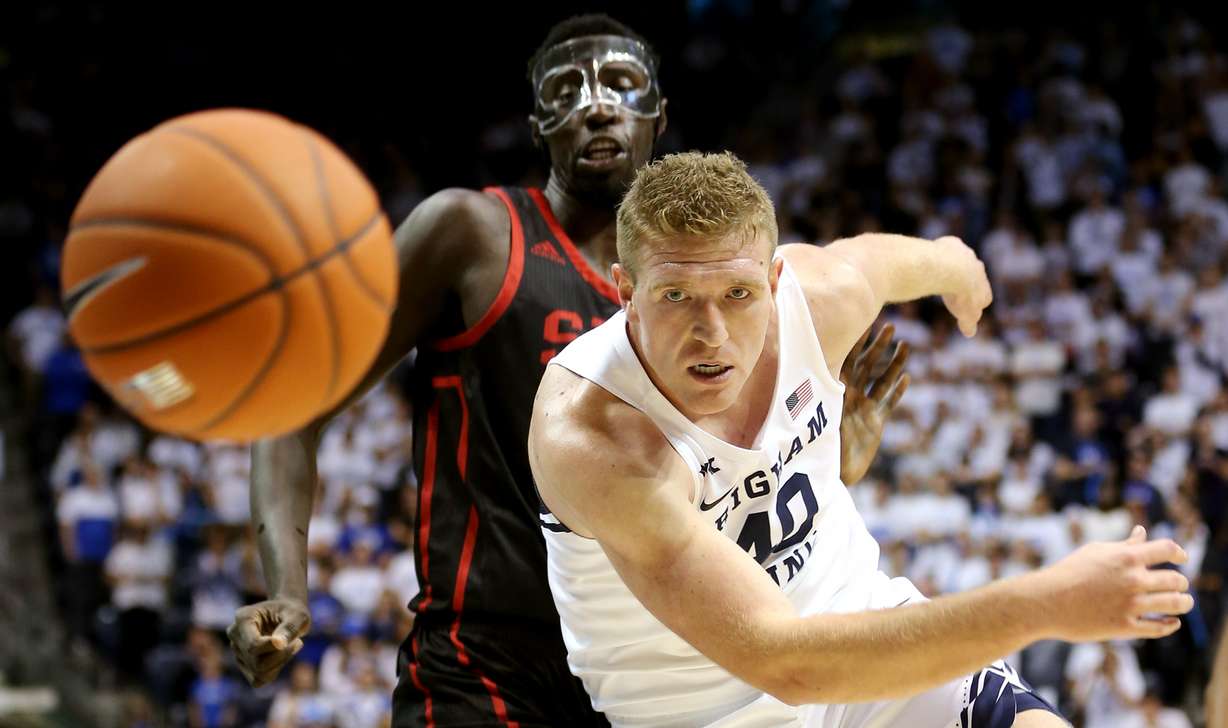 If you're a BYU basketball player, facing an in-state opponent is better than playing Cal State Fullerton or Montana Tech or Mississippi Valley State or Texas Southern — all non-conference games of the last two years. The Cougars have equally little to gain, everything to lose when playing those teams. But they also don't have the bitter emotion of an in-state game.
In many ways, that in-state factor can help a team that might take a loss come March, when tournament selections are distributed by human committees with input from computer metrics. It can help explain early struggles, and how a team improves over the course of a season.
The Thunderbirds received $90,000 to play at BYU, the same amount they will get when they travel to play Monday, Nov. 18, at UCLA in the second game of the "Maui on the Mainland" portion of the Maui Invitational, according to contracts provided to KSL.com via the Freedom of Information Act. That's just $10,000 less than they got for playing at Nebraska, a game that incurred more travel expenses but didn't spark the same pregame emotions. None of the three games are scheduled to be returned or repeated; all are one-off games against higher competition for the Thunderbirds.
As college basketball expands nationally, local rivalries and matchups still matter. Both coaches agree: In-state rivalries are good for the teams, good for the community, and good for the university.
"It's what you want. It's terrifying on this side; you take an L to a team like this and everyone is saying the world is falling," Pope said. "But it's still worth it to play games like this. These are great games, and they are good for our guys. We should have to go prove it every year. I love the games, I think they help us grow, and it's good for the fans. It's good for Utah basketball; we're going to have seven Division I schools next year in the state of Utah.
"This is a basketball place, and in-state games really help with that."
×
Related stories
Most recent BYU Cougars stories