PROVO — Jake Toolson hit a lot of shots for BYU in a home bout Wednesday night against Southern Utah, the first game between the in-state opponents since 2007.
None were bigger than his final heave.
Toolson launched a 3-pointer with 33 seconds left from the top of the key, pouring in 22 points on 8-of-21 shooting, to help the Cougars hold off the Thunderbirds 68-63 in the Marriott Center.
"I knew the shot clock was running down, and I wanted to get a good lock," Toolson said. "So I stepped up and — got a good look."
Dalton Nixon added 13 points and six rebounds for BYU.
John Knight III scored 14 of his team-high 22 points in the second half to go along with six rebounds for Southern Utah (2-1).
Andre Adams added 12 points and three rebounds for the Thunderbirds, who outrebounded BYU 38-31 while taking their first loss of the season.
"I'm super happy for our guys that they were able to gut it out and grit through it," BYU coach Mark Pope said. "It's a great win for us. This Southern Utah team is a great team; coach is doing a great job. They're going to win games as they go through the season."
DAGGER @jtoolgoinham#BYUhoops#GoCougs#MACU3pic.twitter.com/NcX0LZJmDK

— BYU Basketball (@BYUbasketball) November 14, 2019
TJ Haws had 10 points in the first half for the Cougars (2-1). But the senior from Alpine was forced to sit for much of the second half after picking up his fourth foul.
That's when Toolson took over.
Toolson's jumper with just over five minutes remaining capped a 12-2 run that put the game back in BYU's control, up 60-54 after trailing for much of the second half.
"I think we got good shots," Toolson said. "But offensively, I think we can go back and watch the film, and make adjustments.
"But that's the thing: we've got to do what we do. Tonight shots weren't falling — but towards the end, they did when they counted. We put in a lot of work in the summer during the year to shoot those shots, and we can't afford not to take them."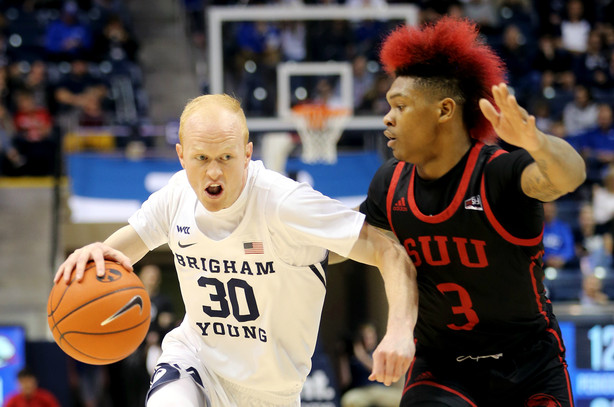 BYU clung to a 36-31 lead at halftime. But SUU held the Cougars scoreless for more than three minutes at the start of the second half, and tied the game at 46-46 on Jakolby Long's fast-break bucket with 14:46 remaining.
The T-birds, confident after a road win over Big Ten menace Nebraska last Saturday, were here to stay. Knight scored back-to-back layups, including one off his own rebound, to cap a 13-3 run that put SUU on top, 50-46, with 12 minutes remaining.
The senior who scored 11 points against BYU while playing for Utah State last year was nearly unstoppable, dribbling downhill to make contested shots or grab his own rebound for scoop putbacks.
"That's not a surprise in any way shape or form for us," SUU coach Todd Simon of the guard who had 22 points in 22 minutes. "He's such a good teammate. I wanted to get a little scoring punch off the bench so we kind of slid him into that role and said, 'Hey, we want you to be super aggressive off the bench.' And JK — with the character he has — didn't blink, had that no issues, said all right, 'I'll do my job.' And 22 in 22 minutes and some of those were head-turning plays. He's a special talent that we're excited about."
Jake Toolson hits another shot in the paint to give BYU a 6 point lead. Toolson leads the Cougars with 18 points.#BYUHoops@BYUbasketballpic.twitter.com/MMVYrXYexE

— BYUtv Sports (@byutvsports) November 14, 2019
Evan Troy put a stop to that, though. BYU senior walk-on held Knight scoreless from the 10:53 mark of the second half until just before the final minute, when the T-bird guard pulled his team within one, 63-62 with 1:04 remaining.
But that was as close as Southern Utah would get to their first win over BYU in 12 tries. The Thunderbirds scored just nine points in the final 4:51 as BYU pulled away to preserve its unbeaten record against the in-state squad from Cedar City.
"I stepped up when I needed to. Other guys will do it the rest of the season; it just happened to me tonight," Troy said. "For me, it was growing up. You always look for those moments, a close game, in-state rivalry. I just wanted to step up and help the team win.
"That's all I could ask for."
×
Related Stories