Estimated read time: 4-5 minutes
This archived news story is available only for your personal, non-commercial use. Information in the story may be outdated or superseded by additional information. Reading or replaying the story in its archived form does not constitute a republication of the story.
SALT LAKE CITY — Olivia May Rodgerson had a driver's license for one month before she was involved in a car accident that ultimately took her life.
"She wore her seat belt, she had an air bag and police confirmed she was not on her phone," Scott Rodgerson said on Wednesday, adding that the safety restraints weren't enough. "Even with her seat belt and the air bag, her brain suffered such a blow in the rapid stop of a head-on crash that it would require removing a portion of her skull to allow for the swelling."
The accident happened while "Liv" was on her way to drill practice on June 15, 2018. She was taken off of life support two months later.
Scott Rodgerson said Liv "never worried and was always carefree."
"At 16, so many kids are unaware of what can happen."
She was one of 27 teenagers killed on Utah roads in 2018 — a number that is really only felt and understood by the families forever changed by it, said Utah Highway Patrol Col. Mike Rapich. Each death, he said, "serves as a reminder of how fragile life is and how the choices we make while driving can make significant impacts."
Kirk Smith said his son, Keaton Smith, 17, was not wearing a seat belt when he was thrown from a vehicle that rolled in Provo on Nov. 24, 2017.
"That was unusual for him," he said. "I don't know why, and, unfortunately, I will never know. But, I do know that the loss of a child is more than any parent should have to bear."
Three other teens in the vehicle were wearing seat belts and were not injured. Smith believes his son would have been OK had he also been wearing a seat belt.
"I wasn't there to remind him," he said.
Eighty-nine percent of Utah drivers wear seat belts, but those who don't make up half of the fatalities resulting from all vehicle accidents, said John Gleason, Utah Department of Transportation spokesman. He said, "It takes two seconds and, for whatever reason, there are still people who are not doing it."
In 2018, 263 people, including 27 teens, died on Utah roads. So far this year, 198 have died because of motor vehicle crashes.
"These accidents were not all their own fault, but they all involved motor vehicles," said Dr. Joe Miner, director at the Utah Department of Health. He said the number of teen deaths resulting from car accidents remains pretty steady year after year, which, with an increasing teen population, indicates progress is being made. But, he said, even one death is too many.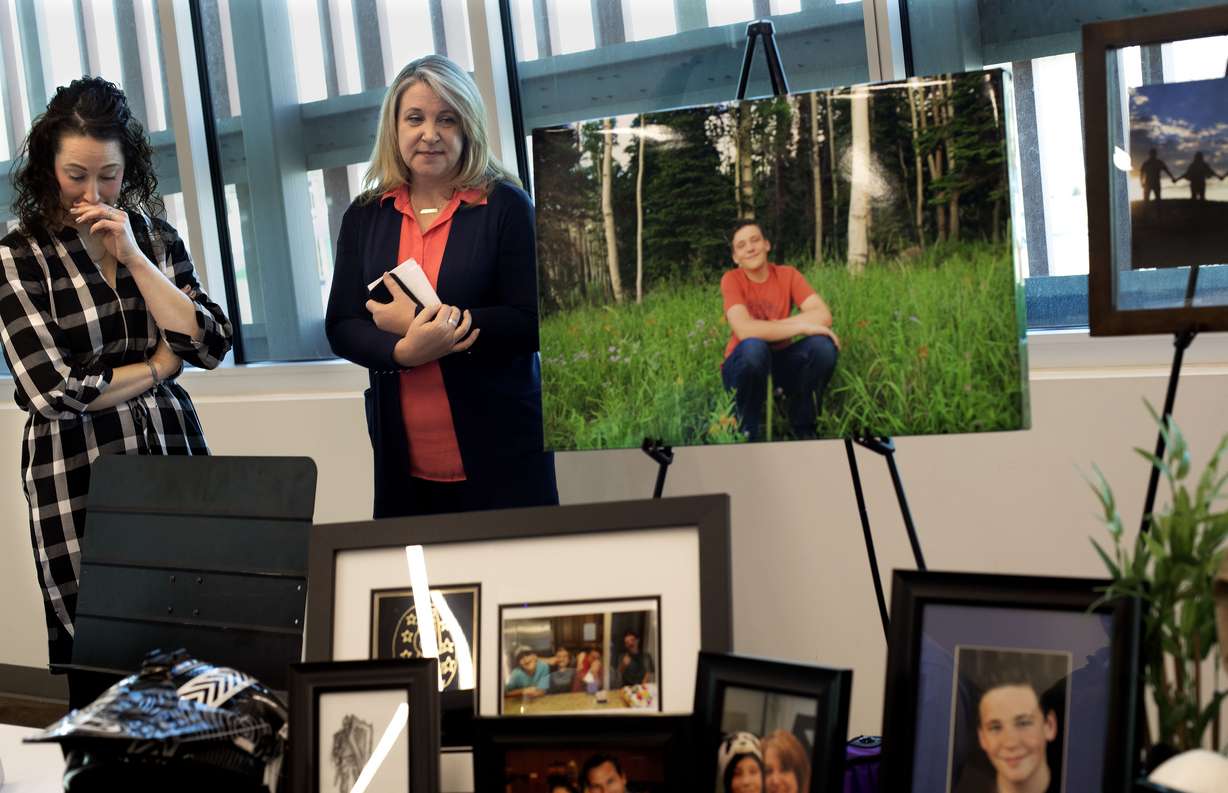 "These are real people, real families," Miner said. "It is a tremendous loss to all of us."
UDOT reports that failure to fasten a seat belt is the top factor leading to death on Utah roads. Aggressive driving, drowsy driving, distracted driving and impaired driving round out the five behaviors that contribute to nearly all of the fatal crashes in the state.
"Any opportunity to talk about my son keeps him here a little longer," said Staci Stout, of South Jordan. Baylor Stout, 13, died July 22, 2018, after a drowsy and impaired driver hit the truck he was in head-on.
"You never expect it to happen to you," the boy's mother said on Wednesday. "His death sent a ripple of devastation throughout our community."
The Stouts are pushing for new legislation in Utah to penalize drivers using marijuana and THC, which are illegal to use recreationally in the state. The driver who killed Baylor tested positive for both and after pleading guilty, served seven months in jail and was ordered to perform community service.
Carlos Braceras, executive director at UDOT, said the goal is for "zero fatalities" in Utah and that sharing the stories of people who die could help save lives in the future. "We all do a lot of difficult things in our lives," he said, but losing a teen to a car accident that could have been prevented in any number of ways must be particularly hard.
"I can't imagine what that would be like," Braceras said. "It was too soon for them to lose their lives."
For more information, visit zerofatalitiesut.com.
×
Photos
Related Stories