Estimated read time: 5-6 minutes
This archived news story is available only for your personal, non-commercial use. Information in the story may be outdated or superseded by additional information. Reading or replaying the story in its archived form does not constitute a republication of the story.
SALT LAKE CITY — As Britain Covey concludes an interview at the end of practice leading up to Utah's matchup against UCLA, he yells loud enough so that everybody left on the practice field could hear his prediction: "The Jazz go to the playoffs baby!"
A couple teammates close by turn to him as if in dismay as they deadpan: "Nobody cares." But he continues: "Western Conference Finals!"
"Stop, bro, like what?" another teammate retorts. But Covey just laughs it off.
As the junior slot receiver leaves the field, others are left shaking their heads — they're obviously not Utah Jazz fans. But more emboldened as he walks up to the practice facility, he overlooks the field atop the stairs and takes one last shot at proclaiming his fandom for the Utah Jazz, just because he can.
Covey, the self-proclaimed "biggest Jazz fan on the team," has taken on a new role at Utah. His jokes and fun in the locker room with his teammates hasn't changed, but as he navigates a redshirt season, the way Covey sees the game of football is becoming more well rounded.
The former Timpview High quarterback turned slot receiver still practices each day as a scout team member. He's a starting-caliber player with the ability to test the first-team defense in their weekly scheming plans. Covey still has his shiftiness and his ability to put defenders on skates, but he wants to be 100% healthy and not risk further injury this season.
He takes pride in watching the defense do what it does on a weekly basis but now from a different vantage point — his work is helping them get better. He also takes pride in "getting the defensive coaches mad at the defense."
"If we can get (Morgan) Scally and (Sharrieff) Shah to freak out and yell at their defense because we're scoring touchdowns, we're all just, like, blushing and smiling," Covey said.
Barring major changes to the season, though, Covey's redshirt season is "well set," he says.
But walking away from a season of play hasn't come easy for Covey, particularly as Utah is being named among a select few teams included in the College Football Playoff discussion and a Pac-12 Championship win is becoming more of a possibility. For all involved, it's a special season worth celebrating, even for Covey, but it doesn't come without some thoughts of wanting to be a part of the action.
"It's really hard. I can't even let myself think about it too much," he said. "I'm starting to feel better, but I'm still not there yet. But I can't let myself think about it too much. I've just got to think about the team because it's hard. But at the end of the day, I think that it's better for the team, as well, if I redshirt because I know what I can do for two years."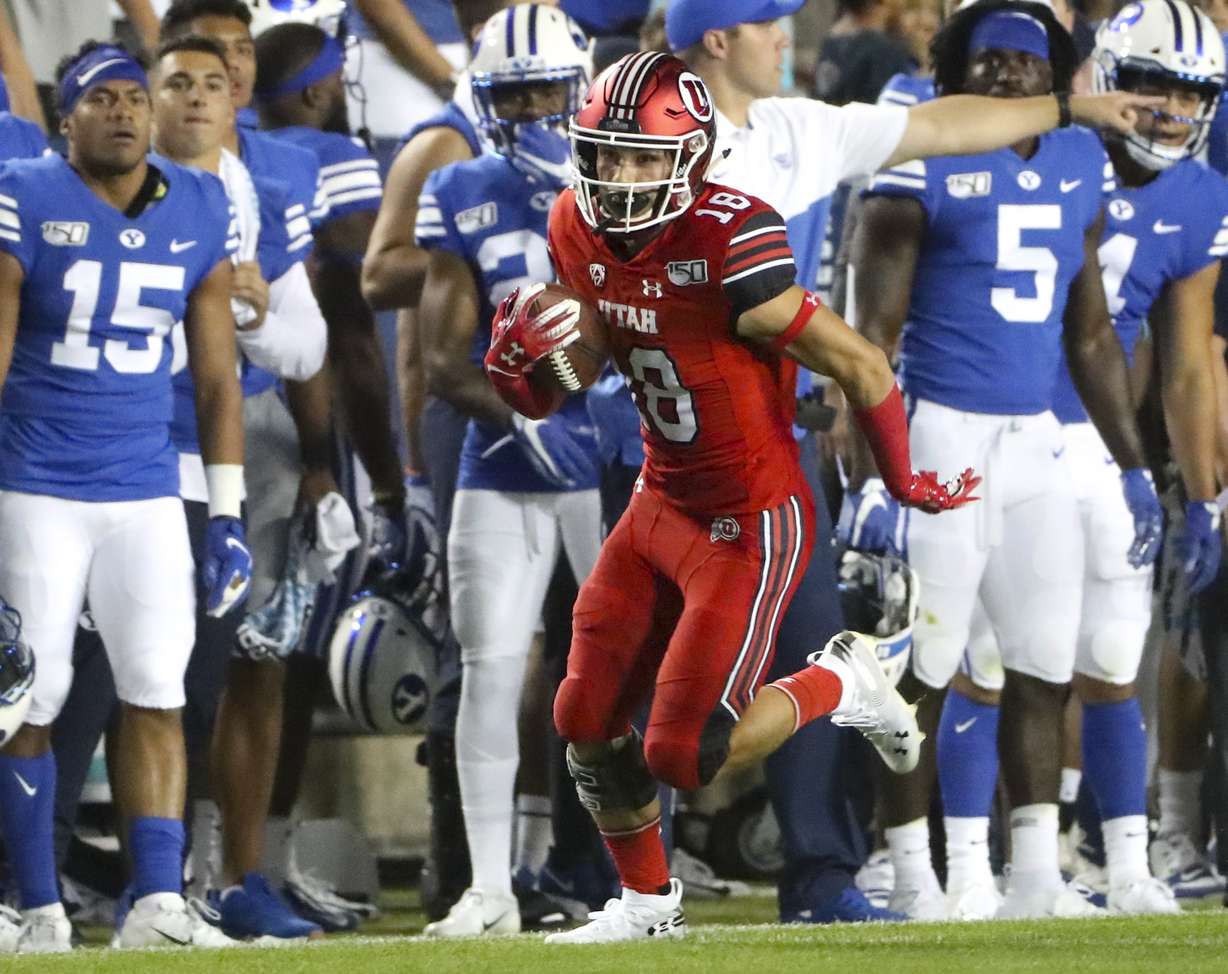 For Covey, it's not that he feels like he can do it better than the guys currently playing, it's really just the desire to be in full health before he competes regularly again.
"I have full confidence in Samson (Nacua) and (Derrick) Vickers in my position right now," he said. "It's just weird to think that I could — this isn't a matter of not being able to play, I want to be at 100%, and I don't think it's worth it for me to go in and play about three or four plays a game and then lose a year. But the bigger thing is, a 100% Samson is better than an 80% Covey."
In his absence from the field, Covey has transitioned to a bit of a player-coach — an offensive coordinator mentee of sorts. Covey now sits up in the box with offensive coordinator Andy Ludwig every home game and watches as he orchestrates the eighth-most efficient offense in college football this season.
At the conclusion of his playing career, whenever that may be, Covey hopes to transition to the coaching ranks to be an offensive coordinator. So consider his redshirt season an internship for the future.
Moving up to the box has given Covey a different perspective about the preparation it takes to get a team ready for a game each week. As a receiver, there's a lot to remember for his position — route structures, plays, blocking schemes — but it's mostly isolated to one position. As an offensive coordinator, it takes preparation to get every position working in unison, and few have been better than Ludwig this season.
"I just think that it's funny: whenever I'm in the box I say to myself, if an average fan were to be up here in the box, they would understand maybe 25% of the jargon, literally, it's not an exaggeration," he said. "So it's fun."
Wearing "the headpiece and everything," Covey observes what he describes as a 95% scripted game plan. There are calls for every situation imaginable and Ludwig has an answer for each. Maybe 5%, Covey says, are "spontaneous."
He's learned that an offensive coordinator "can't get caught ball watching in the box."
"You have to have a broad spectrum," Covey said. "You can't just get caught watching the ball, you gotta watch: all right, what are their corners doing, safeties."
And when fans complain about an errant pass from Tyler Huntley, which have been few and far between this season, Covey said it's usually the quarterback's fault.
"As a fan you'll see, like, Tyler throw a pass and its way short, and you'll be like it's a horrible throw," he said. "Then you realize in the box that the receiver ran the horrible route, the wrong route.
"It's like a lot of times when fans are blaming one player, really it was another player. And so that's why you really just have got to keep it within the team and not listen to the outside voices."
So while a redshirt season was not the plan he hoped for coming into the season, Covey continues to improve and diversify his game. Seeing the game from all sides will only add to his prowess on the field when he returns.
×
Most recent Utah Utes stories