SALT LAKE CITY — No. 17 Utah had one of its most complete games of the season Saturday night in a win over the Washington State Cougars, but it was without two of its proven starters.
Utah was without starting running back Zack Moss and starting slot receiver Britain Covey. Moss left Utah's game against USC the week prior to an apparent shoulder injury, and Covey has been slow to fully recover from an ACL injury suffered in Utah's Pac-12 championship game appearance last season.
Utah head coach Kyle Whittingham gave an update on his two players after Utah's win Saturday night.
Whittingham said Moss, who needs 176 rushing yards to break the all-time career rushing record at Utah, is expected to return to action in two weeks when Utah travels to Corvallis, Oregon, to take on Oregon State a week after the program's first bye week of the season.
"We're fairly confident we'll have him for the next game," Whittingham said. "That'll make us that much more potent running the football."
Whittingham credited the backups behind Moss who got playing time in his absence for keeping the run game moving along and challenging opponents. Against Washington State, Devonta'e Henry-Cole led the backups with 79 yards, and Devin Brumfield and Jordan Wilmore combined for 40 yards as part of a 192-yard rushing effort on the night.
Although the running backs should get a boost in a couple weeks from Moss' potential return, the receiving corps will likely lose a proven starter in Covey for a redshirt season. Whittingham said Covey's "future's bright" but the remainder of his season "is up in the air right now."
Covey played in each of the first four games of the season but elected to sit out against Washington State after some lingering issues, like swelling, due to surgery to his knee earlier in the year.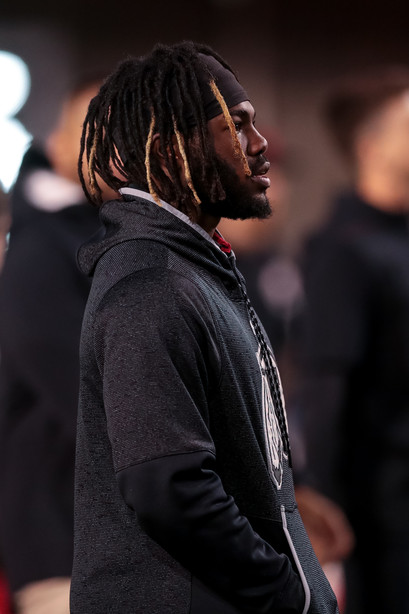 "He's just not who he is," Whittingham said. "He doesn't have that lightning quickness and speed that make him the weapon that he was prior (to injury). He was not feeling real great this week at all, and he just wasn't going to be ready to play physically."
Utah will continue to monitor the situation throughout the season and see if a redshirt season will be in his and the team's best interest. Whittingham said it will be a "week-by-week" process, though "it's certainly not a definitive decision right now."
"We've got to do what's best for him and what's best for the team," he added. "We'll see how his health comes around and along and where we're at, where we're positioned in the next few weeks. And at some point there'll be a point of no return; probably another two or three games beyond now we'll make it a final decision."
On Monday, Covey said the decision to potentially redshirt the season has been difficult but he wanted to be able to compete "at the highest level" he could. He said he can still compete at a high level should he need to play, but he felt like he'd be more injury prone as a result of not feeling 100%.
Covey said he feels about 80-85% healthy, but needs that extra 15% to be effective at his position at slot receiver.
"It looks like we're heading down the redshirt path unless something drastic happens that will change it," Covey said. "That's what we're looking at. It's a really hard decision for me. But In the end, I just feel grateful to have that opportunity.
"It's not a matter of whether I can or can't play," he added. "I want to maximize my time. I feel like I'm more injury prone right now because of it. And I just want to be me completely."
In four games this season, Covey caught 10 passes for 77 yards, and added 22 yards on three rushing attempts.
Utah did get good news from the NCAA Saturday as the collegiate organization finally returned a verdict on Bam Olaseni's eligibility for the season. Whittingham said Olaseni, who dressed for Utah Saturday night, will have two years to play one for the Utes, and he'll have the opportunity to play in at least four games for the Utes this season without it counting to his senior season of play.
"There could have been a mandatory sit out, so we're very pleased the NCAA didn't instill that — which means, the bottom line, he can play four games this year and not have it count, and then a full season next year," Whittingham said.
Olaseni will practice with the travel team, and coaches will determine what four games to give him some action. Whittingham said Olaseni will "be in the rotation."
"I wish it wouldn't have taken as long, but it really is not a factor because, the way it shook out, we'll be able to maximize his abilities to the most for this year."
×