Estimated read time: 4-5 minutes
This archived news story is available only for your personal, non-commercial use. Information in the story may be outdated or superseded by additional information. Reading or replaying the story in its archived form does not constitute a republication of the story.
PROVO — It's not often you get to see a college football player's face during a game.
The helmet, the facemask and the chaotic energy of a game make that difficult.
But Saturday night, one player's enthusiasm and hearty emotion were visible from every seat at LaVell Edwards Stadium.
The play came in the fourth quarter, when senior tight end Moroni Laulu-Pututau ran a route against Liberty, secured the football with two hands, and scampered into the end zone to give the Cougars a 31-17 lead against the Flames.
It would turn out to be the game-winning touchdown against a pesky Liberty squad playing for its life against BYU, a fellow FBS independent that hails from a private Christian school nestled in the mountains of its home state.
But for Laulu-Pututau, the moment represented so much more than a touchdown. The moment represented progress, and a signal that, after more than a year of surgery, rehab and offseason struggles with a knee injury, he was — finally — back.
Just in time, too.
"Honestly, it meant more than just a touchdown," said Laulu-Pututau, who has balanced football, rehab and a demanding construction management major in his five-year career at BYU. "It's been a while since I've been in the end zone, so it felt so good."
Laulu-Pututau has been eligible to play in each of the Cougars' first nine games of his senior season. But thanks to a knee injury suffered Sept. 29, 2018, in a 35-7 loss to Washington, the Mountain Crest High product has been slow to get back on the field.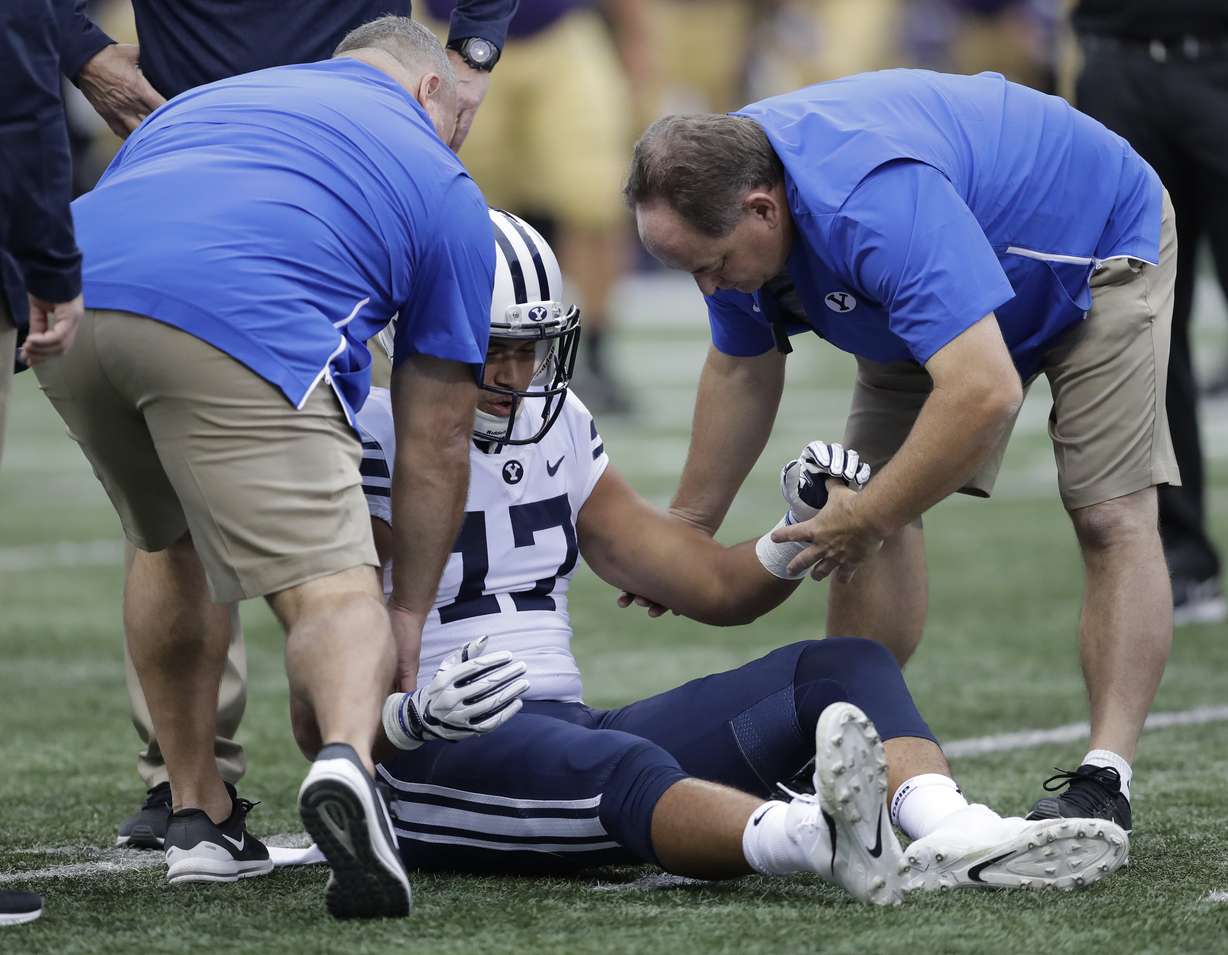 It's not for a lack of work, or effort, or simply trying. Laulu-Pututau's injury was just that hard-done.
He caught a total of five passes for 51 yards in the first six games of the year. But his first breakout game came in his final return home, when he was named team captain by his peers, and he caught three passes for 44 yards — including a season-long 27-yard grab — in a 42-14 rout of his one-time hometown Aggies.
Then, a week later, came the payoff.
With the Cougars clinging to a 24-17 edge and Liberty mounting a comeback, quarterback Baylor Romney found Laulu-Pututau in the flat, and the 6-foot-5, 240-pound tight end had all the space in the world to score.
Being the penultimate home game of his BYU career made that touchdown special. And it makes this Saturday's regular-season home finale against Idaho State (1 p.m. MST, BYUtv) that much more special.
"I'm just grateful. Grateful to be here, grateful for the people who have surrounded me throughout the journey, for the people who have helped me stay here, on and off the field. I'm grateful and blessed," Laulu-Pututau said. "It feels like a whole new lifetime. It finally hit me last game, having two games left in LaVell. I'm just trying to soak it all in, and enjoy every last moment."
BYU coach Kalani Sitake wants to make this weekend's Senior Day all about the senior class, some of whom were the first he signed as recruits back in 2016. When asked earlier this week about token football ideas like the Bengals' offense, or the health status of quarterback Zach Wilson — he'll play if he's cleared and healthy — or even the chance to pick up the Cougars' sixth, bowl-clinching victory, he paid little mind to them.
Saturday will be all about the 19 seniors on the roster, from Laulu-Pututau to wide receivers Aleva Hifo and Micah Simon, to linebacker Austin Kafentzis, whose journeyman college career will finally begin to come to an end this weekend.
"All the energy is focused on getting the win for the seniors in the last game in LaVell Edwards Stadium," Sitake said. "I'm not even worried about any of that other stuff."
This year's senior classmen have been thrust into a leadership role, which they at first struggled to grasp, Hifo admits. But they found their footing, and established a foundation for future seniors and leaders to come, he added.
"Over time, as opportunities are presented and we were able to take care of them, it does something to you — not only in football, but in life as well," Hifo said. "I think it's a good opportunity for the seniors now, and the seniors to come."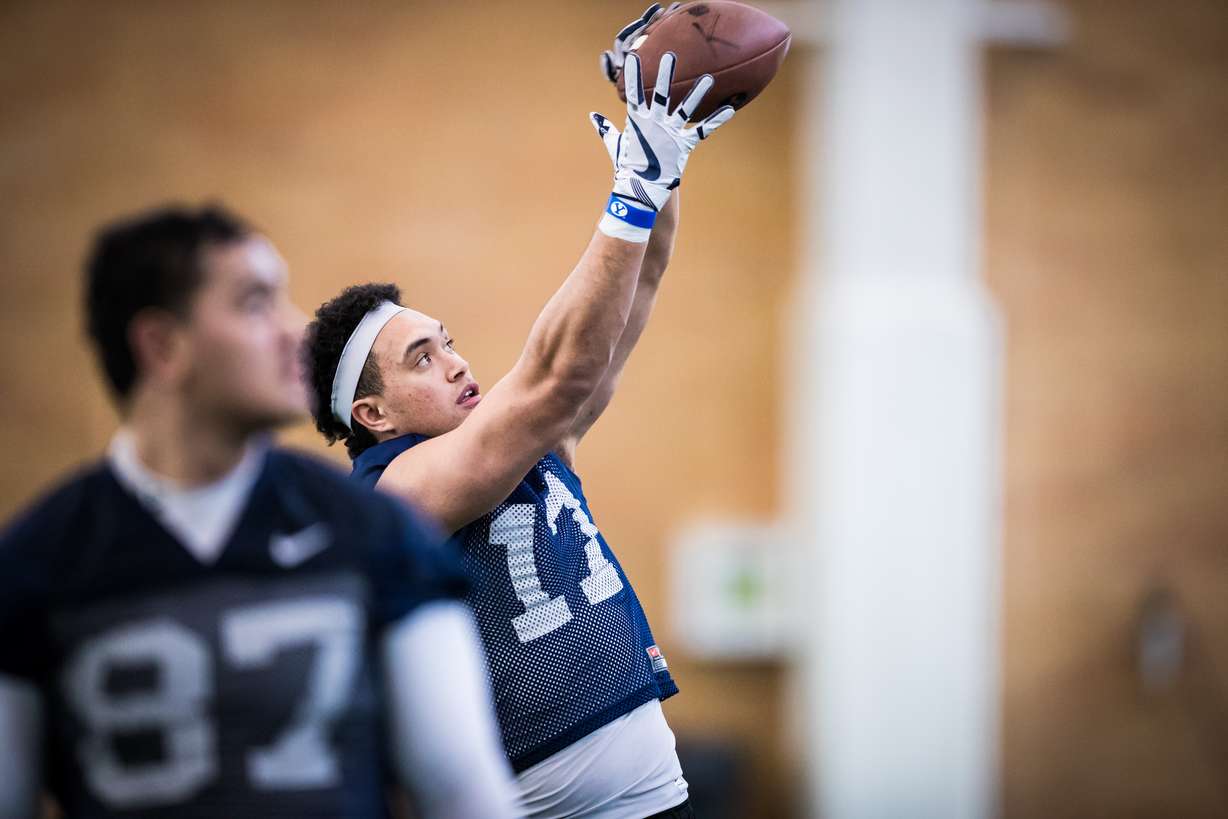 Through the coaching transition — from a new head coach than the one that recruited them to a new offensive coordinator to position coach changes at nearly every spot, the seniors have stayed with it.
And it's that resilience that will best characterize the Class of 2019 — including a 6-foot-4 tight end from Hyrum who started his career as a wide receiver and persevered through two season-ending injuries to reach the finish line.
"A lot of these guys have been around a couple of head coaches, a couple OCs, a couple defensive coordinators. This senior class will be friends for life," Laulu-Pututau said.
"They're resilient. They fight. They love the game, and they love the school. I think if we're remembered for another, it's for resilience and passion for the game."
×
Related stories
Most recent BYU Cougars stories