PROVO — BYU's path to the NCAA women's soccer College Cup starts at home.
And it could continue there, so long as the Cougars keep winning.
No. 4-ranked BYU drew a No. 2 seed and will host Boise State in an NCAA Tournament first-round game Friday at 6 p.m. MST at South Field. It's the first-ever meeting between the Cougars and Broncos, though BYU is 1-0 against the Mountain West via a 4-0 victory over Colorado College in an exhibition match back on Aug. 17.
The Tigers won at Boise State, 1-0 on October 25.
"We were obviously hoping for a one- or a two-seed, so we're happy with where we are at," BYU midfielder Mikayla Colohan said. "We're just super excited for what's to come."
The Cougars are in the same quadrant as Stanford, the No. 1 overall seed who the Cougars would meet in the College Cup quarterfinals on Thanksgiving weekend. Florida State, Virginia and North Carolina also earned No. 1 seeds.
Utah was one of eight Pac-12 teams in the tournament, earning an at-large bid after a 3-3-5 record in conference play. The Utes (8-8-4) will travel to Duke, with a potential second-round game against third-seeded Wisconsin.
BYU was one of three West Coast Conference teams, joining Santa Clara — which opens by hosting Cal — and Pepperdine, an at-large team at fourth-seeded Texas Tech.
"We were thinking we had an opportunity to be a two or a three seed," BYU coach Jennifer Rockwood said. "I'm excited about the two seed, and the potential to play some home games. But you've got to make sure you take care of the first one; that's the only one that matters.
"I'm excited about the draw. Sometimes you never know what you are going to see, but I think it's a great draw."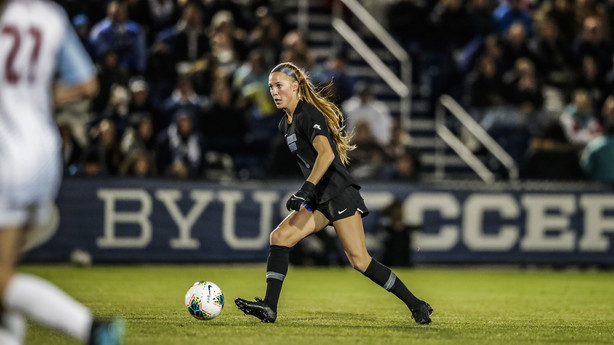 The No. 2 seed is the second-highest draw in BYU program history, and highest since earning a No. 1 seed in 2012. But the Cougars did something in 2019 that has never been done. They went through a long 19-game season without a single loss.
At 18-0-1, BYU is the only undefeated team in the country. After Virginia's loss in the ACC tournament finals this weekend, the Cougars stood alone.
Ranked No. 4 in the nation, BYU has been on a tear. Offense. Defense. Goalkeeping. There is no easy weakness in Rockwood's third decade as the only coach BYU women's soccer has ever known.
The Cougars rank second nationally with 68 goals scored, No. 10 with a .490 goals-against average and — perhaps most importantly — first in won-loss-tied percentage at .974.
They also rank first nationally in attendance, averaging just over 3,200 fans per game at South Field. Friday's early forecast calls for partly cloudy skies with a high of 59 degrees, and overnight lows of 37. It's soccer weather in Utah, and the Cougars hope playing at home can fuel a tidy postseason run.
"It's awesome. Obviously, leading the country in attendance, it's huge," Colohan said of home-field advantage. "I think it's going to be a shock for everybody who comes and plays us at our place.
"We love playing at home; the fans, the field, everything. It's where we want to be."
✌️ seed for @byusoccer_w ⚽️ pic.twitter.com/LrwmjXj74g

— KSL.com Sports (@KSLcomSports) November 11, 2019
Ever since a 2-2 draw at Santa Clara on the opening weekend of West Coast Conference play, the Cougars have outscored opponents 37-4, including four shutouts.
They got scared by going into overtime at San Francisco, but freshmen SaraJayne Affleck's goal in the 102nd minute kept the unbeaten run alive.
That's been the key to this BYU team: while a lot is made of top scorers Elise Flake, Cameron Tucker and Mikayla Colohan, the Cougars have been a complete team.
"We were hoping for a two-seed, and that's what we got," said Flake, who leads the team with 17 goals and five assists. "We're going to treat it like every other game. We know that each game is just as important as the next … and we'll go in with the same mindset."
The Broncos won 18 games to finish 18-4 in 2019, including a 2-0 win over San Diego State to clinch the Mountain West championship at home last Saturday. And though the Cougars and Broncos have never met, Rockwood is pleased with the home-field advantage for her club's inaugural matchup with the regional rival to the north.
"I just think that playing at home for us a huge advantage. We play very well in front of our home crowd on South Field. There's just more excitement.
"We've proven to play well on the road, especially this year. But there's nothing like playing at home. I think that is what everybody is always shooting for. It's a big advantages, and hopefully we can go and do what we do, take one game at a time, and get some good results."
×
Related Stories