This archived news story is available only for your personal, non-commercial use. Information in the story may be outdated or superseded by additional information. Reading or replaying the story in its archived form does not constitute a republication of the story.
OREM — Lost in Beaver High's undefeated season of a team that averages 53.4 points per game is defense.
It's there, though.
The Beavers, who have allowed more than a touchdown just twice in 11 games, have one of the best defenses in Class 2A — a defense befitting of one of the small-school powers in Utah high school football.
And they were reminded of it Saturday in the 2A state semifinals.
EJ Allred scored the game-winning touchdown on a 2-yard plunge, and Treyson Hunter capped off a turnover-filled day with Beaver's fourth interception to help the Beavers hold off Duchesne, 14-7 at Orem High School.
"That was a great feeling of relief," Beaver coach Jon Marshall said of Hunter's pick, his second of the day. "I felt like we kept shooting ourselves in the foot: penalties, things that just add up to disaster. It could have been.
"For Treyson to come up with a play right there was a great play. You've got to make some plays like that to win a championship."
Alex Hollingshead also had two interceptions for Beaver (12-0), which scored on Kaleb Barney's 1-yard touchdown on the opening drive of the game to go up 7-0.
But the Eagles answered back, forcing a 7-7 draw at halftime with Gavin Davis' reverse option on fourth down from 5 yards out in the second quarter.
Even as the offense struggled, the defense stood strong. Tristan Farnsworth recovered a fumble for Duchesne (10-2) in the first quarter, but Hunter got the ball right back with his first interception — on the next play.
"Our defense has been great all year," Marshall said. "A lot of our problem today was our offense. We had penalties, we got beat up on the line of scrimmage, and you've got to give a lot of credit to Duchesne. To be able to get out of there with a win is very fortunate."
Ditto for the Eagles, when Kayden Sorenson's interception erased Hollsingshead's first takeaway in the second quarter.
In total, the two teams combined for nine turnovers. And that's not counting the fumbles that were recovered by an offensive lineman or quick-thinking fullback.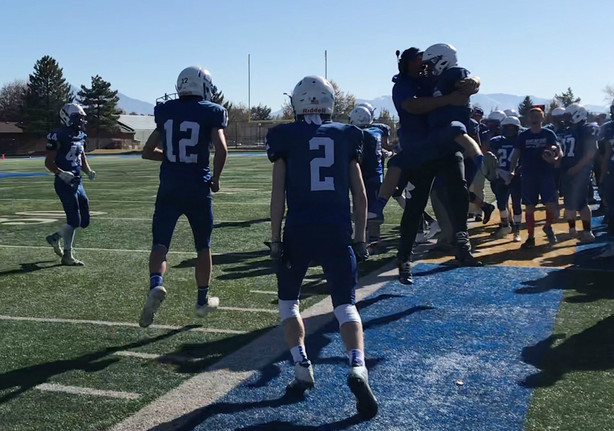 But Beaver's defense was the final denominator, shutting out the Eagles in the final two quarters with a key fourth-and-long pass deflection by Crayton Hollingshead and Hunter's final pick to make Allred's touchdown at the start of the fourth quarter stand up.
"We needed that. We haven't had a close game all year, and Duchesne came out and in a lot of ways outplayed us," Marshall said. "We feel fortunate to have gotten the win.
"I'm proud that we hung tough and pulled it out. But we have a lot of things that we need to get better at."
The Beavers will play the winner of cross-county rival Milford in the 2A championship next Saturday, Nov. 16 at 5 p.m. at Dixie State.
Milford 28, Millard 21
At Orem, Bryson Barnes connected with Zachary Sherwood on a 10-yard touchdown strike with 9 seconds left to lift the Tigers past the Eagles in the other 2A semifinal.
Barnes finished with four total touchdowns, including three through the air. His 12-yard scoring run in the third quarter threatened to overturn a 14-6 halftime deficit. But after the two-point conversion pass failed, the Tigers fell behind 21-12 after Austin Burraston's 1-yard TD plunge in the third.
That's when Barnes went to work, first finding Bret Beebe with a 26-yard strike before connecting with Sherwood on the game-winner in the final seconds.
×
Related Stories