This archived news story is available only for your personal, non-commercial use. Information in the story may be outdated or superseded by additional information. Reading or replaying the story in its archived form does not constitute a republication of the story.
CEDAR CITY — Dillon Smith scored five touchdowns as Beaver jumped out to a 28-7 lead, then held off a comeback bid and pulled away for a 55-35 win over South Summit for its second-straight Class 2A state championship Saturday at Southern Utah University.
Smith scored his second touchdown of the game on a two-yard run to open the second quarter. But the Wildcats rallied with 21 unanswered points to tie the game at 28-28 at halftime.
The Beavers went back to what was working on the ground, and Jordan Hardy's 96-yard touchdown run in the fourth quarter iced a 27-7 second half to clinch Beaver's back-to-back state titles.
Last season's title run was Beaver's first appearance in a state final since 1992, when the Beavers lost to Grantsville in the 2A title game.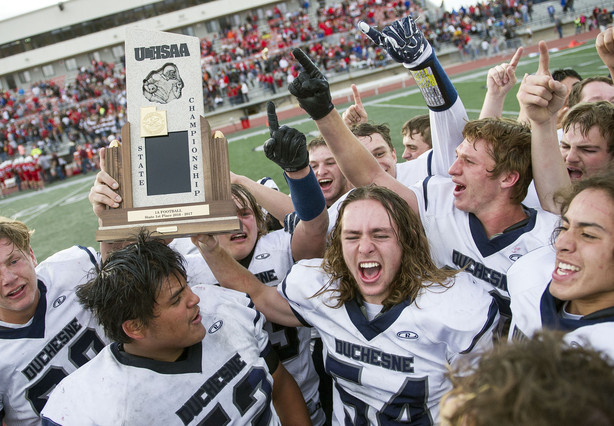 Duchesne 19, Kanab 17 — At Southern Utah University, Ammon Graehl's 80-yard pick-six helped the Eagles seal a two-point win over Kanab to win their first Class 1A state title since winning four-straight from 2010-2013.
Kanab took a 10-6 halftime lead on Carter Jackman's 30-yard field goal, but Duchesne rallied back with a pair of fourth-quarter touchdowns. Tavin Ott pulled the Cowboys within two late in the fourth quarter, but Kanab could not complete the comeback.
Juan Diego 35, Delta 21 — At Southern Utah University, Zach Hoffman threw for two touchdowns and ran for two more as the Soaring Eagle pulled away from the Rabbits.
Hoffman's 3-yard TD run in the second quarter gave Juan Diego a 21-7 halftime lead, but Delta rallied to pull within a score 28-21 on Reygan Riding's 38-yard touchdown scamper in the fourth quarter.
But Hoffman ended the game with a 53-yard TD strike to Dallin Davis, and the Soaring Eagle held on for a second-straight 3A state title.
×
Photos
Related Stories