Estimated read time: 6-7 minutes
This archived news story is available only for your personal, non-commercial use. Information in the story may be outdated or superseded by additional information. Reading or replaying the story in its archived form does not constitute a republication of the story.
PROVO — Much maligned for its inability to get to the quarterback or stop the run, BYU's vulnerable run defense is bearing fruit in a unique spot after eight games of the 2019 season.
On the back end of the front seven.
The Cougars rank fifth nationally in the Football Bowl Subdivision with 12 interceptions, and perhaps the biggest surprise of that lofty status is where those picks are coming from.
Only two interceptions have been grabbed by defensive backs, one each to Dayan Ghanwoloku and Beau Tanner. But a former safety with a chip on his shoulder from St. George leads the way.
Payton Wilgar's three interceptions is a team high, and fellow linebackers Kavika Fonua and Isaiah Kaufusi have two picks apiece. In fact, the 10 interceptions made by BYU's linebackers lead that position group nationally, just ahead of Missouri's linebacking corps.
"We want to be the best I can be in all categories," said Wilgar, who also has 41 tackles and 1.5 tackles for loss. "That includes stopping the run and pass rushing — but also being able to track down an interception. We take pride in that. A lot of us were former safeties in high school, so we like to keep our game well-rounded."
BYU vs. Liberty
How to watch, listen, and stream the game
Coaches: Kalani Sitake (24-23) and Hugh Freeze (48-35)
When: Saturday, Nov. 9
Kickoff: 5:30 p.m. MST
TV: ESPNU (Mike Corey, Rene Ingoglia)
Streaming: WatchESPN
Radio: BYU Radio 89.1 FM, KSL 1160 AM /102.7 FM (Greg Wrubell, Riley Nelson, Mitchell Juergens)
Series: First meeting
That ballhawk nature and nose for the football should serve them well Saturday, with Stephen Buckshot Calvert and Antonio Gandy-Golden leading high-scoring Liberty (6-3) into LaVell Edwards Stadium (5:30 p.m. MST, ESPNU).
Calvert has thrown for 2,638 yards and 20 touchdowns with just three interceptions, and Gandy-Golden has caught 54 passes of those 174 completions for 1,082 yards and seven touchdowns for the Flames, a top-40 team nationally at 33 points per game.
Stopping Calvert — yes, Buckshot is his legal middle name, not a nickname — starts with the defense. More particularly, it starts with a group that regularly drops eight players into coverage in favor of a three-man rush.
And while that three-man rush still ranks 113th nationally in giving up 4.6 yards per rush and 206 yards per game, doing enough to simply hold the line has allowed the Cougar 'backers to do what they do best.
That's force interceptions, or takeaways, and become a premier unit in college football in that regard.
"We've played against a lot of teams that are going to throw the ball, regardless if it's open sometimes," said BYU linebackers coach Ed Lamb, who is also the assistant head coach and special teams coordinator, and doesn't object to secondary coaches Preston Hadley and Jernaro Gilford teaching his players. "They may not run it a lot … we've played quite a bit more snaps than we would with a normal schedule. We've just faced a lot of teams that throw it a lot.
"The quarterbacks have to work the underneath (route), and the linebackers are in tune to that. They're very athletic, former high school running backs and safeties, and they are used to reading quarterbacks. When they've got good hands, it's a good group."
So a lot of the BYU linebackers' success is scheme-based. That's reasonable for a team that's faced prolific passing attacks like USC, Washington, Toledo, Boise State and Utah State before Saturday's contest against a fellow FBS independent in Liberty.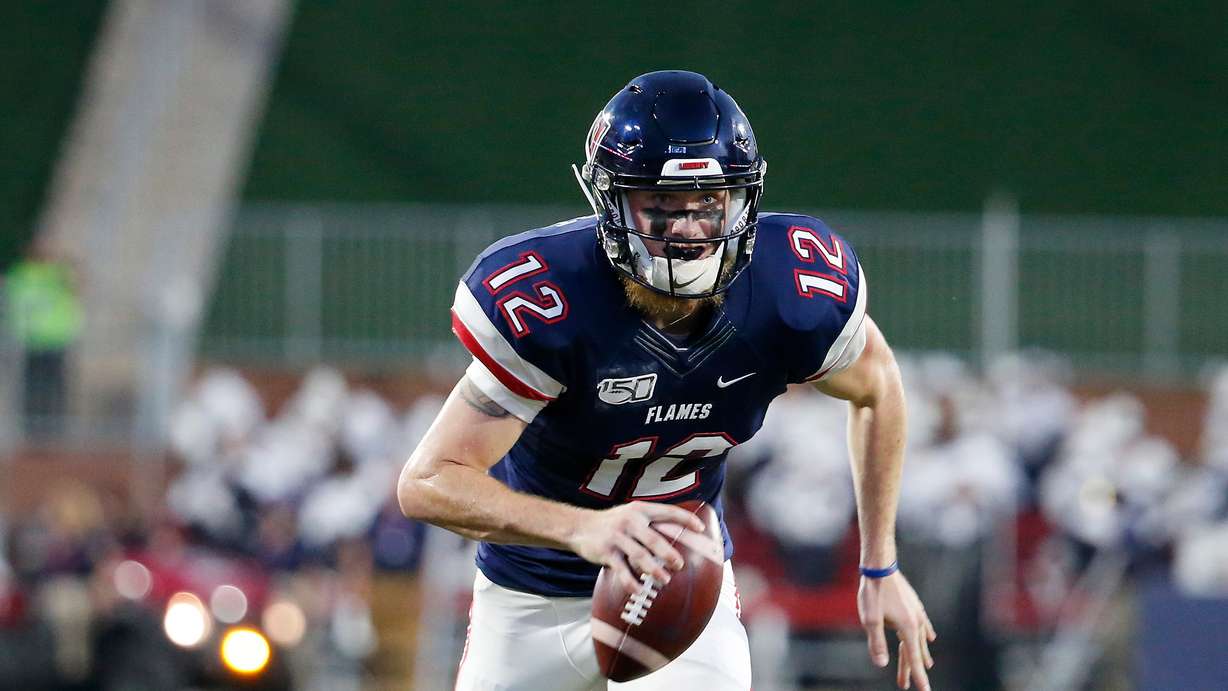 But schemes only work as well as the people who execute them.
"I think we've got a lot of good young players at that spot, and they've been taking to the schemes and making it really difficult for quarterbacks to complete underneath routes," BYU defensive coordinator Ilaisa Tuiaki said of his linebackers. "We're really daring them to run the ball and daring them to throw underneath routes, and the 'backers are doing a good job."
One of the best in that group is Wilgar, the 6-foot-3, 235-pound linebacker who played safety at Dixie High School but received limited recruiting attention even while starring in two Class 3AA state championship games for the Flyers.
One of those rare recruiting interests was Southern Utah, coached at the time by Ed Lamb. When Lamb made the move to Provo, he convinced Wilgar to come with him. The only problem? He didn't have a scholarship to give him.
It didn't matter to Wilgar. He had a lot of other things.
"In my mind, if you could custom-make a player, it would be Payton," Lamb said. "He was a long, fast high school safety with a big frame. We knew he was going to get bigger. Then he came here as a walk-on, with a little bit of a chip on his shoulder, and an attitude and desire to prove that he belonged.
"He quickly earned a scholarship, and he worked incredibly hard to put himself physically and mentally in a position where he could be thriving. The credit goes to him. He's a great example for all the young men out there who aren't getting the recruiting attention they want, but who believe in themselves."
Wilgar followed in the footsteps of his father Dana, who played at BYU from 1973-76. But that barely scratches the surface of why he came to Provo. He wanted to prove himself at the Division I level — even if he had to pay his own way, at least to start.
"I also felt like I was cutting myself short not giving the Division I level a shot," Wilgar said. "I feel like I could do it, and I had confidence to do it. So I just wanted to come and show that I could play at this level."
That's not to say things were immediately easy. Wilgar spent all of last season redshirting on the scout team. He saw limited time in three games, under the NCAA's new redshirt policy. But mostly, Wilgar was watching, waiting and learning from his predecessors as he transitioned to linebacker — a position he didn't play until a growth spurt between his junior and senior year of high school.
Lucky for Wilgar, he had two linebackers to show him the ropes: Sione Takitaki and Butch Pau'u. The former is currently on the Cleveland Browns' roster, while the latter is now the linebackers coach at Snow College.
Both were great teachers, Wilgar says. He just had to absorb what they were learning.
That's kind of like going up for an interception. Too many linebackers try to force a takeaway, focusing so hard on the ball that they let interception after interception get away.
That's not Wilgar's style. He's as patient with the pass as he was in waiting for a scholarship.
"The ball is going to come," Wilgar explained. "You just have to make the best play on it."
His patience is paying off.
×
Related stories
Most recent BYU Cougars stories