This archived news story is available only for your personal, non-commercial use. Information in the story may be outdated or superseded by additional information. Reading or replaying the story in its archived form does not constitute a republication of the story.
PROVO — Blake Freeland has been in plenty of nerve-wracking situations throughout his athletic life, but none quite measured up to last week's 42-14 win over Utah State.
Loud. Motivating. Humbling.
There were a lot of emotions surrounding the 6-foot-8 Herriman product as he prepared for his first career start at right tackle in the Wagon Wheel rivalry.
He was intense. He was antsy.
"I was just ready to get off the ball and ready to hit somebody," he said. "I was excited."
That excitement got the better of him early, with a couple of penalties. But then something happened to Freeland.
He settled down. He played his game. And he helped pave the way to 42 points, to 639 yards of offense — both season-highs for the Cougars — and a rout of their in-state rival.
"I thought he settled in and did a really nice job," BYU offensive coordinator Jeff Grimes said. "It was an improvement over his first week — and again, he's not just new to our lineup. He's new to playing offensive tackle. This is all new for him. He's still learning at a high rate."
Last Saturday wasn't the first time Freeland has had a lot of pressure placed on him, even at just 18 years old. A two-year starting quarterback at Herriman High, Freeland played his senior season rotating between tight end, fullback, defensive tackle and defensive end. It was all to get him ready for his college career, when he settled on the offensive line, he said.
Freeland helped the Mustangs to the Class 5A state championship in 2015. But football wasn't the only time he felt pressure, either.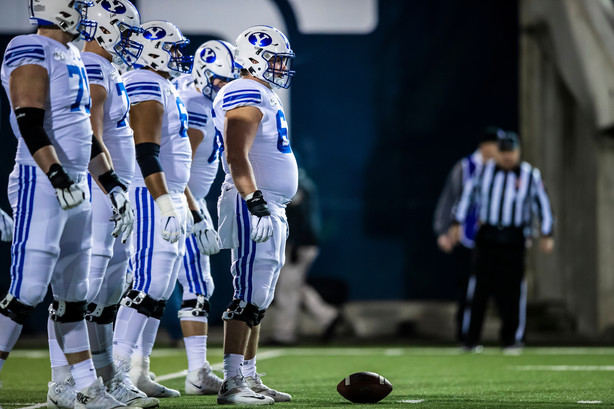 An all-everything thrower at Herriman High, Freeland captured the "throwers' trifecta" at the Utah state meet last year, garnering titles in the shot put, discus and javelin. He would've won another title in the hammer throw, too, if the Utah High School Activities Association sponsored the event, BYU head coach Kalani Sitake argued.
"He's a fighter, and he works hard," Sitake said of his new starting right tackle. "He's not new to success and competition; he's explosive."
So how did a former starting quarterback make the transition to 6-foot-8, 285-pound offensive lineman — with room to grow? Injuries played a role, as did the host of other backups fulfilling their own responsibilities on the field. But Freeland and fellow freshman Harris LaChance, who are listed as co-starters at right tackle, have slid into a high-demand role seamlessly and seemingly effortlessly to help BYU to back-to-back wins over a pair of regional rivals.
As with a lot of questions, the answer lies in several solutions: by a combination of genetics, athletic ability, preparation, and the same hard work Sitake and Grimes have noticed every week.
***
Genetics
Blake Freeland isn't the only athlete in his family. Truth be told, he might not even be the most athletic.
Freeland's father James played at BYU from 1994-95. A native of Arlington, Texas, Jim Freeland earned letters in football, basketball, track and field and baseball at Amador Valley High in Pleasanton, California, and was the Northern California Athlete of the Year before going on to star at linebacker at Ricks College. Recruited by UCLA, Iowa, Alabama, Florida, Tennessee, Boston College, Oklahoma and Texas, he settled on BYU and wrapped up a two-year career with 16 tackles, including 11 solo stops and a fumble recovery.
While there, he met and married Blake's mother Debbie. A two-sport athlete at BYU who also played volleyball, Debbie Freeland was an honorable mention All-American with the women's basketball team from 1991-95. And while Blake Freeland is the only boy in his family, one of his four sisters — Sierra — is on the BYU track and field team, as well.
So it's impossible to ignore the role of genetics in the younger Freeland's steady acclimation to Division I football. He hasn't even filled out his frame yet, either; he's added nearly 20 pounds since his senior year of high school, and coaches estimate he can put another 40-50 pounds on his 285-pound frame, as well.
He has all the tangibles to be a Division I tackle.
"He's just a tough guy. He's a quick learner, and intelligent," BYU offensive line coach Eric Mateos said. "He's got football intelligence from playing different positions. And he's got grit. When you've got those things, you have a chance to be OK.
"He's graded out OK — not what we're looking for in our room — but he's improving. That's a good thing."
And yet, that only tells part of his story.
"Watching his growth, even before his number was called, was the way he always worked his hind end off," BYU teammate Chandon Herring said. "He just goes and goes and goes. He has a great football IQ, he's a great dude, and he's the epitome of what you want as an O-lineman at BYU."
***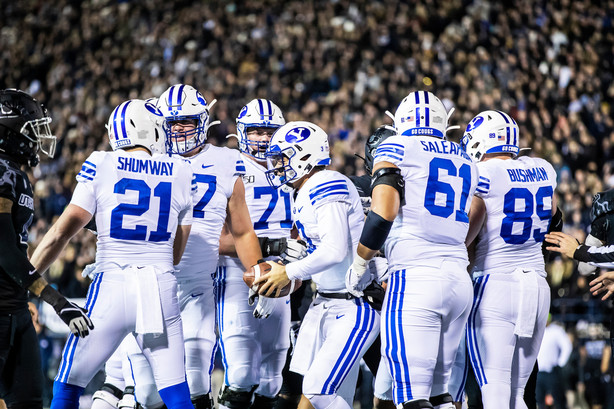 Extra reps
BYU offensive coordinator Jeff Grimes had a story this week after wrapping up another day of practice before Saturday's home tilt against Liberty (5:30 p.m. MST, ESPNU).
It came from last week, when the second-year offensive coordinator was preparing his guys for a road game at Utah State. He knew it was going to be the first start of Freeland's freshman season, and — whether the youngster admitted it or not — he probably felt a little nervous.
So Grimes was surprised when he walked out of his office, long after practice, after showering, and after doing his own coaching work. He heard voices coming from the offensive line team room.
It was nearly 8 o'clock at night. Who would still be in the BYU practice facility?
He turned the corner, and saw two of his pupils — Freeland, and Chandon Herring, the redshirt junior right guard who had taken the freshman under his wing all year — watching film and reviewing team concepts after a long day.
"I think it's a real credit to James (Empey), Brady (Christensen) and Chandon, for taking those young guys under the wing," Grimes said, "and helping them get caught up."
It's not just the linemen, though. Herring said the Cougars, both players and coaches, have preached a culture of accountability, with guys regularly meeting outside of practice time to throw, to run extra drills, or to study film on next week's opponent. That culture increased two weeks ago, following surprise losses to Toledo and South Florida, and has proven dividends with wins against regional rivals Boise State and Utah State.
"I think that's a team thing, across the board," Herring said. "Everyone on our team likes to put in as much extra work as they can fit into their schedule."
That support from coaches and teammates helped Freeland when he was thrown into the starting spotlight.
"It was a learning curve, for sure," he admits. "But being surrounded by all the guys — coach Mateos, coach Grimes, my O-linemen — they've all helped a ton with my growth, both mentally and physically. I'm always trying to get extra work in, and they've helped a ton."
***
Multi-sport athlete
Freeland's background in football isn't the only impressive thing about him.
The 2019 Gatorade Utah boys track and field athlete of the year, Freeland won the throwers' hat trick of state titles in the shot put, discus and javelin. He also moonlighted as the starting center on the Mustangs' boys basketball team, a two-time team captain that paced Herriman to the Class 6A state quarterfinals last February.
Freeland even played in the same AAU program as current BYU star Yoeli Childs — though that mostly amounted to watching the Bingham High product "decide to dunk on everybody," he jokes.
Basketball was never his primary sport — no, BYU coach Mark Pope has not called to inquire for his services this winter. But an All-American mother and that same work ethic helped Freeland learn the footwork that would later enhance his offensive line technique.
"Coach Grimes and coach Mateos will always teach me some things, and then they'll say, 'Just treat it like a dunk' and get up," he said. "If I just explode through the guy, that helps."
Freeland pulls in elements from each of his previous stops — at quarterback, at tight end, in track and field, and from the basketball court — to assimilate into his right tackle technique.
Remember, he's still in his first year at that position.
But all those things can combine to make him a Division I lineman. And he's only getting started. In many ways, his new climb to the position is an asset.
"His technique from his first game to his second game was much, much better," Mateos said. "But when you haven't played the position a long time, you don't have bad habits. That's the good thing about him — he doesn't have old habits that we need to break. He's a piece of clay, and we get to do what we want with him."
×
Related Stories