Estimated read time: 3-4 minutes
This archived news story is available only for your personal, non-commercial use. Information in the story may be outdated or superseded by additional information. Reading or replaying the story in its archived form does not constitute a republication of the story.
SANDY — The Sandy Police Department wants to make all areas of its city safe, even those traveled by "foot, wheel and hoof."
"What people don't understand is we have 30-plus parks in our city, 100-plus miles of trail systems — which is pretty extensive. We have extensive horse trail systems, undeveloped areas and wildland. And many of those areas are remote and not routinely patrolled but more of a reactionary force when we have to go there," Sandy Police Chief Bill O'Neal said.
On Thursday, O'Neal and Sandy Mayor Kurt Bradburn introduced the police department's new parks patrol officers. Two full-time officers have been added to the department to patrol Sandy's trails and open spaces on an everyday basis.
To assist them, the department has invested in new side-by-side all-terrain vehicles, mountain bikes and even drones with night and heat-seeking vision. The department hopes to add new trucks soon for patrolling the more mountainous areas.
"One of the things that makes Sandy so desirable as a place to call home along the Wasatch Front is because of our recreation opportunities. Our parks and our trails and our open space and our proximity to the canyons. All of it. And it's a huge priority for our residents," Bradburn said.
While patrolling the Dimple Dell Regional Nature Park, also known simply as the Dimple Dell gully — 644 acres of wooded, undeveloped territory — on ATVs is not new to Sandy police, O'Neal said this will be the first time it is done on a regular basis.
"We've had a history of reactive policing, but we want to make it a history of proactive policing," he said.
O'Neal said those remote, secluded areas of Sandy are the ones he and residents are most concerned about. While crime is still relatively low in those regions, there has been some incidents, such as last year when a 15-year-old boy attacked a woman jogging, dragged her into a secluded area of Dimple Dell and sexually assaulted her.
"We have had significant crimes in these areas that if we did have routine patrols and a proactive presence there that we could have avoided," O'Neal said.
Officer Graham Tinius, one of the two officers hired to patrol Sandy's parks, agreed that a regular police presence will help reduce crime in those areas.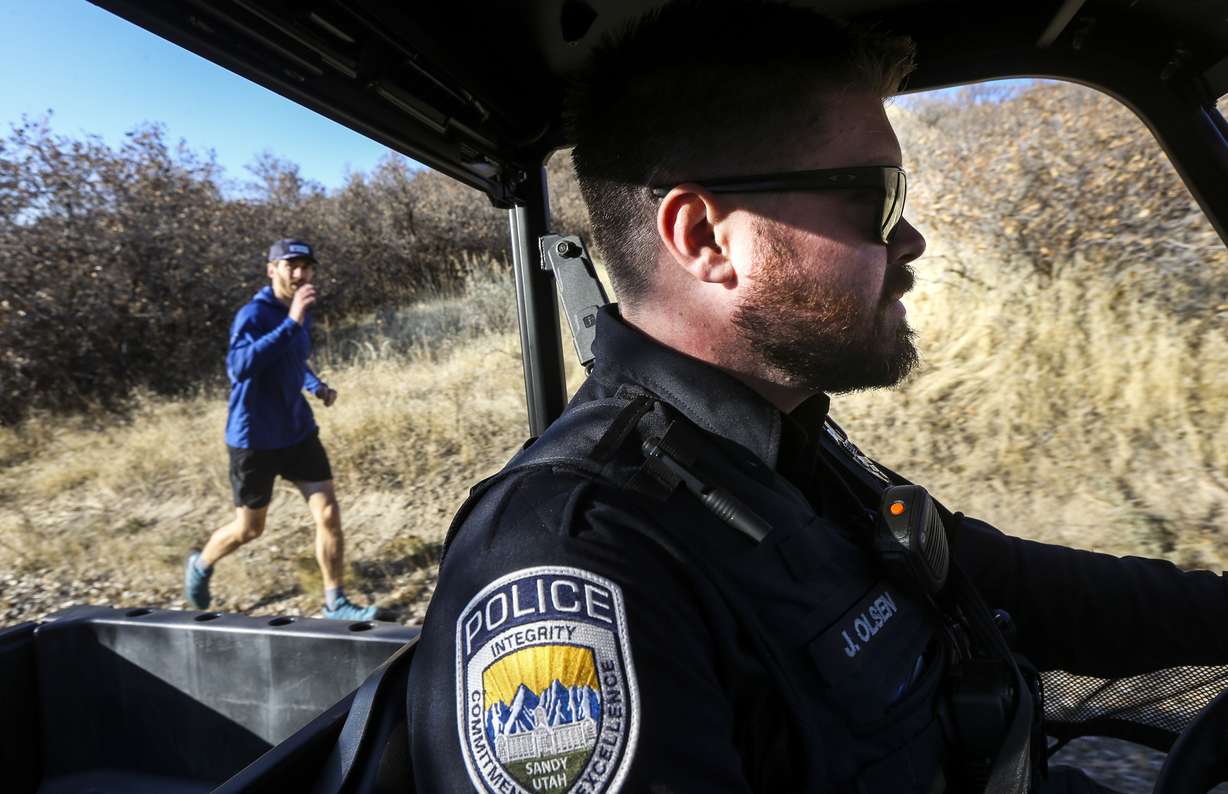 "I think having an officer presence on the trail in itself reduces the amount of crime. If you have suspects in any town ... that know that police don't go somewhere, there's less law and order in that area because they know there's no consequences of being caught. And once you start seeing us on those trails, I think crimes of convenience … like breaking into cars at the trailheads or graffiti, things like that, I think are going to be greatly reduced as well as some quality of life issues," he said.
"I've been up here a half-dozen times teaching classes, and I literally stop when I open the door and see the Wasatch Mountains, they're just breathtaking to me," he said.
Then the opportunity to patrol the parks and trails became available. He said his job will mostly be about making contact with people who are hiking, dog walking, biking or horse riding, and reminding them of city ordinances, as well as just getting to know the community.
"I expect to be out of my vehicle more than I'm in my vehicle, out on foot doing proactive, positive contacts with the community, a lot of education. There are some people who don't necessarily know the park rules, all the city codes. So there's going to be a lot of contacting people and just letting them know," he said.
The new officers will also receive emergency medical technician training. Many times, such as when hikers are injured in the foothills, it can take medical crews up to an hour to reach them. O'Neal said his officers should now be able to reach those victims quicker and be equipped to give emergency medical attention.
×
Photos
Most recent News stories