Estimated read time: 4-5 minutes
This archived news story is available only for your personal, non-commercial use. Information in the story may be outdated or superseded by additional information. Reading or replaying the story in its archived form does not constitute a republication of the story.
PROVO — Sione Finau was far from a known product this fall.
The redshirt freshman from Kearns High was buried on the BYU depth chart, trailing graduate transfers Ty'Son Williams and Emmanuel Esukpa, as well as incumbent lead rusher Lopini Katoa.
Even Tyler Allgeier — who redshirted last season at running back and has since moved to linebacker — had more collegiate rushing experience than Finau.
Fast forward eight weeks into the 2019 season, and Finau is listed as a co-starter alongside Katoa and Esukpa for a BYU squad just two wins away from bowl eligibility. The team is coming off wins over then-No. 14 Boise State and Utah State, and ahead of a home tilt Saturday with fellow FBS independent Liberty (5:30 p.m. MST, ESPNU).
It's been a long eight weeks for Finau, whose mom told him before the season to stay patient, bide his time and wait for his chance.
His patience is paying off.
"I waited my time and played my role, especially on special teams, kickoff and kickoff return," Finau said Monday, two days after leading BYU with 72 yards on 15 carries in a 42-14 win over the Aggies.
It hasn't always been easy for the Cougars (4-4), but neither has it been for Finau. Watching and waiting behind the experienced backs of Williams and Esukpa was tough. But the Kearns product would go to the stadium each Saturday during the first month of the season and watch them, study them, learn from the pre-game routines and what they did with each rep.
One day, he knew, his time would come — just as it had for them.
"They helped me mentally, too, with playing running back at BYU," Finau said. "I learned a lot from Ty'Son and Emmanuel, just from talking to them before games and thinking about what they think about before every play.
"They try to make the most out of every play they've run. I really tried to grasp that when I got my moment and tried to make the most out of it."
Katoa is still a leading back for BYU, as proven by the American Fork product's 171 all-purpose yards and a touchdown against Utah State. But Finau provides the Cougars with a third-string running back taking the reigns of the offense, just as third-string quarterback Baylor Romney has done in reserve roles with Zach Wilson (thumb) and Jaren Hall (concussion) remain questionable with injuries.
You can never have too many quarterbacks, as BYU head coach Kalani Sitake learned during the disastrous 4-9 campaign two years ago that finished with fourth-string true freshman Joe Critchlow under center.
The same goes for running back — and really, every other position where the Cougars have strived to prepare every reserve as if they would start on any given Saturday.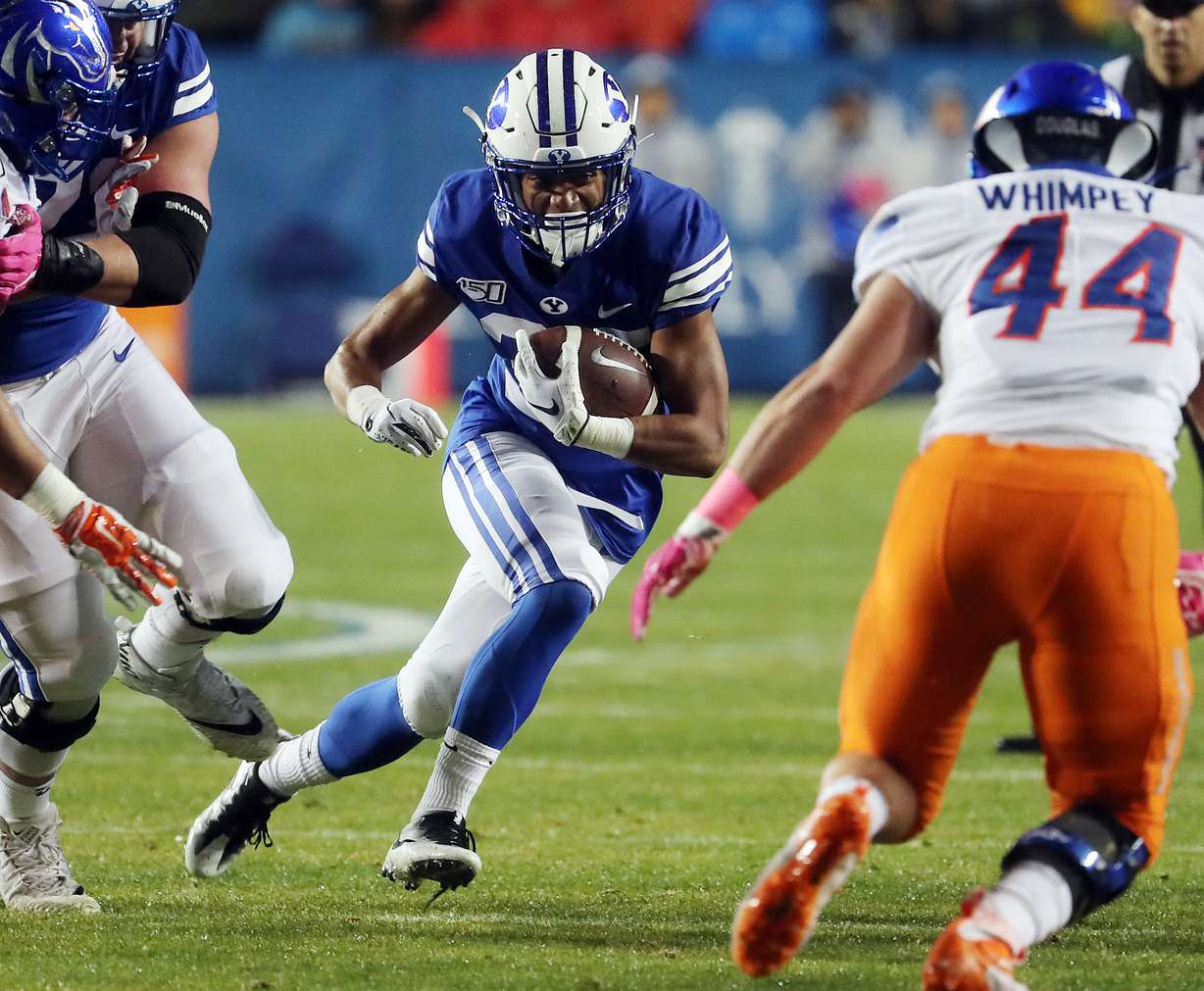 "In order to get them ready, you have to develop them — but also get them in the right mindset," Sitake said. "You have to get the right personality that is ready to play and will do whatever they can to help us win.
"The fact that Baylor is able to do what he does right now, with the limited amount of reps that he's received from fall camp to now is amazing. And that's a lot of his own individual work. You only have so many reps allowed in practice and the film room."
Under Romney, the Cougars are 2-0 and posted a season-high 639 yards on offense while forcing five turnovers (plus a turnover on downs in the red zone) against the Aggies. And while Sitake hopes to spend as little time as possible on the last win, in hopes of preparing his team for coach Hugh Freeze and Liberty (6-3), the players couldn't help but take note as the offense seemed to come together in a lot of ways under offensive coordinator Jeff Grimes and passing game coordinator Aaron Roderick last Saturday night in a 42-point effort in Logan.
"It was cool to finally see the production come out like that," said wide receiver Gunner Romney, the younger brother of BYU's quarterback. "It was a great game for us all-around, rushing, passing. I think it really builds confidence; and going through the next couple of weeks, we're going to try to replicate that."
The same feeling goes for Finau, right tackle Blake Freeland, left guard Keanu Saleapaga, or left tackle Brady Christensen — the linemen thrust into starting roles because of injuries. The Cougars have created a culture of backups, one where every guy on the roster plays with a chip on his shoulder after stunning losses to Toledo and South Florida, and it's paid off in wins over regional rivals Boise State and Utah State.
"Everyone is trying to play for a starting position, and it's ramping up every practice," Finau said. "It can easily be taken, and we're trying to seize every rep. This could be it; the coach could look at it and see what has stepped up their game this week.
"You aren't taking any play for granted."
×
Related stories
Most recent BYU Cougars stories