Estimated read time: 3-4 minutes
This archived news story is available only for your personal, non-commercial use. Information in the story may be outdated or superseded by additional information. Reading or replaying the story in its archived form does not constitute a republication of the story.
ROY — A family is crediting police officers with saving their lives after the officers rescued them and their dog from a burning home early Tuesday.
Body camera and Ring camera videos show the house in the area of 2000 West and 3800 South engulfed in flames shortly after 1 a.m. as officers work to get Linda Smithana, her sister and her sister's son out.
"The stars aligned" for the harrowing rescue, one of the Roy officers, Zach Jones, said later Tuesday night.
While Smithana's sister and nephew were trapped in the basement of the house, Smithana — who recently had knee surgery — was on the main floor.
Video shows two officers go to the back of the house, which is fully engulfed in flames, and kick a door open to find the house filled with smoke and Smithana inside.
"When I got to that door, I really didn't think I was going to make it, because it (the house) was filled with so much smoke," Smithana said.
"And then there he was."
Jones, the officer who rescued Smithana, said he was "full of adrenaline" in that moment.
"I knew she needed to get out of there and we were right in the path of the smoke, so I was just trying to get her out as soon as possible," Jones said.
To save Smithana's sister and nephew, officers kicked at a small basement window before using a large rock to break it, allowing them to pull the nephew and his mother out. As the officers worked to rescue the two, Smithana can be heard in a video pleading with them to help her sister and nephew.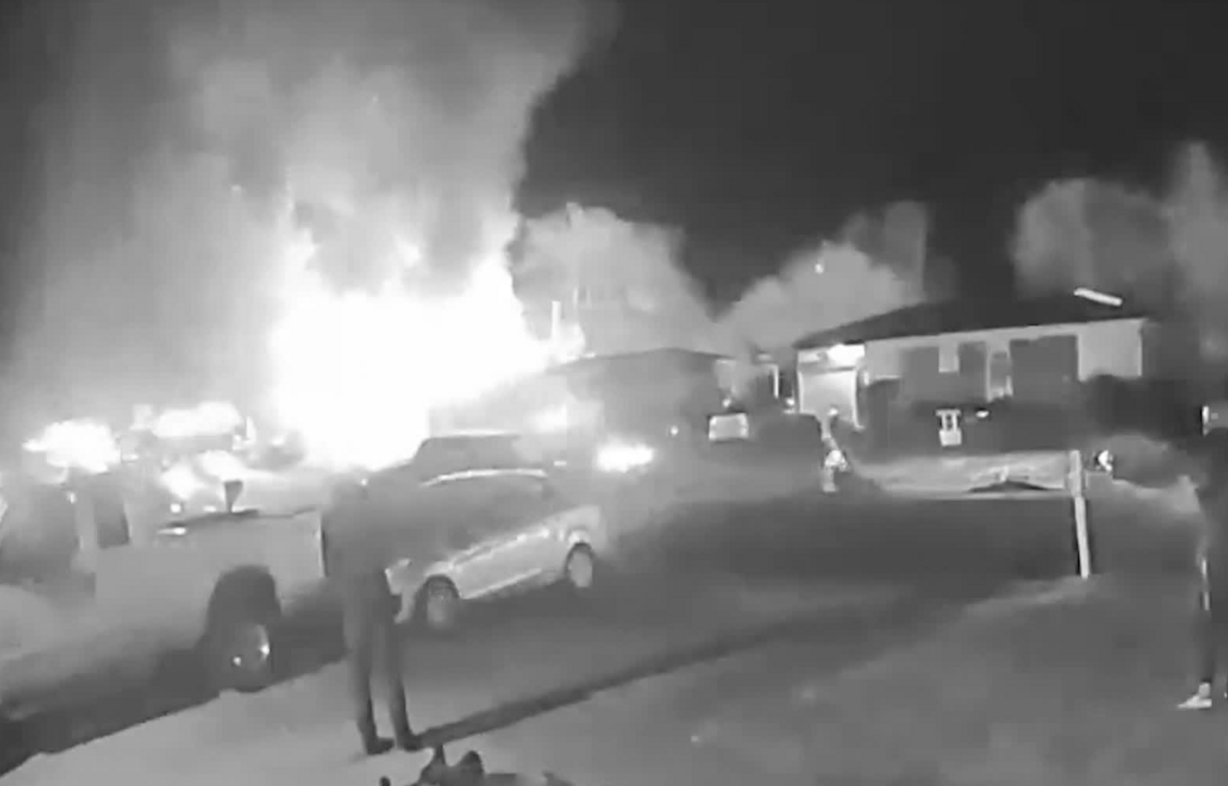 "How they picked that window is amazing, because that was the only place there was something high enough that Mike could pick up his mom and put her through the window," Smithana said after the rescue.
Video shows Smithana's sister reaching safety first, followed by the dog and Smithana's nephew.
Smithana's nephew was "very concerned" about getting the dog out, putting the dog out the window before himself, Jones recalled. He described the rescue as "good for all the dog lovers."
Jones, who has worked for Roy police for about a year and a half, said he'd never been in a situation quite like it before.
"I don't like fire, seeing how I'm not a firefighter," Jones said, adding, "The police academy is very long and there's a lot of information, but they don't teach you a lot of this stuff. It comes just from street knowledge or on the fly."
Smithana praised the officers for their rescue efforts.
"They were wonderful," she said.
Damage to the home is estimated to be about $50,000. Officials believe the fire started in the garage and then spread to the house. Smithana said insurance and members of The Church of Jesus Christ of Latter-day Saints ward they belong to will help take care of them.
"So we're very blessed — very — to be alive," she said.
Jones said the lesson he's taken away from the incident is "to always keep hope."
"Just keep going, just keep fighting, and find a way," he said.
×
Most recent Utah stories