Estimated read time: 4-5 minutes
This archived news story is available only for your personal, non-commercial use. Information in the story may be outdated or superseded by additional information. Reading or replaying the story in its archived form does not constitute a republication of the story.
PROVO — With apologies to Andy Williams and the happiest of holidays, Tuesday marks the beginning of the most wonderful time of the year.
Basketball is back on college campuses around the country, from the West Coast to the Champions Classic at Madison Square Garden in New York City. That includes, of course, the first official game of the Mark Pope era at BYU when the team hosts Cal State Fullerton at 7 p.m. MST Tuesday in the Marriott Center (BYUtv, WatchESPN).
"It's the best time of the year," said BYU guard Jake Toolson, the Utah Valley transfer who was one of four players in double digits in the Cougars' 100-58 blitz of Division II UT Tyler in last week's exhibition opener. "We've got the holidays, we've got basketball; everything is right around us right now. We've just got to go out and get it."
In addition to BYU's home opener, No. 17 Utah State opens the season at home against Montana State, Utah plays at Nevada, Utah Valley hosts Division II Westminster in Orem, and Southern Utah hosts Bethesda.
The hype is real for Game 1, even if Fullerton isn't the sexy matchup before former Mountain West rival San Diego State comes to Provo at 2 p.m. MST Saturday. The Titans were 16-18 a year ago, with a 10-6 mark in Big West play, and boast former Wasatch Academy forward Jackson Rowe, a native of Toronto, Ontario.
They also boast a 3-3 record all-time against BYU heading into the first game since 1996 — when Fullerton left with a 75-67 victory.
"The hype around the first game, the countdown; there is excitement," BYU wing Connor Harding said. "That's what it's all about, at the end of the day. We can't be more excited about it."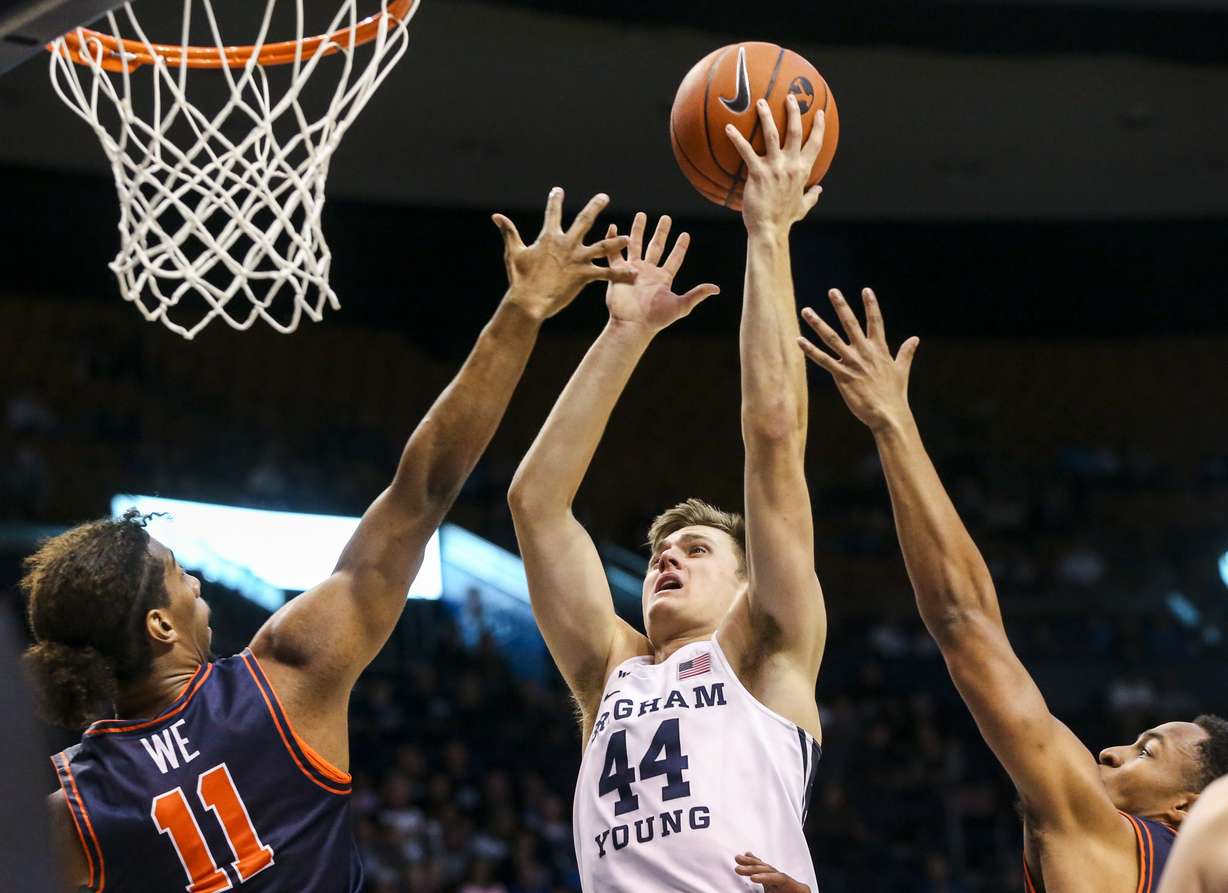 Toolson is expected to be in the starting lineup for the Cougars for the season opener, a graduate transfer on a senior-laden squad that will likely include fellow senior TJ Haws and forward Dalton Nixon in the first five. Kolby Lee, the only scholarship center eligible to play, should also start, as would newly eligible Arizona transfer guard Alex Barcello.
Haws is making a return from a sickness that knocked him out of Friday's exhibition home win, but Pope said he returned to full practice Monday afternoon along with guard Evan Troy. Zac Seljaas also returned to practice after offseason rehab from surgery to a broken foot suffered in a preseason trip to Italy; and Yoeli Childs returned to his spot on the practice squad while he prepares to serve a nine-game NCAA-mandated suspension stemming a failure to file the appropriate paperwork in declaring and then opting out of the NBA draft this summer.
Jesse Wade, the former Davis High sharpshooter who transferred from Gonzaga and sat out last year, won't be in uniform; he's scheduled to undergo exploratory knee surgery Tuesday to determine the cause of a knee injury that has flared up recently, and whether his sophomore season can be saved.
"We'll see how that goes. It could be a couple of weeks; it could be six months," Pope said. "We just don't know. We've tried everything, and this is a last-ditch effort to see if we can help relieve some of his discomfort."
Even without Wade and Childs, the Cougars return three of the top-five scorers from last year's team that finished 19-13 in Dave Rose's final season. That includes Haws (17.8 points, 3.5 rebounds, 5.06 assists per game) and Harding (6.2 points, 2.9 rebounds), who has moved to a combo wing spot where he could occasionally moonlight as a small-ball power forward during Childs' suspension.
During that hiatus, Childs will join a practice squad that may be the best in the country, alongside former UVU center Richard Harward and reigning WAC freshman of the year Wyatt Lowell.
"The length is all on the practice squad," Pope said. "But Rich is such a factor inside, Wyatt Lowell is such a talented player, and Yoeli's a star. It's a really good group, and it's been really good.
"Yoeli has really embraced this idea of getting better defensively and getting a chance to focus on it. You can grow on the scout team; you really can."
In addition to hosting the Titans and Aztecs, BYU will face a nonconference schedule loaded with Nevada, UNLV, Houston, Boise State, UCLA and in-state rivals Utah, Utah State, Weber State and Southern Utah before tipping off West Coast Conference play Jan. 4 against Loyola Marymount.
"If we can have the mindset of getting better every single day, then this competition and this schedule will tell us a lot about ourselves," Toolson said. "It's going to be a lot of fun to see how we match up against these different, unique teams. But we're up for the challenge, and whatever that brings."
×
Related stories
Most recent BYU Cougars stories