Estimated read time: 4-5 minutes
This archived news story is available only for your personal, non-commercial use. Information in the story may be outdated or superseded by additional information. Reading or replaying the story in its archived form does not constitute a republication of the story.
SALT LAKE CITY — The library of the Odyssey House in Salt Lake City is undergoing a major update to offer books that better reflect some of the issues its teen patients are facing.
Since 1978, the Odyssey House has been home to teen residential programs that help high-school age youth struggling with substance abuse and mental health disorders. But for years, its library has been filled with old and outdated books that have not captured the attention of youth in the treatment center.
Chaundra Johnson, library development manager for the Utah State Library, said the new collection represents books that youth "can connect to and see themselves in."
Through federal grant funding from the Institute of Museum and Library Services, the Utah State Library Division donated 500 books and 100 DVDs to the center's library. Staff from the treatment center and the Utah State Library Division came together Wednesday to place and sort new titles.
The new selection of books by diverse authors was intentional, Johnson said, as she pointed at a book called "Speak" by Laurie Halse Anderson. Based on the author's experience, the storyline is about a freshmen in high school who is raped by an upperclassman and the trauma she's faced in the aftermath.
At the time the book was published, Johnson said, it was controversial, but has since been praised for its ability to relate to younger people with similar experiences.
Salt Lake City resident Jaden Herbert, 18, whose been in recovery at the treatment center for the last six months for substance abuse, said he was "stoked" about the new selection of books.
"It's honestly such a great opportunity for us to get all these new books," he said. "Our library was a little bit outdated. A lot of people weren't as interested in it anymore. But a lot of the kids here really love to read. And so I know that a lot of people here are super excited about it."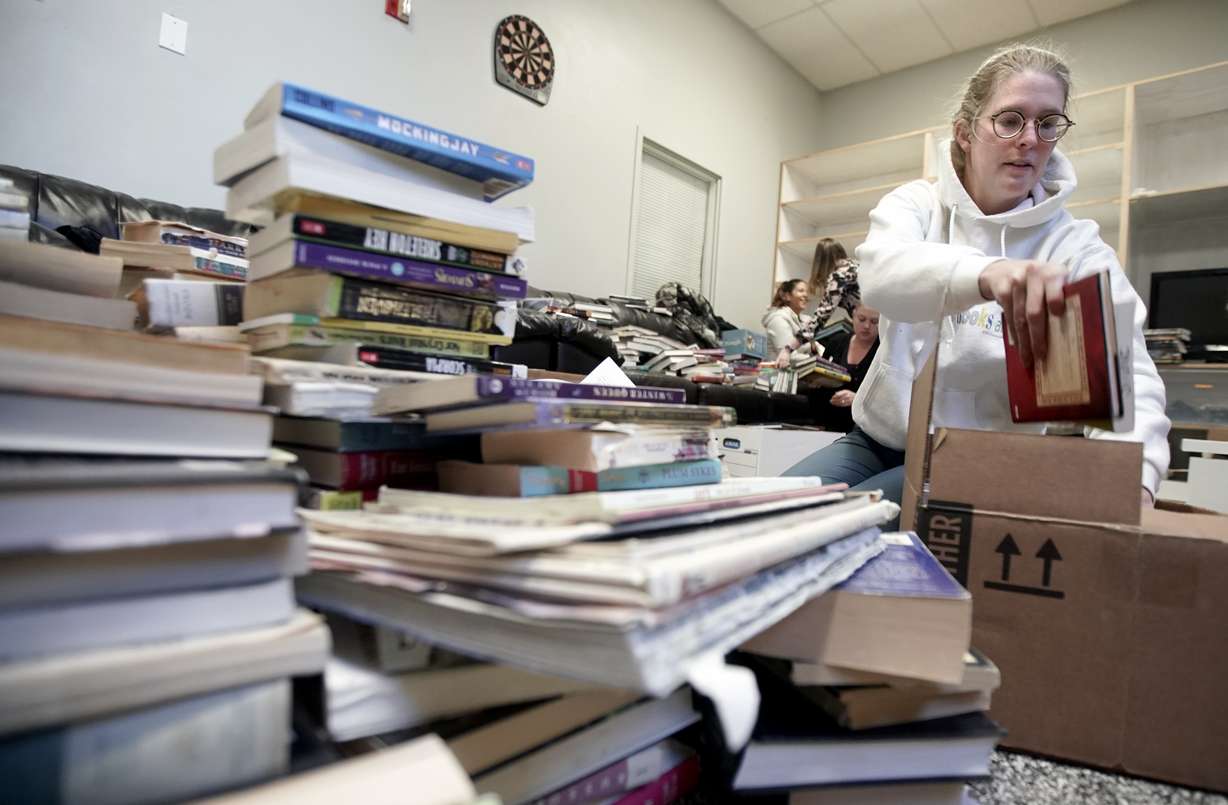 Previously, a dusty paperback copy of "The War of the Worlds" by H. G. Wells, originally published more than 100 years ago, could be found in the library with a missing cover. Other paperbacks printed in the 1980s and 1990s contained loose, yellow-hued pages that were falling apart.
The majority of the previous collection contained books written by men compared to the new collection that features work by more female authors, authors of color and LGBTQ literature.
New hardcover books featured on the library's shelves included "Women in Science: 50 Fearless Pioneers Who Changed the World" by Rachel Ignotofsky, as well as the young adult novel, "Miles Morales: Spider-Man," which is a reimagination of the classic comic book character centered around an Afro-Latino teenager.
Not all classics were lost as a new hardcover copy of George Orwell's "1984" was prominently featured among the collection.
Courtney Brinkerhoff, youth mentor staff supervisor for the center, also noticed that most of the books in the old library were so out of date that the teenagers had no interest in reading them.
"Now, there's a lot more interesting titles, a lot more age-appropriate books — just books that they're way more interested in," Brinkerhoff said.
Brinkerhoff noted the updated library would allow adolescents a momentary escape from harsh realities and a way for them to cope with challenges they are facing.
"When they were using substances, they were disconnecting from reality or disconnecting from people around them. So reading is a way for them to connect and to share with one another what they learned and what they read," she said.
Olivia Wilkinson, a cataloging librarian for the Utah State Library Division, said young adult books are beginning to focus on the real lives of teenagers more than ever before.
"They focus on things like teens with drug problems or abuse in homes or mental health issues or incarceration — things that we wish didn't happen to them but are very real," she said. "And so they can find reflections of themselves in their lives and their experiences. Or if not them, then of their friends, because everybody knows somebody that's going through something and young adult literature seems to reflect that a lot better now."
The decision to update the treatment center's library came after a group from the Utah State Library took a tour of the location.
"It was not that appealing. The books were old," Johnson said. "We wanted them to have a nice new library with nice, new up-to-date books and some classics as well."
Johnson said it was important for youth that are dealing with issues and trying to move on to the next phase of their lives to see libraries as "lifelong learning institutions."
Brinkerhoff said teenagers were able to recommend a list of books or genres they wanted to see in their new library.
Johnson said multiple teens requested self-help books as well as horror, science fiction and fantasy books. She said the science fiction-fantasy genre is popular among youth because its characters are more relatable to readers who might feel like an outsider.
Most of the books donated were hardcover books. Unlike paperbacks that could be easily "demolished," hardcover books could withstand wear and tear for a longer time, Johnson noted.
×
Most recent Utah stories