Estimated read time: 10-11 minutes
This archived news story is available only for your personal, non-commercial use. Information in the story may be outdated or superseded by additional information. Reading or replaying the story in its archived form does not constitute a republication of the story.
SALT LAKE CITY — On Tuesday, Salt Lake will head to the polls and elect a new mayor for Utah's capital city.
The two final candidates, Utah state Sen. Luz Escamilla and Salt Lake City Councilwoman Erin Mendenhall, are both Democrats with extensive experience in nonprofit, private and government spheres. Both also align fairly closely on policy — and even when they don't, they're pretty civil about it.
So how do voters choose when the candidates seem so similar?
According to Mendenhall, the two women have participated in more debates than any other Salt Lake mayoral candidates in history. There have been more than a dozen, most of which were in October.
Since the last debate recently wrapped up, let's take a look at where the candidates now stand on each major issue — and what makes them different from one another.
Background and experience
Mendenhall, a native Utahn, has served on the Salt Lake City Council for six years and is the chair of Utah's Air Quality Board and vice chair of the Utah Quality Growth Commission. She also co-founded Breathe Utah and is exceptionally proud of her work to transform concerns about air quality from a fringe, environmentalist issue to a mainstream one Utahns care about.
The councilwoman earned a bachelor's degree in gender studies and a Professional Master of Science and Technology with an emphasis in environmental science from the University of Utah.
Escamilla was born in Mexico and moved to the United States as a teenager before attending the U., where she earned a bachelor's degree in business marketing and later a Masters of Public Administration.
The senator currently works as director of Zions Bank's Business Resource Center and vice president of both the bank's Hispanic market manager and its community development group. She is proud to play a part in helping underserved communities develop small businesses.
Escamilla has also served in the Utah Senate for the last decade and previously worked as the director of the State Office of Ethnic Affairs under former Gov. Jon Huntsman, Jr.
Experience
Escamilla says her experience in the Senate means she's forged relationships that will be useful when Salt Lake needs to work with the state. As mayor, she'll create a coalition to help the city do so, she said during a debate hosted by KSL on Oct. 21.
But Mendenhall touts her experience as a council member who is already in the thick of the issues plaguing the capital city. The councilwoman also believes that a background in the state Legislature has not made a difference for past mayors, including current Mayor Jackie Biskupski.
The candidates' home addresses have also become a major point of debate. Mendenhall lives near 9th and 9th on the east side of the city while Escamilla hails from Rose Park on the west. Escamilla says it's time for Salt Lake to have a mayor from the west side — a traditionally underserved area. Mendenhall says she's already been working hard to address the geographical inequity.
You Also Might Like
Inland Port
The inland port is one of the most controversial issues currently facing Salt Lake. The massive project planned for Salt Lake's privately owned northwest quadrant has sparked violent protests as well as a lawsuit from Biskupski, who sued Utah over "gross state overreach."
Both candidates say they are opposed to the port, which they agree will harm the nearby wetlands and wildlife population, as well as contribute to traffic congestion, poor air quality, and noise and light pollution — especially for the west side of the city. Both also support the mayor's lawsuit.
But the two begin to diverge from there.
Mendenhall has come under fire after the City Council voted to approve a $28 million tax reimbursement for developers in the inland port boundaries. The councilwoman said this was a difficult decision, but the city's attorneys told them if they didn't they would be in breach of contract and would forfeit control to the state, which would inevitably move forward with the project.
Instead, the council decided to "stay at the table," maintain some control over the project, and negotiate 10% of the port's taxable income for the city's affordable housing, Mendenhall said. The councilwoman believes the port is inevitable, but she says she will continue to pursue legal and legislative action and work to mitigate whatever negative effects the port will have.
Related:
Escamilla, however, disagrees with the council's deal with developers, saying the city shouldn't have made that move without better performance metrics for the project. During a tense exchange during an Oct. 10 debate, Escamilla asked Mendenhall why the council rezoned land in the port's boundaries for development — even before the port was created by the Legislature.
Mendenhall said the question showed a "fundamental lack of understanding of how our city government works" and that the council rezoned in order to maintain some control over the project. But Escamilla fired back, saying she was only asking so the public could understand what happened.
Mendenhall eventually admitted that the city was working on an inland port before the state created the project. Private developers wanted to move forward with it, and the city was forced to comply or the Legislature would take over, she said.
Both Escamilla and Mendenhall believe the outcome of the mayor's lawsuit will help determine the way forward, but Escamilla says a health impact assessment is needed immediately to provide metrics that may prove to developers that the northwest quadrant is not a friendly place for development.
Air quality
Both Mendenhall and Escamilla believe Salt Lake's air quality is one of the most drastic crises facing the city.
Both hope to renegotiate with Rocky Mountain Power once the energy company's franchise agreement is up for renewal in 2021, and the women want the city powered by 100% renewable energy by 2023.
Escamilla says her fight for cleaner air quality will begin on two fronts: transit and buildings. She hopes to reduce tailpipe emissions by 25% during her administration by making public transit options not only affordable, but also convenient and accessible — with "amenities" like covering and lights for dark, cold nights or mornings. As mayor, her staff will also work to upgrade buses and trains to run fully on electricity, says.
To reduce greenhouse gases created by buildings, she hopes to incentivize developers to get to net zero emissions by fast-tracking that type of construction process and exploring alternative permitting processes.
Mendenhall also wants to expand public transit options and invest in electric buses, but she also wants to invest in bike and pedestrian infrastructure and better scooter regulation. And to reduce building emissions, the city must offer residents incentives to invest in solar with deeper subsidies for low-income households, she said.
She's also touted several other changes she'd like to make as mayor to clean up the city's air, including planting 1,000 trees on the west side of Salt Lake, expanding discounted transit passes, letting visitors with tickets for events in Salt Lake use them as transit passes, and creating more electric vehicle charging stations.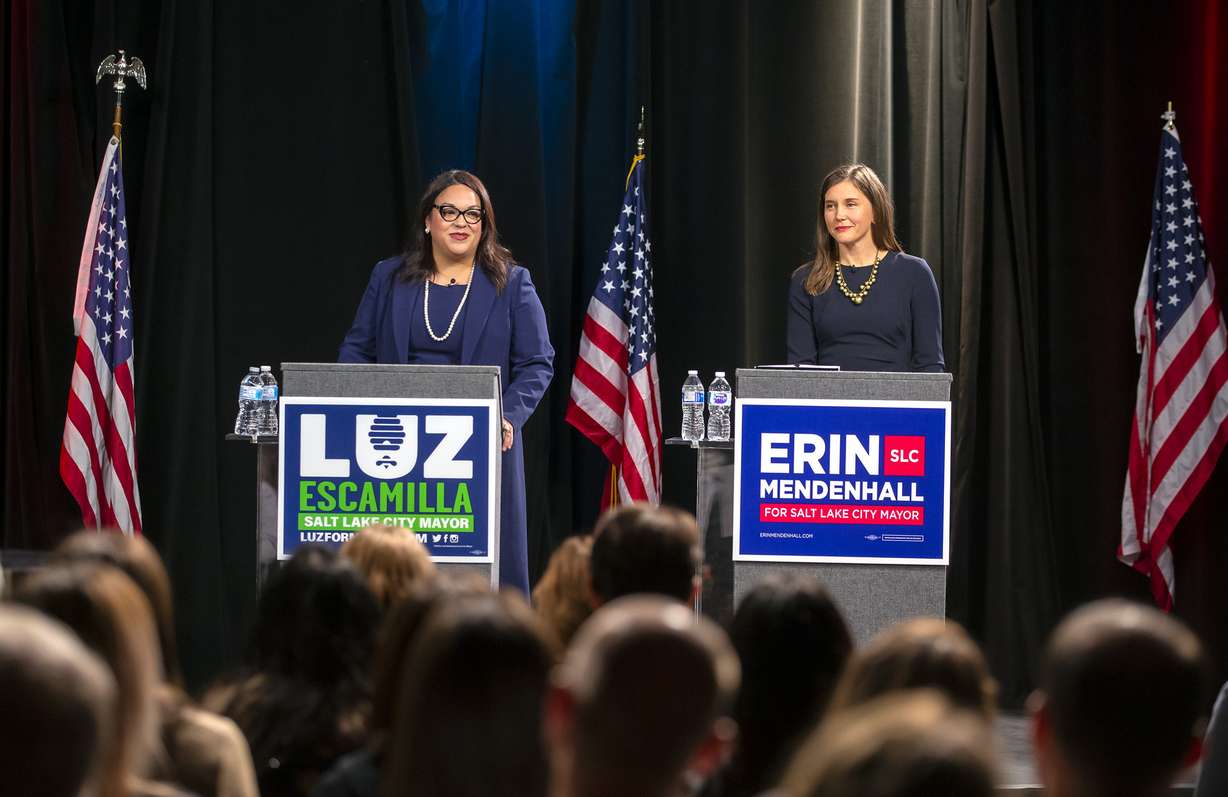 Affordable housing
Rising housing costs make it increasingly difficult to buy or rent a home in Salt Lake, causing many to move outside the city. In fact, 25% of renters in Utah's capital city are paying over 50% of their income to housing costs.
The candidates have extensive plans to create affordable housing, and they're not too significantly different.
Both want to invest more in the Redevelopment Agency; preserve existing affordable housing (though their funding plans vary slightly); make affordable housing accessible, sustainable and green; improve housing zoning ordinances and codes, and reuse city-owned property to develop affordable housing.
Escamilla also suggests creating permanent supportive housing and a housing voucher plan with the state.
Mendenhall wants to lower transportation costs to make it affordable to live in certain parts of the city and create incentives for companies to hire local and bring good-paying jobs into the city. According to the councilwoman, a resident must make over $20 an hour to afford a two-bedroom apartment in the city.
Homelessness
Both candidates agree the real solution to homelessness in Salt Lake is affordable housing, especially as the city's new resource centers begin to overflow and the Road Home, the city's downtown shelter, prepares to close.
But this isn't just a city problem, a solution requires partnerships with the county, other cities and the state, they both acknowledged.
They also agree that whoever the new mayor is, she will need to have an emergency plan in place for those left outside — if the current administration doesn't come up with something sooner. What that emergency plan should look like differs between the two candidates.
Mendenhall suggests keeping the Road Home open for longer to house those turned away from other resource centers during the coming winter.
She suggests, as a long-term plan: strengthening outreach programs that have already been created (like the Downtown Ambassador program), reducing no-fault evictions by strengthening tenant rights and increasing landlord compliance. and increasing the number of single-room occupancies — a form of housing typically aimed at low-income residents who rent small, furnished. single rooms but share common living spaces.
Mendenhall says many of those experiencing homelessness who won't go to resource centers will go to these types of rooms.
Escamilla disagrees with the idea of keeping the Road Home open, saying an audit of the shelter found that there were too many problems causing trauma for those that stayed. Instead, she suggests working with the state to find any single-room occupancies available and giving them to the most vulnerable first, like those with children or expectant moms.
Escamilla also suggests, as a long-term plan: making resource centers more robust with an increased number of beds, developing more outreach services, convening a coalition of public-private partnerships to work on solutions and to begin collecting data.
Transportation
Mendenhall boasts a fairly rigorous plan for Salt Lake's future transportation, which she sees as a ticket to better air quality. She hopes to champion a new Transportation Master Plan to bolster the city's most recent in 2017.
She also hopes to pursue federal grants for road projects, better bus infrastructure, a move toward electric buses and expansion of the Hive Pass, which is a discounted transit pass some of the larger employers in the state are able to offer their workers.
The councilwoman also hopes to increase urban trails and alleyways, give cyclists better access to the roads and parking spaces, and help low-income families own and maintain bicycles.
Escamilla acknowledged that the city's Transportation Master plan is "a great start" but says she'll ensure the plan is implemented. She also hopes to ensure the public transportation system is not only affordable, but also accessible, equitable and convenient.
An important part of making the city more "walkable" is maintenance, she said. She assured, as mayor, she'll make sure to fill potholes, update lane markers and unclog storm drains.
Business
Escamilla hopes to help small business owners in Salt Lake feel like city hall is a resource and a partner in navigating what she says is the complicated web of zoning, ordinances, permitting and licensing it requires to start or grow a business in Salt Lake. She also hopes to streamline the process and remove "red tape" in the process.
Mendenhall is concerned about the tech ecosystem Salt Lake let slip through its fingers and is determined to build one that rivals the Point of the Mountain's. She says, as mayor, she will convene a multidisciplinary task force to explore possible actions, launch a targeted education campaign to promote Salt Lake to innovators and business leaders, focus efforts on businesses that will invest in the community, make Salt Lake friendlier to entrepreneurs, create apprenticeship programs for youth, promote digital equity, expand the city's transit system and bring tech in as a partner in growth.
To learn more about Mendenhall's policies, visit her website. To learn more about Escamilla's policies, visit her website.
×
Related stories
Most recent Politics stories