PROVO — Through all the trick plays and special moves, the flea flickers and fake fumbled snaps, perhaps BYU's biggest key to a 28-25 win over then-No. 14 Boise State was a dose of good, old-fashioned football.
Quite simply, the Cougars (3-4) were more physical than the Broncos, holding Mountain West title contenders to 174 yards on the ground and 359 yards on offense, the majority of that as Boise State quarterback Chase Cord tried to rally his team in the final quarter after falling behind as much as 28-10 in the third.
And nowhere was that physical brand of football more apparent than on the final play of the game, when wildcat quarterback Austin Kafentzis willed a "scrum" formation to advance the ball one yard — really, a few inches — deep in the Cougars' own half of the field to seal the victory.
Push. Shove. Do anything you can to get an advantage, and move that football the slightest amount for a first down.
Kafentzis was even climbing over his own teammates, which included defensive lineman Khyiris Tonga and defensive back Dayan Ghanwoloku in the formation designed for the short end of the sticks.
"Every day we practice the scrum package," Kafentzis said. "We know it's going to be pretty hard. But I feel like the players that we have on that field at that time, I believe in them and trust in them 100%.
"I knew that my guys were going to come through, get the push; and the two guys coming behind me were going to do all they could to get through. I wasn't expecting my feet to get off the ground and start crawling over people, but that's how it happened — and I'm thankful all the guys on the team wanted it as much as I did."
The physical play extended beyond that one play, though.
Whether it was the defensive line imposing its will on the Broncos, or either of Isaiah or Jackson Kaufusi's diving interceptions, or big plays on both offense and defense from flash linebacker Kafentzis, the Cougars were simply more physical than their opponent.
Not to be overlooked is the offensive line, which propelled running backs Sione Finau and Lopini Katoa to a combined 139 yards and two touchdowns — but we'll stick to the defense for now.
It was the kind of defensive performance that BYU hopes to replicate Saturday against in-state rival Utah State (4-3) in the battle for the Old Wagon Wheel (8 p.m. MDT, ESPN2).
"In our corner group, every game, we try to go out and be the most physical group on the defense," BYU cornerback Shamon Willis said. "The last game, we were able to show what we could do in that regard. But it's definitely one of the keys that we focus on."
Willis, the son of former BYU star running back Jamal Willis, knows a little something about the Wagon Wheel — and specifically, the need to simply play more physical to bring back a traveling trophy that the Cougars haven't possessed since 2016.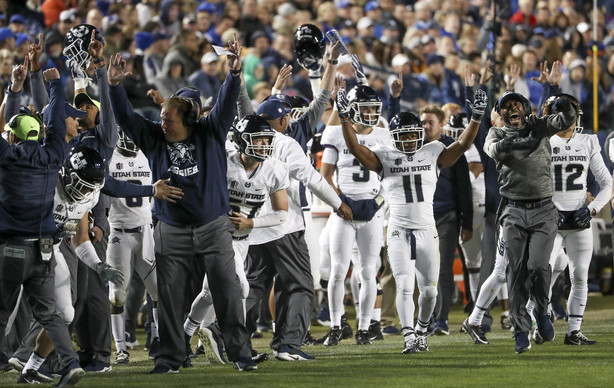 A Westlake High product, Willis originally signed with Weber State and redshirted the 2018 season before transferring to BYU as a walk-on defensive back last year. And though playing for his father's alma mater didn't play a direct role in the younger Willis going to BYU, Jamal Willis' football impact has been on his young son his whole life.
"He's been an influence on my game since diapers," said Willis, whose father was a physical running back in his own right. "I remember him taking me outside and we'd do footwork drills, football drills, anything. When I got older in high school, I'd go to him for anything.
"He's probably taught me the most about football than anyone else has. I definitely learned a lot from him."
Putting together a physical defensive game plan to go along with the offensive play-calling of the win over Boise State was a big moment in BYU's season, as it strives to regain the lost luster of what was once a 2-4 campaign and at least qualify for a bowl game in December.
Being physical will go a long way toward those means — but only so far, too.
"I really liked that physicality (against Boise State)," BYU linebackers coach Ed Lamb said. "But the thing we've gotten into trouble with this season, and it's with having a young team, is trying to duplicate past successes into future efforts.
"Utah State represents different challenges, and we have to rise to that challenge and leave that Boise State game behind."
×
Related Stories