PROVO — Most people in Logan were stunned by Utah State's 31-7 loss at Air Force over the weekend.
But the level of shock extended all the way to Provo, where the BYU football team — feeling good on a bye week after a 28-25 win over then-No. 14 Boise State — looked on at the Falcons' rout of the Aggies, their in-state rival that happens to be the Cougars' next opponent.
What can you take from that game film if you're a BYU player or coach? Maybe not as much as you think.
"I think the last game was a little bit difficult to watch because the elements disrupted a lot of the throwing that Jordan Love can do," said BYU coach Kalani Sitake, who will line up his team against his former mentor Gary Andersen and former teammate and best friend Justin Ena. "I think Air Force took him out of the game by possessing the ball. That was a good game for what Air Force had to do, but for us it's a different beast.
"They're at home — they play really well at home — and they are capable of putting up a lot of points. Defensively, we have to be on top of everything. I'm glad we've got a week to prepare for them, and got another game week of film. We're going to utilize all that and try to be ready to perform really well in Logan."
Let it be known: the Aggies (4-3) are going to come out hot against their in-state rivals in the 89th all-time meeting for the Old Wagon Wheel. BYU holds the series lead at 48-37-3 and six of the last 10, but Utah State has won the past two games and will be looking to win their third-consecutive matchup since a four-game win streak from 1971-74.
That streak will motivate the Herd student section, and the loss to the Falcons will have the players' motivation matching in intensity.
"I saw something on Twitter that said Utah State is going to come out playing like they're protecting their dairy farm," said Dayan Ghanwoloku, who jokingly mentioned cowbells when asked about the home-team atmosphere in Logan. "That's how I feel like they're going to come out: ready to protect their dairy farm. We're going to take over; that's the plan."
The BYU-Utah State rivalry game is important, both in state and out of it. With three "rivalry games" circled in the coaches' offices in Provo, the Cougars take a 1-1 record into the rubber-match in Logan.
Saturday's result could mark the tiebreaker in an annual three-game series that may strongly factor into the future of Sitake's tenure at BYU.
"The state games are always competitive," Ghanwoloku said. "We consider every state game important: Utah or Utah State, it doesn't matter. They're all the same. We're going to play them to the best of our abilities."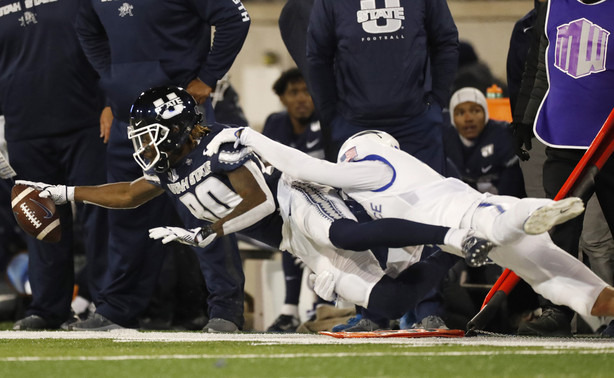 After a nearly unprecedented 11-2 season a year ago that saw former coach Matt Wells depart for Texas Tech, the Aggies have stabilized in the first year under second-time head coach Andersen, with wins over Stony Brook, San Diego State, Colorado State and Nevada, as well as losses to Wake Forest, LSU and Air Force.
It's a similar setup as the Cougars (3-4), who have wins over Tennessee, USC and Boise State to go along with losses to Toledo and South Florida. They'll try to use their second bye week as a way to reset their season.
The Aggies will hope for a reset of their own.
"This bye week was a little bit different than what we did last bye week, so I think to try to get the result you want, you have to change things up," Sitake said. "It's part of college football. I'm going to use it. But the main goal is to try to get the result in Logan, and that's what we started with last week."
×
Related Stories