SALT LAKE CITY — In a corner of Utah's practice field, senior Leki Fotu tries to hide — from no one in particular, but hide he tries.
The 6-foot-5, 335-pound defensive tackle is anything but invisible on the field, though. Anyone at the practice facility could see him loitering in the area, waiting for his chance to get into the locker room and change out of his pads that make him appear even more intimidating than he already appears.
Fotu is one of the biggest guys on the field and commands an immediate presence. It's something he's used to.
As a student at Herriman High School years ago, Fotu was a man among boys on the football field. A casual observer could easily spot Fotu wreaking havoc on offensive lines or playing as an occasional tight end that nobody could tackle when he caught a pass, including a touchdown in the state semifinals to upset the favored Sky View en route to a 5A state championship his senior season.
Few, if any, could limit or contain the future Division I athlete who would make Rice-Eccles Stadium his home for the next four seasons. Fotu admitted back in his high school days that he was "nervous" to play in the stadium, but he's since become comfortable there and has made visiting teams fear his presence as he barrels down at them seeking a stop.
"It's weird watching it on film and stuff," Fotu admits, offering a nervous chuckle as he talks about himself. "But during the game and during that moment, my job is to do that, and I tend to have no regret when I do it. I think it's just the nature of me, just growing up — tough love. If a guy gets hurt or something bad happens, it's the nature of the game. But watching it, it's pretty weird."
The beast on the field operates with a mild nature off the field. His quiet, subdued attitude makes him one of the nicest guys to be around, but on the field he commands fear, as was evident Saturday when he charged after California's backup quarterback Spencer Brasch.
The freshman quarterback scrambled out of the pocket early in the game, saw Fotu charging after him and quickly realized he was trapped; there was no point to even throw the ball away — impact was imminent. It's a common sight for quarterbacks that feel Fotu coming faster than they can see him.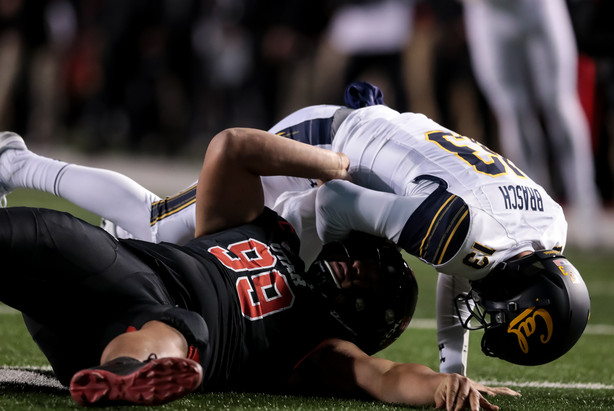 Fotu has been a menace against opposing teams this season; and while the traditional stat sheet can't quantify his dominance in the trenches, he's been a notable influence to a defense that is limiting teams to an average of only 56.4 rushing yards per game — good for the No. 1 rushing defense in the country.
The Utah defense with Fotu and a whole host of other guys that pride themselves on locking down offenses has limited teams to only 10.3 points (23 points total in the last four games) and to only 231.0 total yards per game. The defense ranks No. 3 in total defense in the country as few teams find success against the Utes.
It's a defense that held California scoreless Saturday to claim its first shutout in conference history — something that hasn't happened to the Golden Bears since 1999. It was also the first shutout in conference play for Utah since the Utes shutout Wyoming in 2007 — a game in which former Cowboys head coach Joe Glenn showed little love to Utah in a gesture toward the opposing sideline.
"They've been performing well, but they don't — they just get ready for the next opponent as a new challenge every week," head coach Kyle Whittingham said about his team's effort Saturday. "They have a great work ethic and a great ability to focus and concentrate and execute what the coaches have outlined for them."
Utah has guys like Fotu, who skipped an early entry into the NFL draft, to thank for the consistency on defense. He's learned from the defenses of past and has helped Utah to arguably its best season ever on the defensive side of the ball — a feat hard to compete with given Utah's defensive pedigree.
Fotu could have made himself some money playing professionally, but what Utah has done this season is a testament to why players like him wanted to come back for one more season.
"I think, especially, the way this season is going right now, I just feel more confident," Fotu said, speaking about staying at Utah for his senior season. "Coming back this year, I'm more confident in my technique and just playing-wise. Last year, you know, I wasn't sure about everything, was still sketchy about it. But coming back this year, for sure, helped my confidence and to have high expectations for after the season."
Few can argue that Fotu has a lack of confidence anymore or a "sketchy" style of play, and his impact on Utah is taking the program to greater heights.
"I think he's one of the best defenders in the conference," Whittingham said. "He's not a flashy guy. He's not a supreme pass rusher or not a lot of flash. He draws a lot of double teams, and so he is doing exactly what we need him to do in the defense and playing very well."
×